Image Of Prime Accused In Bangladesh Student's Murder Falsely Shared As Murshidabad Killer
BOOM found that the image is originally of Mehedi Hasan Rasel one of the prime accused in the death of Bangladesh engineering student Abrar Ahmed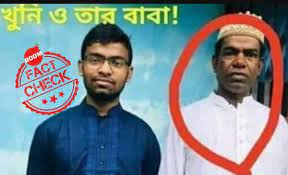 An image of one of the prime accused in the lynching of Bangladeshi engineering student Abrar Fahad is viral online with false claims that he has been identified as the suspect behind the triple murders in Murshidabad, West Bengal.
Multiple Facebook posts are doing the rounds where the Bangladeshi student, held for the killing of Fahad, has been misidentified as the man behind the gruesome murders of Bandhu Prakash Pal, his wife Beauty Pal and their six year old son. The posts have been captioned as, "This is Allah's ideal follower, who has finished off an entire family."
(Original text in Hindi: यह वही अल्लाह का नेक बंदा है जिसने पूरे परिवार को ख़त्म कर दिया |)
Click here to view the archive of the post.
Bandhu Prakash Pal's family had been hacked to death on October 8 in Murshidabad's Jiaganj. Social media has been abuzz with claims that Pal's family had to pay the price for his alleged links to the RSS and BJP in West Bengal since then. However, the organizations have categorically ruled out any political motive to the killings.
ALSO READ: Gruesome Triple Murder Case In West Bengal: RSS, BJP Leaders Dispute Political Motive
The image, where a man in the white kurta has been circled, also has a text with it in Bengali. It translates to, "Killer and his father."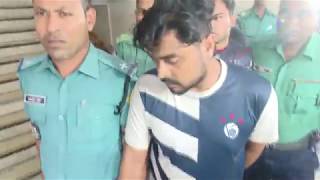 Fact Check
BOOM ran a reverse image search and was directed to the same image that was used by multiple news articles to report about the accused held in the death of Bangladesh University of Engineering and Technology (BUET) student Abrar Ahmed. The man in the blue kurta was identified as Mehdi Hasan Rasel, general secretary of BUET unit.
Rasel was expelled by the Bangladesh Chhatra League (BCL) on October 7, after recommendations were made by a probe committee looking into the murder of Abrar Fahad further.
Excerpts from a Bangladeshi news report, "Abrar, 21, a student Bangladesh University of Engineering and Technology (Buet), was found dead on the staircase of Sher-e-Bangla Hall of the university early Monday. Some BCL leaders beat him at room-2011 of the dormitory on Sunday night suspecting his link to Bangladesh Islami Chhatra Shibir." Multiple protests took place following the death of Abrar.
We then looked up Rasel's Facebook profile and were directed to the same image that was uploaded by Rasel with his father during Eid this year. The photograph had been captioned as, "Inspiration, Father."
Rasel was remanded along with nine other students last week.