Mr Sharad Yadav, Here's Why Crime Against Women Is A Loss To The Country's Honour
Maybe it is time for Sharad Yadav to get a masterclass on how to treat women. And who better than his party colleague and Bihar CM, Nitish Kumar to impart some lessons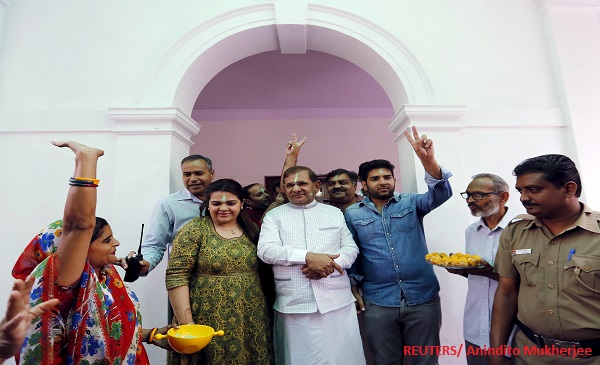 A woman (L) dances as she takes part in celebrations after learning the initial results inside the residence of Janata Dal (United) leader Sharad Yadav (C) in New Delhi, India, Nov 8, 2015.
It has happened again, leaving us with no surprise about how sexist statements come naturally to Rajya Sabha MP and former president of Janata Dal United (JDU), Sharad Yadav.
While stressing on the importance of voting, he said, "It is very important to educate people in a big way about how the ballot paper works. The honour of being able to cast a vote is a much bigger honour than your daughter's honour." And he didn't stop there. Elaborating on his view, 'If a daughter's honour is violated, her neighbourhood and her village lose their honour, but if a vote is sold, it is the country's honour that goes. All our dreams for the future evaporate,' Yadav said
#WATCH: Senior JDU leader Sharad Yadav says "Beti ki izzat se vote ki izzat badi hai" in Patna (Jan 24th) pic.twitter.com/kvDxZpO2iZ

— ANI (@ANI_news) January 25, 2017
It is strange that Yadav drew such a strange parity between the integrity of vote and respect for women. It almost seemed that the random statement made in between an otherwise serious speech had been doctored, or so Yadav will allege in a bid to save face.
But instead of apologising for making such a comparison, Yadav stayed defiant refusing to retract his remarks. Speaking to reporters, Yadav said, "I have been saying this for last 25 years. I made the comment in the context that nowadays money was having a greater role to play over vote and a person should treat vote power above daughter's honour. There is nothing wrong in the comparison I have made", said Sharad Yadav.
"There is no question of me apologising. How can you ask this question to me?", the veteran leader said according to India Today.
Yadav is right. Why should he apologise for saying something that is deeply ingrained in him. After all, this is not the first time he has made sexist comments in public. Earlier in January 2015 his supposed attempts to defend women with dark complexion irked Union Minister Smriti Irani. Upon Irani cautioning him not to comment on any woman's skin, he rebuked her, 'Who are you? I know what you are.'
Let us go by his analogy. In his home state Bihar, 1041 rapes were reported in 2015, according to the data provided by National Crime Records Bureau. Moreover, 403 attempts to commit rape, 198 assaults on women with intent to outrage her modesty, 78 cases of sexual harassment, 42 instances of assault on women with intent to disrobe and 96 cases of insult to modesty were reported in the same year.
While Bihar has shown improvement in 2015 (11th position) over the numbers reported in 2014 (8th position), the state stood number two behind UP when it came to cases of kidnapping women to force them into marriage with 4444 cases. The same was the case with dowry deaths with 1,154 dowry deaths reported in 2015.
But if we have to go by Sharad Yadav's logic, in all these cases, the state of Bihar or even the country did not lose its honour but only the respective villages where these victims reside. Interestingly, what this means for the victims themselves is an issue that does not bother Sharad Yadav.
By digging deep into his statement, even the premise of his argument is flawed.
A vote denotes political freedom, while a woman living a life of respect denotes basic individual freedom – a much cherished fundamental right that democratic nations provides its women citizens. Both are pillars of democracy which cannot be ranked one above the other as desired by Sharad Yadav.
Maybe it is time for Sharad Yadav to get a masterclass on how to treat women. And who better than his own party man and Bihar chief minister Nitish Kumar to impart some lessons, who was brought back to power in 2015 with the turnout of women voters (59%) far higher than male voters (54%).