Mob Lynching Video From Assam Goes Viral With Communal Spin
Viral post claims victim was beaten to death by Hindu extremists. Karimganj police deny any communal angle.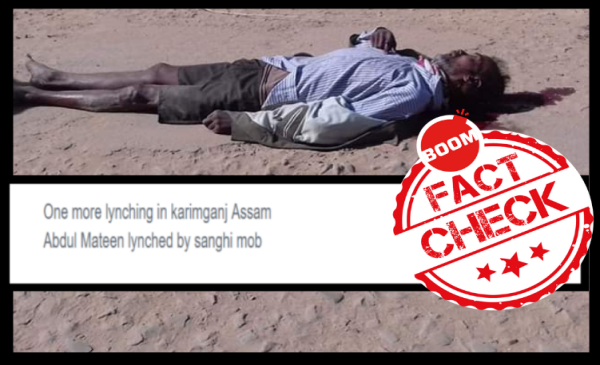 A post from Assam showing a severely injured man lying on the road is being shared on Facebook and Twitter with a false narrative that the man was "lynched to death" by Hindu extremists.
A video showing a man lying on the road bleeding, is being shared with misleading caption that a Muslim man was "lynched to death by Sanghis." Local police tell BOOM, that the man shown injured in the video is a thief who was roughed up by the locals when they caught him and who succumbed to his injuries a day later in the hospital. The police have denied any communal angle in the incident.
A Facebook user Nadeem Khan on January 20 shared a 25-second video showing a man fallen on the ground with visible injuries and bleeding from his head with a caption, "One more lynching in Karimganj Assam. Abdul Mateen lynched by sanghi mob". Below is the screenshot of the post.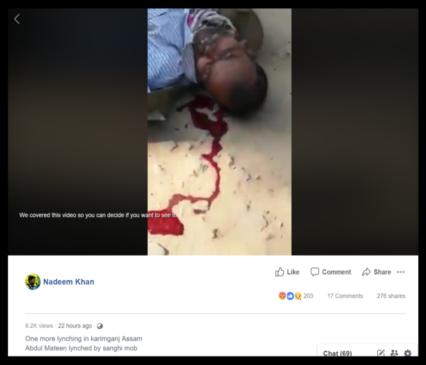 The post recieved more than 200 shares and was viewed by nearly 6000 views.
The same caption was viral on Twitter but with a video composed of two clips - one showing a man being dragged by locals and also the above video showing a man lying injured on the road. BOOM was not able to confirm if the first clip is from the same incident as the second clip.
FACT-CHECK
BOOM analysed both the videos and also contacted Karimganj police who denied any communal angle to the incident. According to Inom Saikia, additional superitendent of police, Karimganj, the man in the second clip is a thief who was injured after locals beat him up.
"The man has been identified as Abdul Motin, a petty thief. On January 18, he was caught by locals while trying to steal iron grills from a school. The locals roughed him up and beat him up. When he was trying to escape, he fell and further injured himself. The police after arriving at the scene rushed him to the hospital. But on January 19, he succumbed to his injuries at the hospital,"said Saikia. He further added that they had arrested two people for assaulting Motin. "There was no communal angle in the incident. The man was beaten up because he was a thief and the locals took matters into their own hands,"he said.
The Karimganj police also tweeted the details of the case.
Saikia also said that they were trying to verify if the first clip of the video where a man is shown being dragged is from the same incident when Motin was beaten up.
Claim Review :
Video From Assam Of Man Lying Injured On The Road Shared With A Communal Spin