Domestic Protests Or Foreign Editorials: What Forced PM Modi To Break His Silence?
The dilemma for the BJP and the prime minister is a real one. How to maintain a balance keeping its voter base happy as well as avoid a global PR disaster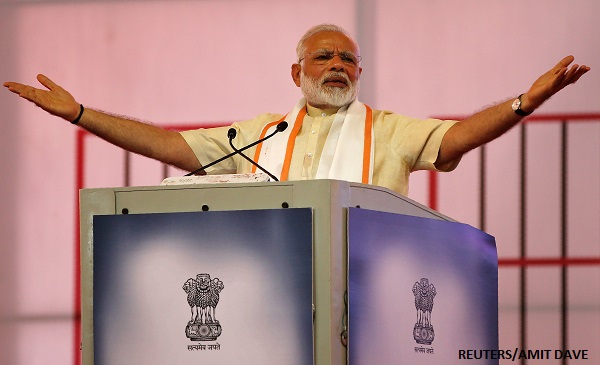 India's Prime Minister Narendra Modi addresses a gathering during his visit to Gandhi Ashram in Ahmedabad
Prime Minister Narendra Modi finally broke his silence on the rising incidents of cow-related violence in the country. Speaking at the Sabarmati Ashram in Gujarat, Modi invoked the memory of Mahatma Gandhi and said that the current violence in the name of cow protection would not have been approved by the father of the nation. "Killing people in the name of Gau Bhakti is not acceptable," said the PM in a very clear message to the cow vigilantes.
No person in this nation has the right to take the law in his or her own hands in this country: PM @narendramodi

— PMO India (@PMOIndia) June 29, 2017
Killing people in the name of Gau Bhakti is not acceptable. This is not something Mahatma Gandhi would approve: PM @narendramodi

— PMO India (@PMOIndia) June 29, 2017
No one spoke about protecting cows more than Mahatma Gandhi and Acharya Vinoba Bhave. Yes. It should be done: PM @narendramodi

— PMO India (@PMOIndia) June 29, 2017
This latest statement from Modi comes a day after protests across major cities by thousands of people under the campaign #NotInMyName.
Salute! Among those at JantarMantar today. #antinational #NotInMyName @sanjayuvacha pic.twitter.com/XFlH3heYRF

— Sankarshan Thakur (@SankarshanT) June 28, 2017
And for a change, critics of PM Modi came out in support of his call for ending violence in the name of cow bhakti.
That you invoke Gandhi sir to oppose this savage culture of lynching . Today you speak like a PM ought to speak and credit where it is due https://t.co/wQyBnmDiNd

— Rana Ayyub (@RanaAyyub) June 29, 2017
Well said sir. Here's hoping the people carrying out these despicable acts take your words to heart & act accordingly. https://t.co/BA6C8tORE1

— Omar Abdullah (@abdullah_omar) June 29, 2017
Though some did not miss the opportunity to take potshots at the PM.
Only wish Mr Modi had gone a step further and reiterated Mahatma's core belief: India doesn't belong to Hindus alone!

— Rajdeep Sardesai (@sardesairajdeep) June 29, 2017
The Modi Dilemma: If violence now declines, it means cow vigilantes obey him. If they don't, it means he is powerless.

— Salil Tripathi (@saliltripathi) June 29, 2017
Interestingly, a Hindustan Times report points out that "while Modi may have hit out at self-styled 'gau rakshaks' on Thursday, but cow protectors flourished in his home state Gujarat when he was the chief minister."
Modi's statement today comes nearly 10 months after he lashed out at Gau Rakshaks in August last year due to widespread outrage over flogging of four Dalits for skinning a dead cow in Una in Gujarat.
"I get so angry at those who are into the Gau Rakshak business. A Gau Bhakt (cow devotee) is different, Gau Seva (cow protection) is different. I have seen that some people are into crimes all night and wear the garb of Gau Rakshaks in the day," said Modi while addressing his first townhall after coming to power, reports NDTV.
But Prime Minister Modi's admonishment did not seem to have had any impact. IndiaSpend reports that in the first six months of 2017, 20 cow-terror attacks were reported–more than 75% of the 2016 figure, which was the worst year for such violence since 2010.
A fact not gone unnoticed by foreign media outlets who have taken a tough stand against the government's inability to prevent such attacks in the name of cow protection.
Columnist Aatish Taseer in an op-ed published in The New York Times earlier this month cited the case of 55-year old Pehlu Khan who was lynched by cow vigilantes in Rajasthan after he was accused of smuggling cows. Taseer writes,
[blockquote width='100']
"In Mr. Khan's case, the law was not merely paralyzed; it actively served the killers. In the first hours after Mr. Khan was attacked, 11 people were rounded up and arrested for cow smuggling — but not one for murder. Three people were arrested for Mr. Khan's lynching, but only days later, after he died. But the effect of the arrests was minimized by the role played by Prime Minister Narendra Modi's Bharatiya Janata Party.
The home minister of Rajasthan, the official in charge of the state's law enforcement, went on national television a few hours after Mr. Khan died to make clear where his sympathies lay. First, he played down the incident, describing it as "manhandling," then he seemed to urge the public to show understanding to the killers' motives: "There are two sides to this," he said."
[/blockquote]
Taseer also reminded his readers of Modi's speech in 2014 before becoming prime minister when he roused his listeners with a passionate speech supporting cow protection.
"Do you want to support people who want to bring about a Pink Revolution?" thundered Modi targeting the Congress, throwing the crowd into a frenzy, writes Taseer.
The Washington Post reported the 22nd June brutal killing of 16-year old Junaid who was stabbed by fellow passengers on a train journey in Haryana after an alleged fight over seats degenerated into communal slurs about eating beef. This was followed by an opinion piece on Wednesday by Nilanjana Bhowmick where she pointed out that the prime minister made no mention of the cow attacks through his radio programme 'Mann ki Baat' that has millions of listeners, though he touched upon several other less important issues.
[blockquote width='100']
"And while his monologue touched upon various topics, including yoga, toilets, sports, a meeting with the Queen, books as gifts and the … er … weather, Junaid Khan's murder didn't find a nano-second of air time. Modi did not mention the more than a dozen cases of lynchings, mostly against Muslims, recorded in India since September last year, especially in states ruled by Modi's Bharatiya Janata Party (BJP). Modi also did not address the violence of the cow-vigilante groups, who often owe allegiance to the BJP or its ideological parent the Rashtriya Swayamsevak Sangh (RSS)."
[/blockquote]
But what seems to have troubled the government more are a series of stories written by The Economist last week where they focused on the Indian economy under Narendra Modi. Calling him 'More a chauvinist than an Economist', the magazine says, "The fear is that, if the economy falters, Mr Modi will try to maintain his popularity by stirring up communal tensions."
[blockquote width='100']
"As prime minister, Mr Modi has been just as careful to court militant Hindus as jet-setting businessmen. His government recently created havoc in the booming beef-export business with onerous new rules on purchases of cattle, in deference to Hindus' reverence for cows (see article). Yogi Adityanath, the man he selected to run Uttar Pradesh, is under investigation for inciting religious hatred and rioting, among other offences."
[/blockquote]
The dilemma for the BJP and the prime minister is a real one. How to maintain a balance keeping its voter base happy through cow protection measures but to also keep a tight leash over violent cow vigilantes, threatening to tarnish Modi's carefully crafted image globally.
As The Washington Post op-ed concludes, "There is a silent but systematic slaughter against Muslims in progress in India. It's not too late to call it out."
That seems to be the only way out for the BJP government that recently completed three years of its five-year term in office.