Explainers
Measles-Rubella Vaccination: Is It Safe? All You Need To Know
BOOM answers key questions that parents have been asking about the MR immunisation programme.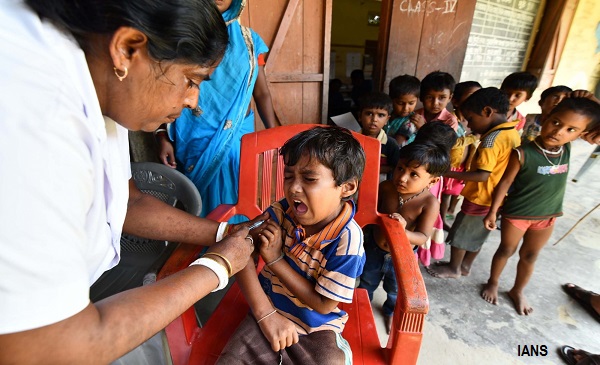 Morigaon: Health worker injects a measles-rubella (MR) vaccine to a boy at Hatibhangi village in Assam's Morigaon district, on Sept 7, 2018. (Photo: IANS)
The Health Ministry's nationwide vaccination campaign against measles and rubella aims to vaccinate 41 crore children in the country. However, the campaign is facing a major challenge in the form of panic and fear among parents, propelled by social media messages about the side-effects of the vaccine and a general lack of awareness about the vaccine. Parents have also expressed concerns on why the vaccine is compulsory when it is not part of the routine immunization programme.
Amidst the confusions about the vaccine, BOOM answers key questions that parents have been asking about the MR immunisation programme.
What are Measles and Rubella?
Measles is a highly contagious disease caused by a virus of the paramyxovirus family by direct contact or through respiratory droplets when infected persons cough or sneeze. It infects the respiratory tract and then the rest of the body with symptoms showing after 10-12 days of infection. It includes high fever, rashes, cough, running nose and red watery eyes. It can cause complications such as blindness, encephalitis, severe diarrhoea and severe respiratory infections including pneumonia. Measles related deaths are caused by complications due to weakening of the immune system. Children under the age of 5 years are more susceptible to the disease. However, it only affects human beings and not animals.
Rubella or German Measles is a contagious but mild viral disease which affects children and young adults. The symptoms include rashes, low fever, nausea and mild conjunctivitis. Rubella on its own is not a high risk infection but rubella infection during early pregnancy can pose serious risks to the foetus as in 90% of the cases, the virus is transmitted to the foetus. This can result in miscarriage, still birth or Congenital Rubella Syndrome (CRS) in infants. CRS can cause deafness, disabilities, heart impairment, autism and other birth defects. Around 40,000 children are born with birth defects due to CRS every year in India, according to WHO.
What is the prevalence of Measles and Rubella in India?
According to the World Health Organization, 'one-third of all measles-related deaths worldwide occur in India'. The number of measles related deaths in the country was 44, 33 and 28 in 2015, 2016 and 2017, respectively according to a Lok Sabha question dated July 2018.
In 2017, the incidence rate of Measles per 1 lakh population was 4.6 and for Rubella it was 0.26.
What is the treatment for Measles and Rubella?
There is no specific treatment for measles and rubella, but both are vaccine preventable diseases.
Measles-Rubella live vaccine viruses, which are weakened form of the viruses, are used to build immunity against actual infection. When these antigens / foreign substance are introduced into the body through vaccination, thereby mimicking an infection, the body releases antibodies to fight these. This prepares the human body to fight against real infection in the future.
What is the MR Vaccine?
Measles-Rubella vaccine (MR-Vac) is a combination vaccine that has antigens to prevent both Measles and Rubella. Rubella vaccine in the form of MR-Vac was first introduced in India in February 2017 with the aim of controlling Congenital Rubella Syndrome (CRS). Measles - Vaccine (M-Vac) was already being administered in the country as part of the national immunization programme.
MR vaccine is given at 9-12 months and 16-24 months of age of child. It is manufactured by the Serum Institute of India in Pune.
Other than this, private practioners were already using the combination vaccine of Measles-Mumps-Rubella (MMR) Vaccine which builds immunity against all the three infections.
What is the MR Vaccine campaign?
The MR Vaccine campaign was introduced in February 2017 by the Ministry of Health and Family Welfare with the support of state governments, WHO, UNICEF and NGO's to meet the target of eliminating measles and controlling CRS by 2020. The introduction of the vaccine is being done through an 18 months long campaign targeting 41 crore children between the age of 9 months to 15 years. The campaign model was adopted to build population immunity in one go by giving one shot of MR vaccine to all children up to the age of 15 years.
As part of the campaign, MR Vaccines will be provided free of cost at schools and health centres in the country. Every child between the age of 9 months to 15 years are supposed to be given a shot irrespective of their measles/rubella vaccination status or measles/rubella disease status, according to a February 2017 PIB release. After completion of the campaign, MR vaccines will be introduced in the routine immunization programme replacing the measles vaccine.
#Measles-#Rubella vaccine is safe. Get your child vaccinated today with #MR vaccine #vaccineswork #SwasthaBharat https://t.co/Dri15vVmY6

— Ministry of Health (@MoHFW_INDIA) September 12, 2017
These champions aren't afraid to #FightMeaslesRubella as the #MRCampaign launched in #UttarPradesh today. pic.twitter.com/rN3zcISbJf

— UNICEF India (@UNICEFIndia) November 26, 2018
Why is there a scare about the vaccine?
The vaccination drive has been marred by rumours about the vaccine leading to children falling sick or impotent.
In Tamil Nadu and Karnataka, which were covered in the first phase of the campaign, several messages were being circulated on social media and WhatsApp discouraging parents from getting their children vaccinated. According to a report by the Scroll, a tweet of Union Minister Kiren Rijiju on falling Hindu population was linked in these messages to claim that the vaccination drive was to control the minority population by making the children impotent. However, it was found that the audio message originated from Mallapuram district of Kerala which has a majority Muslim population and has witnessed resistance to government vaccination drives in the past.
Likewise, the rumours have been spreading in others states as the campaign proceeds. Gujarat also witnessed similar cases during the vaccination drive. It was reported that four children died after the vaccination in Gujarat in July 2018. Later a team of immunization experts from the centre ruled out the linkage between the deaths and the vaccine.
"The MR vaccination programme is safe, and the deaths of four children after they were administered the vaccine was due to reasons that are not related to the vaccination. The children died within five days after they were given the vaccination. They showed acute abdomen symptom, acute gastritis, viral encephalitis and drug reaction, which are not related to vaccination," said Pradeep Haldar - Deputy Commissioner for Immunization, Health Ministry.
#Gujarat deaths not due to Measles-Rubella vaccine: Central Probe teamhttps://t.co/PGWoxQwkro

— Ministry of Health (@MoHFW_INDIA) July 29, 2018
Since the past week, several messages are being circulated in Maharashtra after a 4-week campaign has been launched in the state to cover around 3.8 crore children. It was also reported that eight children from Wardha in Maharashtra were hospitalized after administration of the MR-vaccine, according to Lokmat News Network. The children had faced restlessness after the vaccination and was soon hospitalized. This has once again created panic among parents.
What do health officials have to say about the scare associated to the vaccine?
BOOM spoke to Dr Purushottam Madavi, the civil surgeon for Wardha district in Maharashtra where eight children were admitted to hospital after being administered the MR vaccine. He said that because there was some worry about the vaccine amongst parents, the department held counselling sessions at various locations in the city. "We told them how the vaccine is administered and how children might show side effects like dizziness and itching. We also told them there is nothing to worry and there no long term side effects except the immediate ones."
In a similar incident last week, 21 children in Buldhana district of Maharashtra complained of having faced some issues post vaccination. BOOM spoke to Dr Premchand Pandit, Civil surgeon, Buldhana district in Maharashtra who said that nearly 80,000 children had been administered the vaccine in the last week.
"Out of the 80,000 children, about 21 of them complained of some issues and were brought to the hospital for a routine check up," Dr Pandit said. He explained that before the day of the vaccination drive, officials from the health department of Buldhana district visited all schools and met parents and explained to them the known side-effects of the vaccine. "The parents were told everything and they were not worried either. In fact, only one of the children developed serious problems which included breathing and further tests revealed he had low immunity and had developed some allergic reactions to the vaccine. He started feeling fine after a few hours and was discharged,"he said.
Is the MR vaccine safe? Does it pose serious side effects?
'The MR vaccine being used in the campaign is completely safe,' says World Health Organization (WHO) in an FAQ on the Measles-Rubella Vaccination Campaign. It is being used in 150 countries of the world. It also says that the MR-Vaccine produced in India by the Serum Institute of Pune is WHO pre-qualified and used in neighbouring countries of Bangladesh, Srilanka, Nepal and Myanmar.
Both WHO and the Health Ministry say that the vaccine does not have any serious side effects. In case of any side effects like low fever or rashes, those are 'mild and transient'. It is same as in the cases of other injectable vaccines. The WHO also specifies about the quality of the syringe used in the campaign. It says, the syringe used on each child is 'a new auto disable syringe' which breaks off after a single usage.
The operational guidelines of MR-Vaccine by the Health Ministry says that 5% of the recipients may experience fever and 2% may face transient rashes. In rare cases - 1 in 1 million - children may face anaphylaxis, within 5-30 minutes after the injection. Symptoms of anaphylaxis are rashes, swollen eyes, breathing obstruction, low blood pressure, abdominal cramps and loss of consciousness.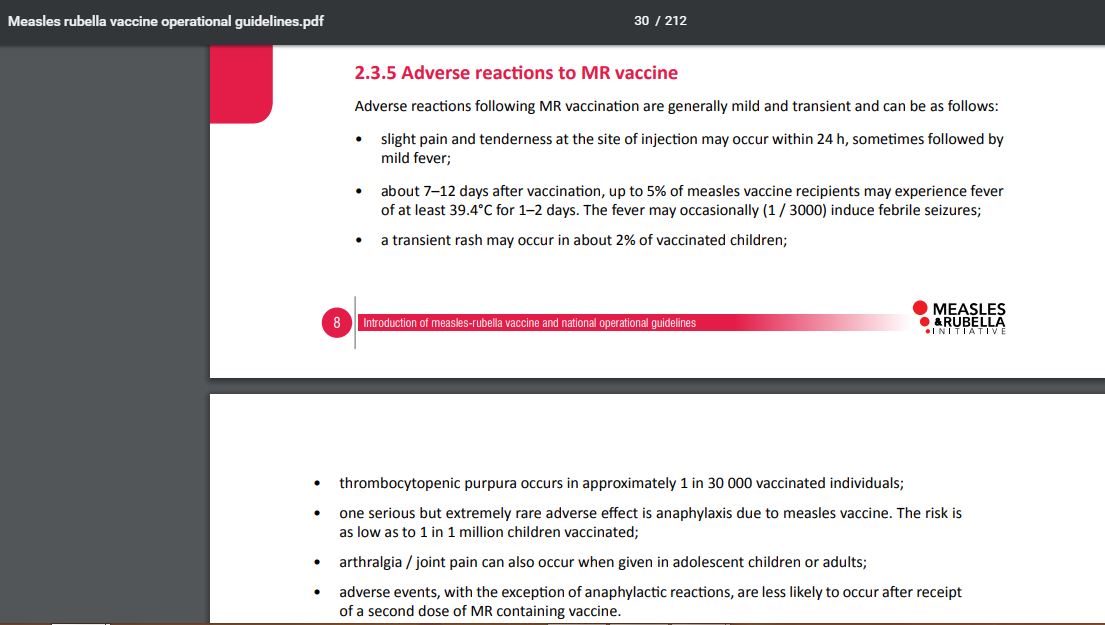 BOOM also spoke to experts who confirmed that the vaccine does not pose serious health risks other than some short term reactions which is the case of other vaccines as well. It may include mild fever, running nose, drowsiness, irritability and pain/ swelling at the spot of injection.
Dr Naveen Thacker - Coordinator and Executive Director-Elect, International Pediatric Association - said, "MR-Vaccine is very safe". He also pointed out that the MR-Vaccine is not completely new as the private practitioners were already using the combination vaccine of MMR in India for several years.
Dr Sylvia Karpagam, Public Health Doctor, said that the vaccine itself does not have serious side effects but there can be mild reactions. Karpagam was of the view that the parents should be informed about the side effects in advance. This, she said will in fact help in controlling the panic even if the child faces minor reactions. She also said that parents should be given the choice to opt their children out of the MR vaccine campaign if they have received MMR vaccines.
Is it safe to take MR shots even if the child has received M-Vac or MMR in the past?
The MR Campaign Vaccine is to be given to children of the target group (9 months to <15 years of age) irrespective of past history of disease or vaccination - M-Vac or MMR. The campaign vaccine is an additional supplementary dose.
It has to be noted that the MR-Vac Campaign is not a substitute for the M-Vac or MR-Vac given in the routine immunization programme. It is just a one time extra shot.
The Health Ministry's Operational Guidelines says that, 'As this is one-time activity and there is no harm done to the child with an extra dose'.
Dr Thacker also confirmed that an extra dose does no harm. He also said that even in routine immunization programmes, multiple doses of a vaccine are given as one shot does not always guarantee immunization.
MR vaccine efficiency is 85% when given below 12 months of age in a child and > 95% efficacy when given above 12 months of age. Rubella vaccine efficacy is more than 95% if administered to a child below 12 months and > 99% if given above 12 months of age.
Who should not be administered with MR Vaccines?
According to the Health Ministry's guidelines and WHO, children with high fever or with serious diseases or hospitalized children should avoid being vaccinated. Children who have displayed anaphylaxis / allergic reactions to MR vaccine in the past and who are immune-compromised due to congenital diseases, HIV, leukemia should also not be vaccinated.
Additional reporting by Nivedita NiranjanKumar
Do you always want to share the authentic news with your friends?
Subscribed Successfully...
Enter Valid Email Id