'Maut Ka Bathtub': TV Channels' Insensitive And Deplorable Coverage Of Sridevi's Death
Indian media turns coverage of Sridevi's death into a grotesque media spectacle.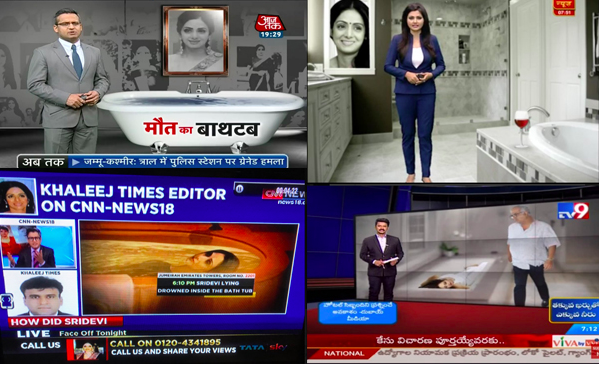 Barely hours after the news of actor Sridevi's death broke out during the early hours of February 25, speculation over what led to her death drove Indian TV channels to turn it into a grotesque circus, from spinning wild conspiracy theories to scrutinising the state of her marriage. Indian TV channels that were grasping at straws got a second wind after Khaleej Times reported Monday afternoon that the 'autopsy report' mentioned 'accidental drowning' to be the cause of the death and not a cardiac arrest as was widely believed until then.
Two UAE based publications Khaleej Times and Gulf News reported the story when details of the actor's death certificate were released.
Khaleej Times first reported at 2:53 pm on Monday.
"Sridevi drowned in her bathtub following a cardiac arrest, the report has confirmed."
But at 3 pm, Khaleej Times put out further updates which did not mention a cardiac arrest.
"The autopsy on the body of Sridevi is complete and the death certificate is out. We have a copy of the report and shall update the readers soon. The death certificate mentions the cause of death as accidental drowning."
At 3:19 pm, Khaleej Times ruled out cardiac arrest.
"Sources in the police department and an exclusively obtained copy of Sridevi's death certificate has confirmed that her cause of death is accidental drowning. The late actor did not suffer a cardiac arrest. However, early reports also suggest that she lost her balance and fell into the tub."
At 3:34 pm, Khaleej Times then tweeted the copy of the death certificate which spelt 'drowning' as 'drawning'.
Khaleej Times has exclusively obtained a copy of #Sridevi's death certificate that confirms the cause of death as 'accidental drowning'. She did not suffer a cardiac arrest. EXCLUSIVE details - https://t.co/STLXW5y2VI pic.twitter.com/NcGm6g4oVU

— Khaleej Times (@khaleejtimes) February 26, 2018
Meanwhile, Gulf News had one extra detail not found in the Khaleej Times story till then - traces of alcohol being found in Sridevi's body that could have contributed to her death.
Update: Forensic report states Bollywood legend Sridevi died of accidental drowning in a Dubai hotel bathtub; traces of alcohol found in actress' blood https://t.co/X8VVoKghgD

— Gulf News (@gulf_news) February 26, 2018
Strangely, the two documents put out on social media which had "accidental drawning" mentioned, did not reveal any details of traces of alcohol in the body. It is not uncommon for anyone attending wedding parties to have traces of alcohol in their blood.
Gulf News also had opinions of doctors as well in one of their stories that fuelled the alcohol theory.
"Dubai doctors opined that such pills in combination with alcohol could have lead to heart arrhythmia triggering a fainting spell and causing her to accidentally drown."
For the Indian media who have shown the enthusiasm of vultures around a corpse, this was it. The floodgates had opened for what can now be called 'Bathtub Journalism'.
Across the board, English, Hindi news channels and many regional channels had decided this was the most opportune time to display the strength of their technology and graphics firepower.
CNN News 18's Zakka Jacob's show at 4:22 pm had an interview with Khaleej Times editor with a call-in number mentioned for viewers to call and share their views. The image on the screen also had a graphic of Sridevi submerged with her head slightly above water.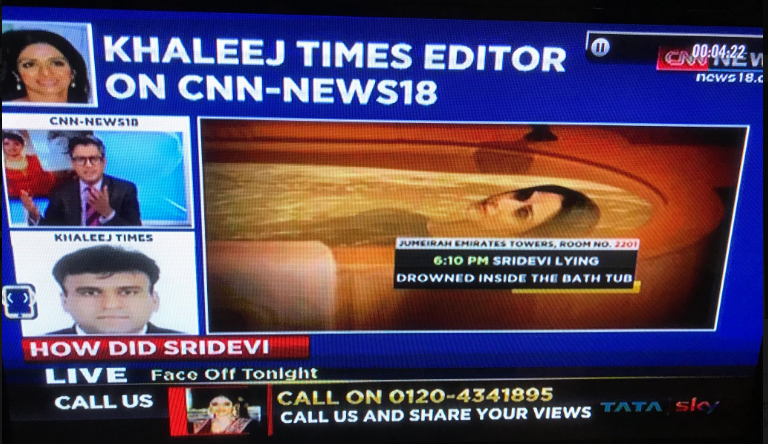 TV9 had a graphic showing husband Boney Kapoor looking over the bathtub with Sridevi lying in.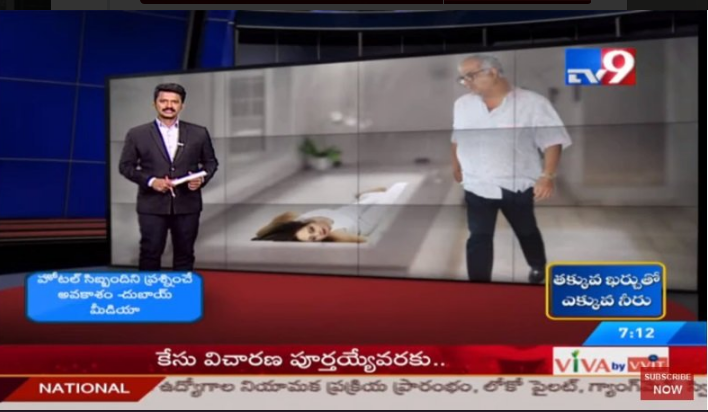 Aaj Tak had an anchor standing in front of a screen with "Maut ka Bathtub" written over the screen and a portrait of Sridevi hanging above it.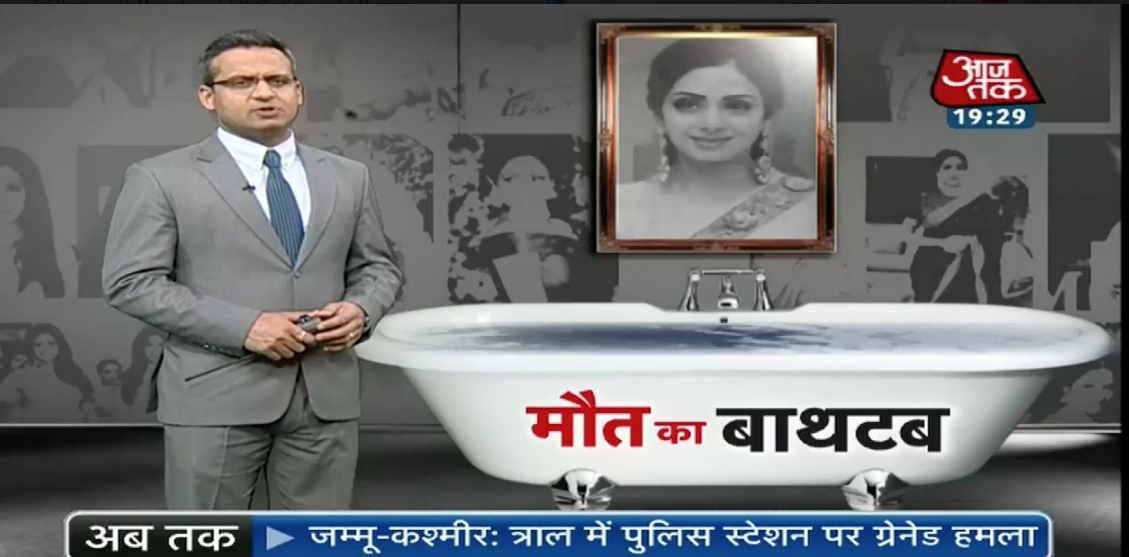 ABP News decided to move one more step ahead and positioned an anchor in front of a bathtub with a glass of wine placed near a sink. It is not clear where ABP News learnt that Sridevi had consumed alcohol inside the bathroom.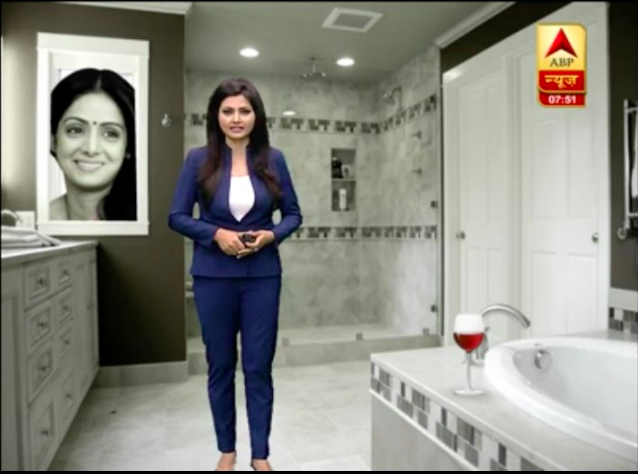 Telugu channel Mahaa News decided graphical representation was just not enough. So they sent a reporter to show their viewers what can go wrong in a bathtub. A small consolation was that the reporter decided to spare viewers by enacting the entire scene in a dry bathtub.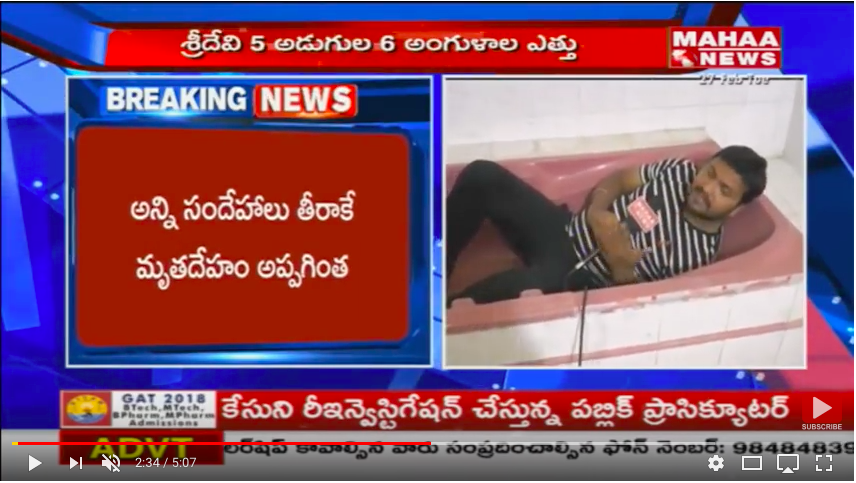 Times Now's editors Navika Kumar and Rahul Shivshankar turned into Scotland Yard sleuths. Their graphical representation had measured the bathtub's height and breadth with a hologram Sridevi in standing position with a headline "Death theory changes overnight."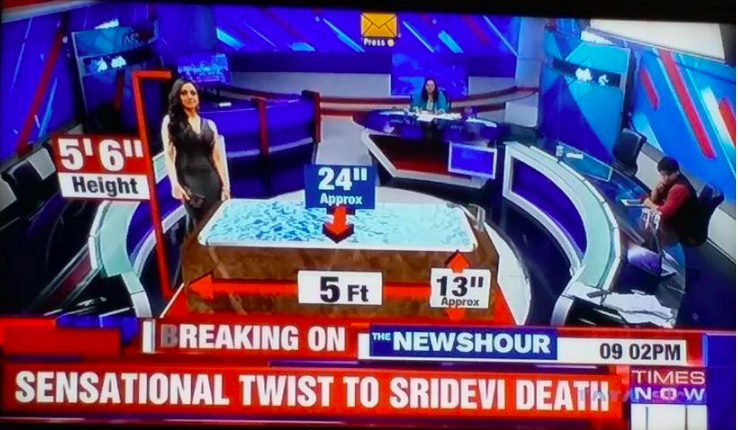 While Navika asked whether the new revelations raises the question of this is no longer an open or shut case, Rahul had several guests on the show 'India Upfront' including estranged Congressman Shehzad Poonawala along with Simi Chandoke, an entertainment reporter. Chandoke whose reporting chops is not crime reporting, painted the picture of an actress who was bogged down by her husband's finances and the pressure surrounding her daughter upcoming debut film.
There was pressure on her because her daughter is going to be launched. Most people in Bollywood knew Boney Kapoor was going through financial problem and his films were not doing well: @TheSimiChandoke, Consultant, Times Now #SrideviDeathMystery

— TIMES NOW (@TimesNow) February 26, 2018
Times Now also literally fanned conspiracy theories on social media.
THEORY 3

Lost her balance, slipped, lost consciousness, accidentally drowned in bathtub #SrideviDeathMystery https://t.co/MIm4Hwm74d

— TIMES NOW (@TimesNow) February 26, 2018
Indian journalists also thought it wise to seek comment from Sridevi's acquaintances and friends. The now out of favour politician Amar Singh known for his Bollywood connections had this to say about her death.
#Sridevi ji did not drink hard liquor,she used to have wine sometimes like me& like many others in public life.I have talked to Abu Dhabi's Sheikh Al Nahyan, he assured me that all formalities and reports are complete. Her mortal remains should reach India by midnight: Amar Singh pic.twitter.com/dprcBgGGjX

— ANI (@ANI) February 26, 2018
But TV channels gave his quote of Sridevi not drinking 'hard liquour' a sinister spin.
The non-stop reportage also led Indian TV channels to turn to their favourite dial-a-quote and unofficial top cop- Subramanian Swamy, who is convinced Sridevi's death involves foul play.
Sridevi's death a probable murder: BJP's Subramanian Swamyhttps://t.co/t4PUJaLof8

— TIMES NOW (@TimesNow) February 27, 2018
WATCH: Dr Subramanian Swamy makes a sensational claim over #SrideviDeathMystery https://t.co/s4oSBLyhAm

— Republic (@republic) February 27, 2018
The media spectacle in India around Sridevi's death has not gone unnoticed by foreign press. Khaleej Times had a word of caution for Indian journalists in its 'Nano Edit' snippet on its front page. "To the media in India, we advise patience'. A virtue in these trying times', the paper wrote.
The Dubai newspaper @khaleejtimes has a "nano edit" on its front page today with these stellar words directed at detectives in Indian TV newsrooms trying to crack open the #SrideviDeathMystery: "To the media in India, we advise patience---a virtue in these trying times." pic.twitter.com/xNvdhwRPNL

— churumuri (@churumuri) February 27, 2018
At the time of writing this story, Khaleej Times reported that Sridevi's body was on its way for embalming and that Dubai police had given a clearance letter to family members.
The official Twitter handle of the Dubai government tweeted that 'Dubai Public Prosecution stressed that all regular procedures followed in such cases have been completed'. Dubai Media Office tweeted that the case had now been closed.
Dubai Public Prosecution stressed that all regular procedures followed in such cases have been completed. As per the forensic report, the death of the Indian actress occurred due to accidental drowning following loss of consciousness. The case has now been closed.

— Dubai Media Office (@DXBMediaOffice) February 27, 2018