Mangalyaan: India's Low-Cost Gamble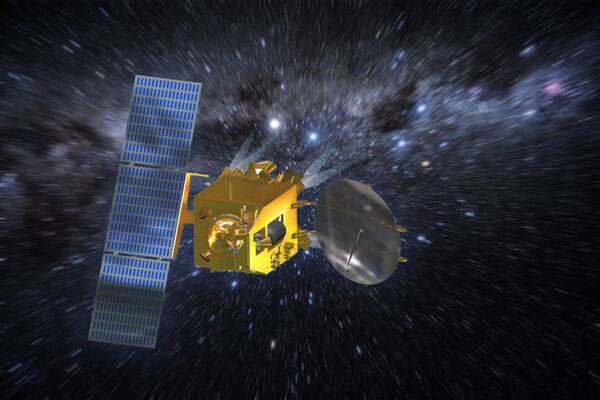 Mangalyaan, India's Mars Orbiter Mission (MOM), underwent a crucial manoeuver on September 22nd when scientists at Indian Space Research Organisation (ISRO) successfully test-fired its main liquid engine.
India's maiden inter-planetary mission was launched on November 5, 2013 from Sriharikota in Andhra Pradesh. It had left Earth's orbit on December 1, 2013, and is now set to be inserted into the orbit of Mars on September 24th.
Out of the 51 Mars missions so far, only 21 have been successful. China's Orbiter, Yinghuo-1, was launched in 2011 and was declared a failure as it got stranded in space. What makes MOM even more remarkable is that it was executed in 15 months at a cost of Rs 450 crore ($75 million). This is a fraction of the amount U.S.-based National Aeronautics and Space Administration (NASA) and other space agencies have invested in similar missions. NASA's Mars Atmosphere and Volatile Evolution (MAVEN), which was launched a month after MOM, cost $671 million.
The graph compares various Mars probes and the cost incurred in the process. The ones marked red failed while the ones in green were declared successful. The various probes include landers, rovers and orbiters, which explains the disparity in the costs for these projects.
The only mission to have a lower cost than that of MOM was Deep Space 2, a pair of penetrators launched in 1996 by NASA which were lost on arrival. The Curiosity Mars Rover stands out as an obvious exception as it is the largest and most ambitious rover ever sent to Mars. China's Yinghuo-1 and Russia's Mars 96 could not be included in the graph as their costs were not released to the public.
Before the test-firing, Annadurai, programme director at ISRO, told Hindustan Times: "The test firing is like a trial. The dormant engine has to be brought back to life. It is a challenge but if one is prepared well for the exam, the confidence for success is higher."
#MarsOrbiter Main Liquid Engine test firing successful! pic.twitter.com/NDhL9vVWRs

— ISRO (@isro) September 22, 2014
The 440 Newton Liquid Apogee Motor (LAM) had been idle for the last 10 months and was ignited for 4 seconds at 2.30 pm IST on September 22. A day earlier, MOM had entered the Mars gravitational sphere of influence and now its velocity needs to be controlled so that it does not escape its influence.
#MarsOrbiter has just entered the Martian neighborhood. pic.twitter.com/hwz3DN5KFw

— ISRO (@isro) September 22, 2014
"We test-fired the engine for 3.968 seconds and it has served two purpose. We restarted the engine after 300 days and we were able to fire it. It was also a useful trajectory-correction manoeuver where we reduced the velocity of the spacecraft by 2.18 meters per second from a speed of 22.5 kilometers per second," V Koteswara Rao, scientific secretary to ISRO, told Forbes.
Mangalyaan's success would be a breakthrough in the field of low-cost space exploration. It would signify India's advancement in technological capability and frugal engineering. ISRO scientists have minimized costs by using the earth as a slingshot to send the MOM in a sun-centric orbit. The launch vehicle, Polar Satellite Launch Vehicle (PSLV-XL), made its 25th flight for the Mars orbiter, another cost-saver. ISRO has utilised indigenous technology for almost all the parts of MOM and everybody involved in the project are Indians.
"We used the launch vehicle that was available to us to the best of its capability, tailoring the launch time and angle to achieve the correct trajectory," ISRO chairman Koppillil Radhakrishnan told The Guardian. "While Mangalyaan was in Earth orbit, we tested its performance and the instruments on board, so this was another advantage."
Radhakrishnan also justified the spending for the mission, and said that ISRO only spends 7% of its budget on pure science, which includes missions like MOM. "If you look at the Indian space programme, it is primarily for the people; 55% of our budget is used for satellites that help more than 100,000 fishermen find their daily catch. We help the Government monitor crops, and ground and surface water. Our satellites have helped millions of people escape cyclones in time and we've even helped develop tele-medicine for people who live too far to visit a specialist," he added.
New York Times reported that the Mars mission is also having a multiplier effect on the Indian industry. Companies like Larsen & Toubro and Godrej & Boyce, which built vital parts for the satellite, will use the high-tech expertise to compete for global aerospace, military and nuclear contracts. Godrej, for example, has begun making engine parts for Boeing.
Mangalyaan is scheduled for Mars orbit insertion at 7.30 am IST on September 24. If all goes well, India will join the elite club of USA, Russia and Europe to have successfully sent probes to the red planet. India will also have the distinction of managing this feat on its first attempt.