Law
'Woman' Not 'Harlot' Or 'Seductress': SC Handbook on Gender Stereotypes
The handbook will assist judges and the legal community to identify, understand, and combat stereotypes about women in legal discourse.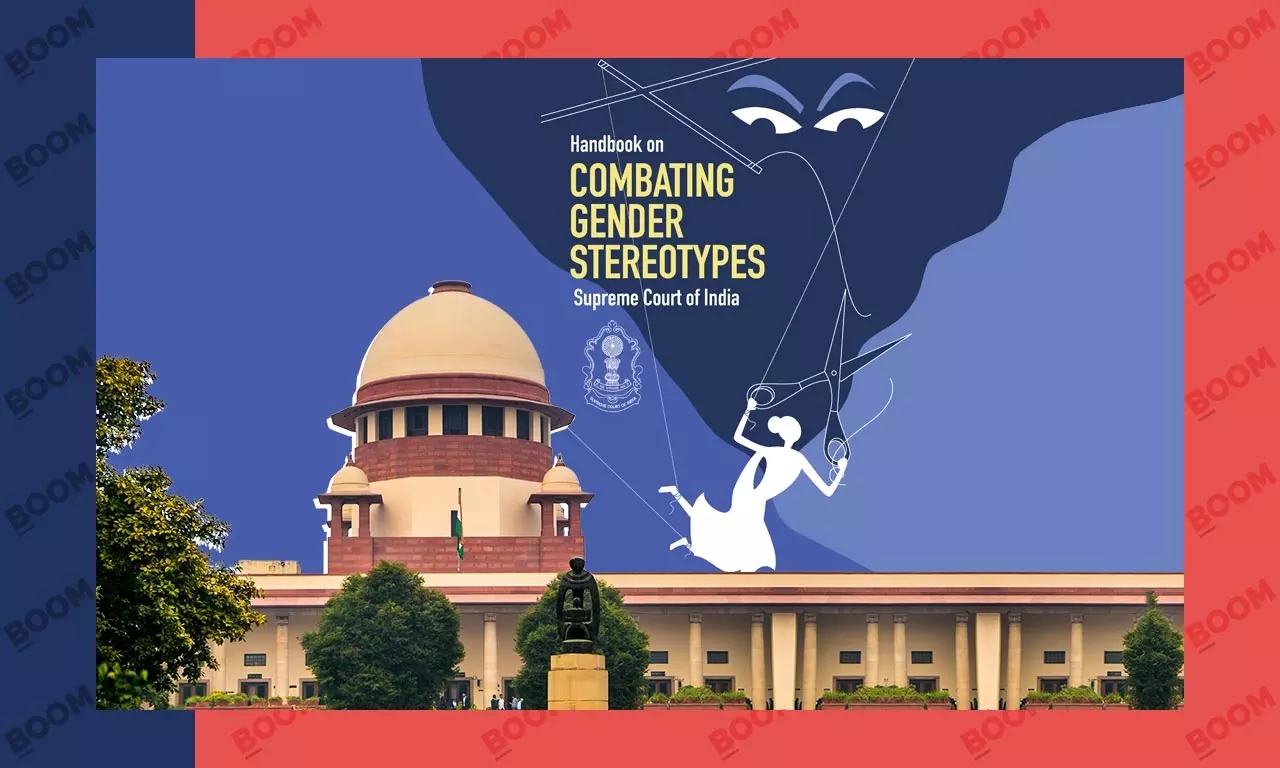 Supreme Court on Wednesday released a handbook on combating gender stereotypes which will act as a guide for judges to avoid using inappropriate terminology in court orders and legal documents.

"This is to assist judges and the legal community to identify, understand, and combat stereotypes about women in legal discourse. It contains a glossary of gender unjust terms and suggests alternative words and phrases which may be used while drafting pleadings as well as orders and judgments. It is for lawyers as well as judges", Chief Justice of India DY Chandrachud said in court while announcing the release of the handbook.

The handbook is in line with CJI Chandrachud's track record of delivering progressive judgments aimed at elevating women's agency and their sexual autonomy. A self-confessed feminist, the top judge has also advised others to incorporate "feminist" thinking while dealing with the law.

The handbook says language a judge uses reflects not only their interpretation of the law but their perception of society as well. "If harmful stereotypes are relied on by judges, it can lead to a distortion of the objective and impartial application of the law," it added.

For example, the handbook suggests that words like "Adultress", "fallen woman", "career woman", "whore", and "faggot" are "stereotype promoting language" and the same must be avoided. Nomenclatures like "seductress", "harlot", "easy woman"/"promiscuous woman" etc can be avoided and one can simply refer to the individual as "woman", the handbook suggested. It adds that instead of terms like "ravished", one can say raped or sexually assaulted or that one could avoid saying "spinster" and say unmarried woman instead.
The handbook also junks stereotyping behaviour like "all women want to have children", "women are overly emotional, illogical and cannot take decisions", or that women should stick to household chores or take care of their husband's parents.
Does stereotyping impact judicial decisions?
Yes.
There are numerous examples of judicial reasoning backed by gender stereotypes that have affected final decisions. Over the years, there are several court orders which have shamed women and expressed their opinion of how women should behave if they are victims of sexual assault.

Perhaps the Bhanwari Devi case is the most prolific example.

A trial court in 1995 acquitted the perpetrators who raped Bhanwari Devi on the assumption that men from a dominant caste would not rape women belonging to an oppressed caste; men of different castes would not participate in a gang rape; older men aged 60-70 cannot participate in a gang rape; and that it was improbable that a woman could be raped in the presence of her husband.

The trial court judgment not only triggered national outrage but also prompted the Supreme Court to lay down the Vishaka Guidelines and which were later given legal colour in the form of the Sexual Harassment at Workplace Act.

In 2021, a trial court in Goa observed the victim appeared "normal and happy, did not look disturbed", "not possible to believe an intelligent woman aware of laws and physically fit would not push off the accused", did not demonstrate "normative behaviour" while acquitting former Tehelka editor in chief Tarun Tejpal for allegedly raping and sexually assaulting his female colleague.

Five days after the acquittal, the state of Goa appealed against it pointing out that if one were to go by the findings of this verdict, "then a victim must exhibit trauma to be a victim of sexual abuse".

The handbook lists examples of troublesome judicial reasonings based on gender stereotypes.

For example, it talks about an appeal against a decree for restitution of conjugal rights, it was admitted that the husband regularly beat his wife because he wanted breakfast at 6 AM but the wife only woke up at 7 AM; she did not dress according to his wishes.

Though the Supreme Court ruled against the decree—a legally correct outcome—the top court's reasoning reinforced harmful gender stereotypes which prove to be problematic.

"The judicial reasoning reinforces the stereotype that it is a woman's exclusive responsibility to perform household chores and dress according to her husband's expectations. Further the use of language such as "dutiful wife" only accentuates these harms," the handbook read.

In March 2021, the top court set aside and expunged portions of the Madhya Pradesh High Court order which directed a man accused of outraging a woman's modesty to get a Rakhi tied to him by the victim as a condition for bail.

The handbook also refers to this Madhya Pradesh High Court order as an example of stereotyping.

Do you always want to share the authentic news with your friends?
Subscribed Successfully...
Enter Valid Email Id