'Lalitgate' Narrows The Window Of Modi's Popularity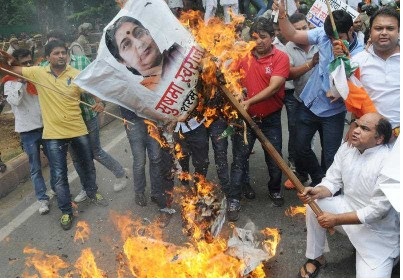 The Modi government has burnt its fingers in the cricket cauldron.'Lalitgate' began with Lalit Modi, the former head of the Indian Premier League cricket tournament.
Indian Prime Minister Narendra Modi is in trouble. He and the Bharatiya Janata Party (BJP) romped to power in 2014 on an anti-graft and pro-governance platform. Today, thanks to what is being popularly dubbed as 'Lalitgate', both Modi and his party are seen as condoning nepotism.
'Lalitgate' began with Lalit Modi (not related to Narendra), the former head of the Indian Premier League (IPL) cricket tournament. He fled to Britain to escape being investigated for cricket-related foreign exchange transactions, including an alleged US$25 million in kickbacks from an US$81 million sponsorship deal. Since a British media exposé in June 2015, he has been in the Indian media for amassing public funds and his scam-like involvement with the otherwise 'scam-free' BJP. His principal benefactors, External Affairs Minister Sushma Swaraj and Rajasthan state Chief Minister Vasundhara Raje have been pulled into the debacle.
The public perception is damaging for the government. The prime minister himself has not been accused, but Swaraj has been accused of conflicts of interest. Her husband and daughter have been on Lalit's panel of lawyers. In 2014, she also persuaded the British government to facilitate Lalit's travel to Portugal to be with his ailing wife.
Raje stood guarantee for the 'family friend' when he applied to travel to Portugal.  Lalit has business links with Raje's lawmaker-son, Dushyant Singh. Raje is a princess and erstwhile Maharani (queen). The leaks are damning for both women who have done well in spite of the women-unfriendly tone of the Rashtriya Swayamsewak Sangh (RSS or Indian National Volunteer Organisation), the BJP's ideological mentor.
Using social media as a weapon to target the big guns of Indian cricket, some of whom are also influential politicians, Lalit has also accused Finance Minister Arun Jaitley of running the entire cricket show.
The prime minister's silence is deafening as he struggles to control the crisis remotely. His reputation as one who is not corrupt, nor tolerates graft, is in jeopardy. By helping Lalit — who is wanted by Indian law and under investigation but has not been declared a fugitive — the Modi government has burnt its fingers in the cricket cauldron.
If Lalit has amassed money and acted high-handedly, so have others in the cricket world. The cricket czars would like Lalit to stay out and stay silent. But Lalit is tweeting like a canary.
Lalit says the former Manmohan Singh government hounded him. He has dragged in President Pranab Mukherjee — who was finance minister before he took the highest office — and his successor, Palanivel Chidambaram. The Indian National Congress leaders have also been targeted. But after a year in political wilderness, the party finds the prime minister's troubles a godsend.
Lalit is both the victim and the villain, an untouchable in the establishment — political, financial or cricket. But his buccaneering has won him admirers. Some call him India's Julian Assange.
A game of wile, wit and misplaced wisdom, of innuendoes and outright slander is on. Major TV news channels are playing 'Lalitgate' as if nothing else is happening. It is ironic and exasperating for the prime minister to find another 'Modi' snatching away media space that has been his for long.
Since 2014, India has witnessed two types of scams. The first one is about using official positions to outright steal resources such as when Manmohan had corruptly allocated coal blocks during his second tenure. The present one is nepotism. But to argue that there has been no monetary loss to the nation would be patently wrong. Personal friendship and family ties have got mixed with professional links — all for money.
There is a sense of déjà vu. It would be apt to compare with the way the Rajiv Gandhi government handled the 1986 Bofors gun deal scandal.
Narendra Modi has not spoken. His past record has been one of neither defending nor regretting the 2002 anti-Muslim violence in Gujarat state. Yet he continued in office as the chief minister for 12 years, winning three democratic elections. He may have to at some stage — parliament is slated to meet for the monsoon session in July. Modi hopes to have tired out the critics on Lalitgate by then. But other controversies are surfacing, hurting his anti-graft posturing, while he continues with an incessant barrage of campaigns related to his development agenda at home and his engagement with world leaders.
For their part, the Gandhi government should have straight away ordered a probe, but it did not. The Modi government has also shied away from the task. The investigating agencies have belatedly begun to move.
Unless the government gets Lalit home and makes him face a well-coordinated probe, things could go seriously wrong. The question is, will a government that facilitated Lalit's travel papers ask the British authorities for his extradition or his interrogation in London?
Slowly, but surely, more controversies are surfacing. A probe into graft in recruiting of low-rung officials in Madhya Pradesh state has spurred deaths of 46 accused — those who paid up hoping to get the jobs — and witnesses. Smriti Irani, the federal Minister of Human Resource Development, does not know if she dropped out of a science or commerce degree. Two ministers in Maharashtra are accused of spending huge sums without following procedures.
Modi's year-long honeymoon has ended, unlikely to recur anytime soon. His roller-coaster ride of political success and his love-fest with his admirers — at home at least — have vanished. The man who promised happy days to India is in for tumultuous times.
This article has been republished from Eastasiaforum.org.
(BOOM is now available across social media platforms. For quality fact check stories, subscribe to our Telegram and WhatsApp channels. You can also follow us on Twitter and Facebook.)
Related Topics:
Acche din, Bharatiya Janata Party, India, Indian National Congress, Indian National Volunteer Organisation, Indian Premier League, Lalitgate, Modi government, Political success, politics, Rashtriya Swayamsewak Sangh, Social Media
BOOM
BOOM is an independent digital journalism initiative. We are India's first journalist-driven fake news busting and fact checking website, committed to bring to our readers verified facts rather than opinion. When there is a claim, we will fact check it. We also report on stories and people who are fighting for individual rights, freedom of expression and the right to free speech. And some cool stuff when we are not doing that.