After A Solid Start, Kiran Bedi Now Down To Photo Finish
The 2015 Delhi Elections will be held on Feb 7th, and as we enter the last week of campaigning, the increasingly bipolar election seems to be heading for a photo-finish. What do the latest polls reflect?
"The polls which have been concluded today are showing almost the same thing as last week. BJP seats are static at 37 while the AAP seat share has gone up by 2 seats to 28. Congress seems to have gone down by 2 seats. BJP is not crossing 45 per cent currently," said Yashwant Deshmukh, Managing Director and Editor of CVoter Foundation.
"When you meet different people in Delhi, you get a sense that this election will be very close. There is a divide which is pretty much down the middle virtually, and it's very pronounced," said Ayaz Memon.
"The demographics show that the low-income groups and minorities continue to support Aam Aadmi Party (AAP). The middle class, the upper class and the Hindu majority are in favour of the Bharatiya Janata Party. Interestingly, before Kiran Bedi's induction, BJP's vote share intention was much more than their leadership rating. Post-Bedi, the leadership ratings and the votes for BJP are in sync," Deshmukh added.
Memon questioned if Bedi had arrested what could have been a late surge by Arvind Kejriwal. "In our September polls, the BJP lead was around 10 per cent votes over AAP. But, by December, within three months the lead came down to one per cent. If they had gone on without a leadership figure, we would have been discussing a scenario where AAP may have been leading over the BJP. Kiran Bedi's induction is not to get new votes for the BJP, but to consolidate their existing vote share," Deshmukh explained.
The latest AC-Nielson opinion polls from Jan 27th, 2014 show a clear majority of 50 per cent for AAP in terms of vote share. BJP has 41 per cent of the votes while Congress has 9 per cent.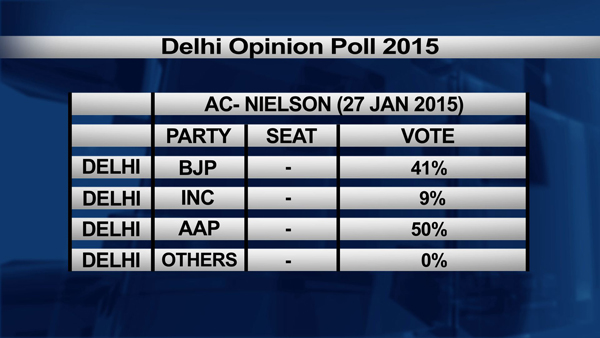 Deshmukh dismissed these polls and said that vote share for others being zero is impossible. "Statistically, as well as practically, the vote share for others cannot be zero. In the last two weeks in their polls, the Congress vote share dropped from 26 per cent to 9 per cent. Their AAP vote share is roughly 10 per cent more than what all other polls are saying," he said.
"One big thing would be the turnout factor. The BJP traditionally has contested elections through their RSS cadre and the BJP cadre on ground. But so far, this hasn't been working in a cohesive way. The BJP is trying to win this election based on a tertiarty campaign, which is very surprising. This may have a direct impact on the turnout on Election Day. This will only come out on the day of the exit polls."
"Over the past three months, AAP and Arvind Kejriwal have been running a brilliant ground mass-contact programme and campaign. It will be a photo-finish for sure," Deshmuk concluded. .