Kerala Floods: Did UAE Really Offer $100 mn Aid?
Speaking to The Indian Express, Ahmed Albanna, UAE Ambassador said that there has been no official announcement so far by them on any specific amount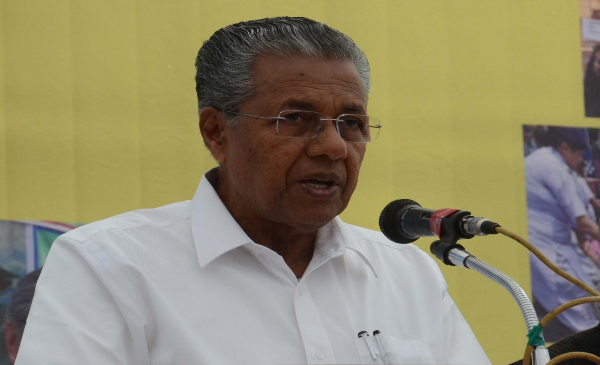 Pinarayi Vijayan, Chief Minister, Kerala
Did United Arab Emirates (UAE) really offer Rs 700 cr as monetary aid for flood-hit Kerala? It seems, even if it was mentioned with head of states phone talks, neither the UAE government nor the Indian government has declared it officially.
This fact has been confirmed by Ahmed Albanna, UAE Ambassador to The Indian Express that there has been no official announcement so far by them on any specific amount as financial aid. While Albanna said that the assessment of relief needed for the flood and aftermath is ongoing, nothing is final yet.
"It has not been announced," Albanna said in his interview to The Indian Express.
$100 mn aid: So, where did this figure emerge?
It is Pinarayi Vijayan, the chief minister of flood-hit Kerala, who is the only person, who mentioned about UAE's $100m financial aid.
Last Tuesday, while holding a press conference, the Kerala chief minister announced at that the UAE government has come forward to help flood-hit state.
"The help has been conveyed by the UAE Councils to the Indian Prime Minister Narendra Modi. Today morning (August 21), Sheikh Mohammed bin Zayed bin Sultan Al-Nahyan, the crown prince of Abu Dhabi, informed our prime minister about their contribution for Kerala and this was conveyed to me by M.A. Yusuf Ali (who owns Lulu Supermarkets)," he said.
"They have decided to provide $100m as financial aid for flood-hit Kerala," he added.
On August 17, Sheikh Mohammed bin Rashid Al Maktoum, the Vice President and Prime Minister of the United Arab Emirates (UAE), and Ruler of the Emirate of Dubai, had tweeted that UAE and the Indian community will unite to offer relief to those affected. "We urge everyone to contribute generously towards this initiative. The people of Kerala had always been successful in the success of the UAE. We have a special responsibility to support and assist the flood victims. Especially in this epic and blessing of Eid al-Adha," tweeted the UAE Prime Minister.
ഈ സംരംഭത്തിലേക്ക് ഉദാരമായി സംഭാവനചെയ്യാൻ ഏവരോടും ഞങ്ങൾ അഭ്യർഥിക്കുന്നു. യു എ ഇയുടെ വിജയത്തിന് കേരള ജനത എക്കാലവും ഉണ്ടായിരുന്നു. പ്രളയ ബാധിതരെ പിന്തുണക്കാനും സഹായിക്കാനും നമുക്ക് പ്രത്യേക ഉത്തരവാദിത്വമുണ്ട്. വിശേഷിച്ച് ഈദ് അൽ അദ്ഹയുടെ പരിശുദ്ധവും അനുഗ്രഹീതവുമായ ഈ സന്ദർഭത്തിൽ. pic.twitter.com/fixJX02bV4

— HH Sheikh Mohammed (@HHShkMohd) August 17, 2018
On August 18, Modi tweeted his thanks to the UAE prime minister for his offer of help.
A big thanks to @hhshkmohd for his gracious offer to support people of Kerala during this difficult time. His concern reflects the special ties between governments and people of India and UAE.

— Narendra Modi (@narendramodi) August 18, 2018
Here also, the $100 mn was not mentioned by the Prime Minister though he mentioned the offer as gracious.
Other than tweets, it was on August 21, at 21:30 pm, the UAE's official website reported and confirmed that HH Sheikh Mohamed bin Zayed Al Nahyan, Crown Prince of Abu Dhabi and Deputy Supreme Commander of the UAE Armed Forces, has discussed the devastation caused by the floods in Kerala during a telephone call with the Indian Prime Minister, Narendra Modi.
"During the call, His Highness Sheikh Mohamed bin Zayed expressed his sincere condolences and sympathy to the Prime Minister and discussed the relief efforts under way," the report added.
However, this report also didn't have the mention of $100 mn.
And on Wednesday night, the Abu Dhabi crown prince also confirmed through a tweet that he had spoken to the Indian Prime Minister.
I spoke to the Indian Prime Minister about the devastation caused by the floods in Kerala. My sincere condolences to the families of the victims. We stand with the Indian people. Our relief and charitable institutions are helping with relief efforts.

— محمد بن زايد (@MohamedBinZayed) August 21, 2018
Here also, the $100 mn offer was not mentioned.
So, neither the tweets nor the reports had any mention of $100m.
Yusuff Ali M.A, the Indian billionaire and the owner of Lulu Hypermarket chain worldwide, who is said to have conveyed the $100 mn UAE offer to the Kerala CM, has not posted anything on the offer either on his official FB or on his Twitter page.
Dog in Manger Policy
Meanwhile, Kerala finance minister Thomas Issac tweeted that centre's attitude is dog in manger policy.
We asked Union Gov for financial support of ₹2200 Cr ; they grant us a precious ₹600 Cr . We make no request to any foreign gov but UAE gov voluntarily offer ₹700cr. No, says Union gov , it is below our dignity to accept foreign aid. This is a dog in the manger policy.

— Thomas Isaac (@drthomasisaac) August 22, 2018
Polite Denial
A statement uploaded on August 22 late night on Ministry of External Affairs Ministry website, read that "The Government of India deeply appreciates offers from several countries, including from foreign governments, to assist in relief and rehabilitation efforts after the tragic floods in Kerala."
"In line with the existing policy, the government is committed to meeting the requirements for relief and rehabilitation through domestic efforts. Contributions to the Prime Minister's Relief Fund and the Chief Minister's Relief Fund from NRIs, PIOs and international entities such as foundations would, however, be welcome," the statement read.
Since the 2004 tsunami, India has had a long-standing policy of not accepting any foreign assistance for natural disasters.
Other than relatively small sums from Germany and Japan, the only external assistance India still receives is from multilateral sources.
In 2017, India's Minister of State at Ministry of External Affairs General (Retd) V.K. Singh told the parliament in reply to a question that India is currently a net donor of foreign aid.
Courtesy: www.mea.gov.in
"In the last three years, India has provided more aid to foreign countries, than it has received," he said.
Aid giver
In fact, India is now an enthusiastic internal aid-giver and first responder. It has extended assistance to the Philippines, Myanmar, Nepal, even sending an Indian Air Force aircraft with 25 tonnes of relief supplies at the Little Rock Air Force Base in Arkansas for victims of Hurricane Katrina in the US in 2005. After the 2008 Sichuan earthquake in China, Indian Air Force aircraft had also delivered relief material to victims.
The last time that the ministry of external affairs had to publicly deal with foreign aid offers was in July 2013, during the Uttarakhand floods.
To a Russian offer of help, the then MEA spokesperson Syed Akbaruddin had reiterated that "as a general policy in case of rescue and relief operations we have followed the practice that we have adequate ability to respond to emergency requirements".
"And for a variety of reasons we have not also in the past too, unless there are specific circumstances, been able to accept offers of assistance for rescue and relief," he said on July 3, 2013, politely rejecting Russian the offer of assistance.
India then made it clear to both the US and Japan, which offered $200,000 towards Uttarakhand relief, that it will not accept the aid and that any funding must be given to NGOs of the foreign governments' choice.
"As a general policy in case of rescue and relief operations, we have followed the practice that we have adequate ability to respond to emergency requirements," external affairs ministry spokesperson Syed Akbaruddin had said.
NDMA Policy welcomes
However, the National Disaster Management Policy released in 2009 clearly says that the central government will also facilitate coordination with the UN Agencies, International Organisations and Governments of Foreign Countries in the field of disaster management.
The Ministry of External Affairs in coordination with the Ministry of Home Affairs (MHA) will facilitate external coordination/cooperation.
According to Kerala chief minister, the state needs Rs 21,000 cr to rebuild the flood ravaged state . However, the central government has provided only Rs 600cr.
Interestingly, the 'offers' from UAE, Qatar, Sharjah and Maldives amount to Rs 740 cr. Qatar has offered Rs 35 cr, Sharjah Rs 4 cr and Maldives Rs 35 lakhs.
Meanwhile, Kerala has got cash assistance amounting to Rs 200 cr from other India states.
BOOM attempted to reach Lulu Group spokesperson on Thursday, but no one was available to comment on the issue. We will update the story when we hear from them.
---
Rejimon Kuttappan is a freelance reporter based in South India and works for Equidem Research and Consulting. He is a Senior Investigator in charge of probing workers' rights violations in India-Gulf corridor