Kashmiri Policeman's Funeral Shared As Atrocities Towards Muslims In Kashmir
The video is from 2018 when a funeral was held for a Jammu and Kashmir police constable, shot dead by militants.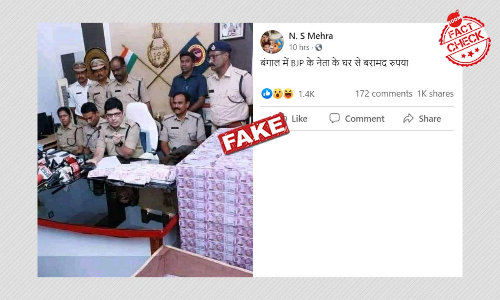 A 2018 video of women crying at a funeral procession of a Kashmiri policeman is being falsely shared as a recent video showing atrocities committed against Muslims in Jammu And Kashmir after the government decided to revoke the state's special status and ordered a lockdown in the region .
Click here to view an archive.
The two minute video was shared on Facebook with the caption, "जम्मू कश्मीर में मुसलमानों का ऊपर जुल्म सितम हो रहा है पूरा वीडियो देखें" which translates to, "Atrocities are being committed against Muslims in Kashmir, watch the video."
The video had gained around 19 thousand views and 752 on Facebook while writing the article.
Also Read: With Kashmir In Lockdown, Old Videos And Photos Stoke Tensions
FACT-CHECK
Using the video verification tool InVid, we broke down the video into keyframes and ran a reverse image search using Yandex and found the same video dated February 26, 2018 uploaded on YouTube by a channel named Aarish Bilal.
The description on the video reads, "Hundreds of people mourned and joined the funeral procession of a policeman Farooq Ahmed of Keegam, Shopian who was shot dead by Militants at the residence of Huriyat leader Fazal Haq"
Using the same keywords, we searched on YouTube and found another video uploaded by a Kashmiri news organisation Rising Kashmir on February 26, 2018.
The slain policeman, Farooq Ahmad Yatoo was killed on February 25, 2018 when militants fired upon him in Soura, Srinagar when he was guarding the residence of Hurriyat (M) leader, Fazal-Haq Qureshi reported Rising Kashmir on February 27, 2018.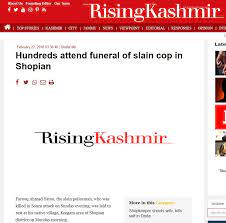 On July 27, 2018, NDTV reported that four people had been arrested in connection with the killing of Yatoo and snatching of his firearm.
Also Read: Did Kashmiri Women Protest Abrogation Of Article 370? A FactCheck
Claim Review :
Video Shows Atrocities Towards Muslims In Jammu And Kashmir
Claimed By :
Facebook Posts