Karnataka CM's Twitter Handle Tweeted A Photo From Germany For The Shakti Sthala Project
No, that's not the Pavagada solar park. Chief Minister Siddaramaiah's twitter handle learns the hard way.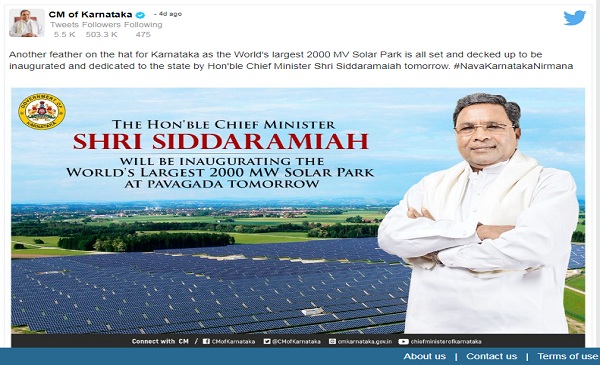 The official Twitter handle of the Chief Minister of Karnataka, Siddaramaiah on February 28 tweeted a photo of a solar park in Bavaria, Germany as the recently inaugurated solar park in Pavagada, Karnataka.
The verified handle '@CMofKarnataka' had tweeted an image of Siddaramaiah standing against the backdrop of a field of solar panels accompanied with text that read "Another feather on the hat for Karnataka as the World's largest 2000 MV Solar Park is all set and decked up to be inaugurated and dedicated to the state by Hon'ble Chief Minister Shri Siddaramaiah tomorrow. #NavaKarnatakaNirmana". The tweet was deleted by the handle after twitter users pointed out the gaffe.
BOOM did a Google Reverse Image Search of the picture and found that it had been used on several websites as a stock photo of photovoltaic power stations.

We also found the image on old URLs.

The website Convert News featured the same image. BOOM was able to parse EXIF data of the photograph to reveal the camera, settings and date when the picture was shot.
Exif of the picture shows that it was taken with a Panasonic DMC-FZ30 camera on June 8th, 2006.
(Panasonic DMC-FZ30 | 7.9mm F5.6 1/250 ISO80 | 2006:06:08 18:13:27)
Here's a better quality image showing the exact same meta data.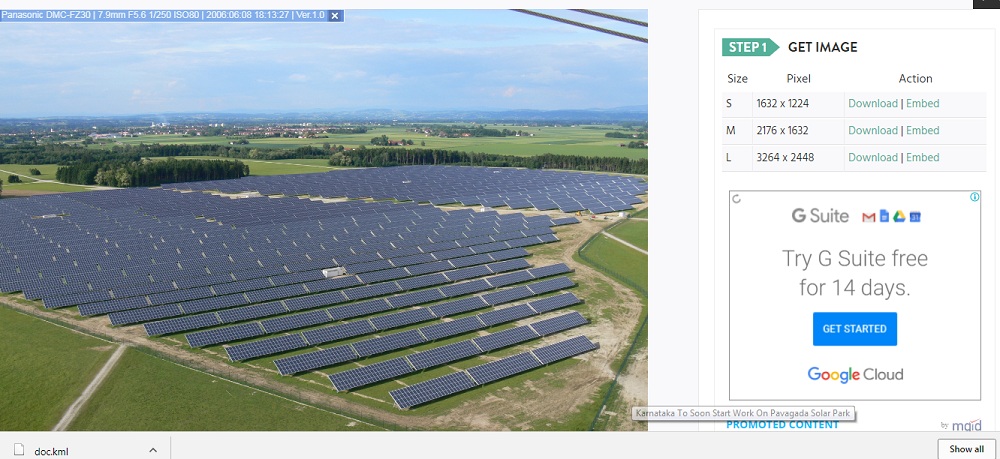 The Pocking solar park formerly the world's largest grid-connected photovoltaic system with a power of 10 megawatts is built on a former military base near Pocking in Bavaria (Germany). Construction of the solar park began in August 2005 and was completed in March 2006.
BOOM also did a comparison of the actual photo and satellite images using exact co-ordinates of the plant available online.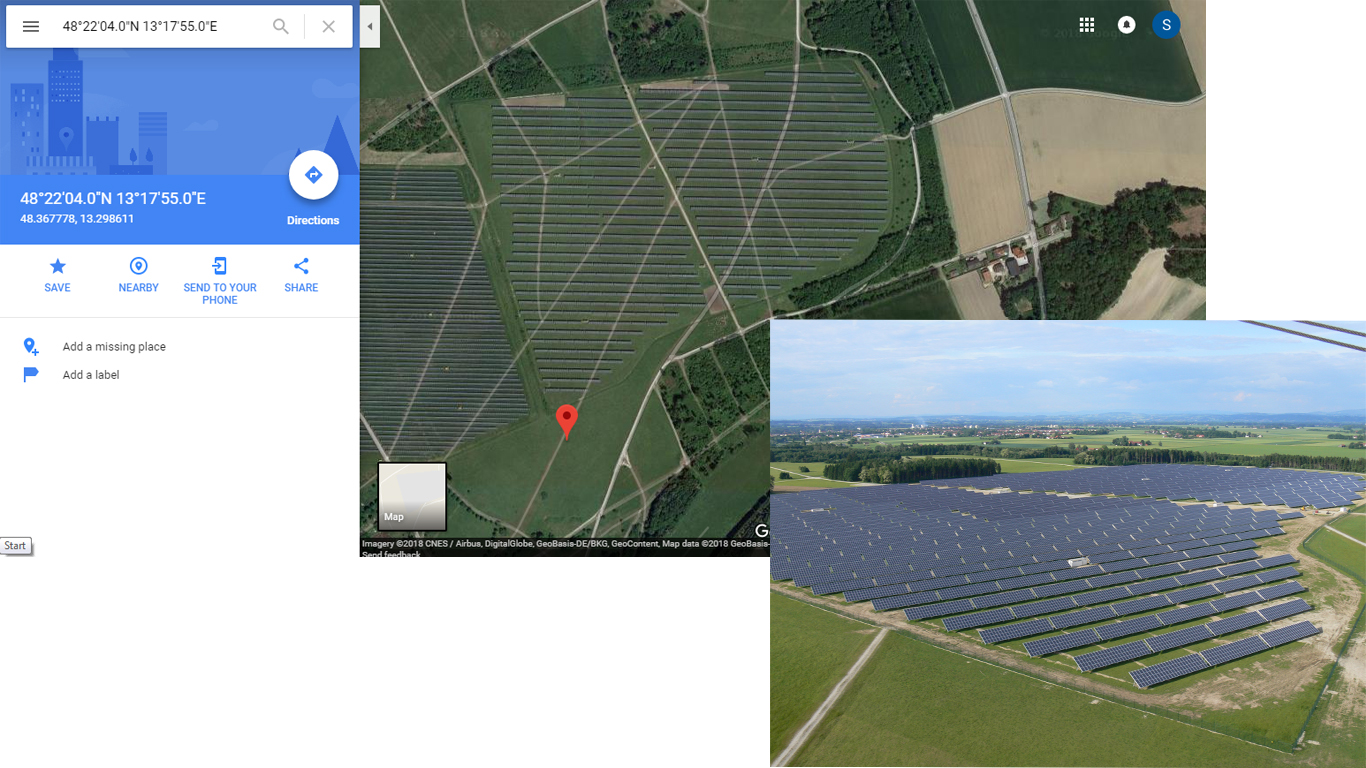 PAVAGADA SOLAR PARK
On March 1st, Karnataka Chief Minister Siddaramaiah inaugurated the first phase of the Pavagada solar park in Thirumani of Tumakuru district, about 180 km from Bangalore. The park is said to become the world's largest when it reaches its full potential of 2,000 MW, the Hindu reported. The first phase of the park has 600 MW. Another 1,400 MW will be added by December 2018. The project has been named 'Shakti Sthala' and has been built at an estimated cost of Rs. 16,500 crores. The solar park spans across 13,000 acres spread over five villages.
The park's development was initiated by the Karnataka Solar Power Development Corp. Ltd (KSPDCL), an entity formed in March 2015 as a joint venture between Karnataka Renewable Energy Development Ltd (KREDL) and Solar Energy Corp. of India (SECI).
Siddaramaiah on March 4th tweeted a few actual photos from the inauguration.
The recently inaugurated #ShaktiSthala in Pavagada is truly phenomenal. I urge everyone to visit this 8th wonder of the world & take pride in Karnataka's progress. #NammaKarnatakaFirst pic.twitter.com/H7IGajaGCB

— Siddaramaiah (@siddaramaiah) March 4, 2018