Journalist Arfa Khanum's Tweet Shared With False Narrative Calling Her A Terrorist Sympathiser
A tweet with the Arabic name for prophet Moses is falsely linked to slain Hizbul terrorist Zakir Musa.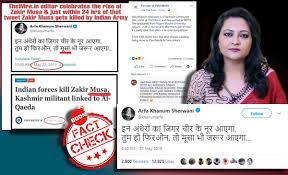 A tweet by journalist Arfa Khanum Sherwani on May 22, 2019 mentioning the Arabic name for the prophet Moses has been falsely shared on Facebook linking it to slain Hizbul commander Zakir Musa.

Zakir Musa was killed in an encounter with the Indian Army in Tral, Jammu and Kashmir on May 23, 2019.
A Facebook page Farrago of Paid Media posted a collage of Khanum's tweet and an unrelated headline about Zakir Musa's death, while accusing Khanum of being a terrorist sympathizer.
The graphic said, "The Wire.in editor celebrates the rise of Zakir Musa and just within 24 hours of that tweet Zakir Musa gets killed by Indian army."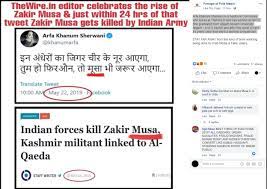 You can access the archived version of the post here.
Fact Check
The tweet translates to, "Cleaving the heart of darkness, light shall come, If there's a Phiroun (Pharaoh), Moses (Musa) too shall come".

The same couplet was tweeted by Khanum on November 20, 2016 too.
You can access the archived version of the tweets here and here.
BOOM contacted Arfa Khanum Sherwani about the tweet and she told us that the 'sher' was not hers and that she had borrowed it.
"The couplet is a borrowed one. It has references from the Quran and the Bible too. The couplet means to celebrate the victory of good over evil," - Arfa Khanum Sherwani, Senior Editor (The Wire)
Khanum had also shared her thoughts on the couplet in the form of a shloka from the Gita in another tweet.
While the couplet mentions Quranic and Biblical characters like Phiraun (Pharaoh) and Musa (Moses), several Twitter users trolled Khanum linking her tweet to Hizbul Mujahideen commander Zakir Musa.
With over one lakh Twitter followers Arfa Khanum Sherwani has been vocal in her critique of the Bharatiya Janata Party, online.
Khanum's tweet was on May 22. On May 23, the BJP won a landslide victory, and Zakir Musa was killed in an encounter with military in Jammu and Kashmir.
While on the surface these incidents are unrelated, they triggered a series of sarcastic tweets aimed at Khanum for using the name 'Musa'.
Claim Review :
Journalist Arfa Khanum Sherwani sympathizes with terrorist Zakir Musa through her tweet
Claimed By :
Facebook page