Is Kulbhushan Jadhav An Indian Spy Or Innocent Businessman? All You Need To Know
From Naval Officer to alleged spy to death sentence by Pakistan's millitary court. The mysterious journey of Kulbhushan Jadhav.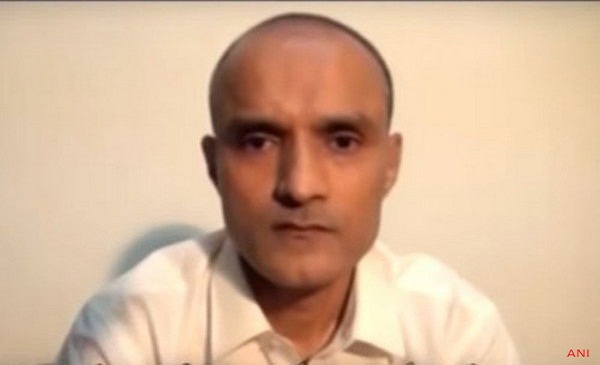 India and Pakistan continued to battle each other over death sentence given to Kulbhushan Jadhav, the alleged Indian spy, by Pakistan's military court. Speaking in the Rajya Sabha, External Affairs Minister Sushma Swaraj called Jadhav 'Hindustan ka beta' and termed his death sentence an act of 'pre-mediated murder'. Swaraj warned Pakistan that if they decide to go ahead with the proceedings, the bilateral relations between the two countries will be impacted.
But who is Kulbhushan Jadhav and why is he in the centre of the storm? Was he actually an undercover Indian intelligence official or just a businessman who got unlucky?
Who is Kulbhushan Jadhav?
Kulbhushan Sudhir Jadhav, aged 46 is an Indian citizen and also recognised as a former Naval Officer by the Indian Government. He joined the National Defence Academy in 1987 and was commissioned by the Indian Navy in 1991. He is said to have taken premature retirement.
A resident of Mumbai's Hiranandani Gardens at Powai, Jadhav is from a family of police officers. Kulbhushan's father Sudhir Jadhav retired as an Assistant Commissioner of Police in Mumbai around nine years ago and his uncle Subhash Jadhav was in charge of the Bandra police station in 2002, according to The Indian Express. He is married and has two children.
A report in DNA said that Kulbhushan set up a business of operating ferries from the Iranian port town of Bandar Abbas.
When Was He Arrested And What Are The Charges Against Him?
But it is only his arrest in March 2016 that brought him into public spotlight. He was placed under arrest in Pakistan's Balochistan province and accused of being a Research And Analysis Wing agent. He was also accused of trying to sabotage the $46 billion China-Pakistan economic corridor. Meanwhile India has denied charges of his involvement with Indian intelligence.
But he goes on to being inconsistent about this fact in the confessional video released by Pakistan where he stated that he will remain in service of the Indian Navy until 2022. However, he also says he "served in the Indian Navy till around 2001 December".
In a video which Pakistan produced to prove that Kulbhushan confessed he is indeed a RAW agent, he could be heard saying he served in the Indian Navy till the 2001 Parliament attack happened. He went undercover after 2001 Parliament attack as Hussain Mubarak Patel to gather information and intelligence within India.
An FIR was filed against Kulbhushan Jadhav by the Balochistan government and he was arrested in the Chaman area of Balochistan on March 3, 2016 after he was accused of subversive activities in the country. He was accused of being an undercover agent of RAW. He is said to have come under the scanner of Pakistan's intelligence wing after he was found speaking to his family in Marathi on the phone. He was picked up on subsequent surveillance carried out by Pakistan.
The Inter services public relations released a statement that Kulbhushan was arrested on March 3, 2016 through a "Counter Intelligence operation" from Balochistan.
What Happened Since His Arrest?
Post his arrest in March 2016, he was sent to Islamabad for questioning. Pakistan's army released a video shortly after his arrest. Balochistan's Home MInister, Mir Sarfaraz Bugti claimed that he was a part of the Indian Navy and was working with RAW. Pakistan went on to claim that he was in contact with terrorists from Balochistan. After which, India issued 13 vote verbale to Pakistan seeking consular access. On April 10th, 2017, Pakistan's army sentenced him to death.
Was Kulbhushan's Sentencing Done In a Hurry By Pakistan?
Though there is no official explanation, it is believed that the sentencing was hurried after the disappearance of a retired Pakistani Army officer from Nepal. Conspiracy theories on social media suggests that India kidnapped Lt Col Mohammad Habib in a pre-emptive action to negotiate a swap with Pakistan for Jadhav.
But the theory stands disputed as the Indian government hasn't made any statement in regards to the retired Pakistani Army officer.
India feels that the Pakistani government made a decision too early to sentence Kulbhushan to death. On the other hand, Pakistan believes that India is pre-empting Pakistani action against Kulbhushan as they have a Pakistani retired Army officer.
Diplomatic Fallout
The death sentence to Jadhav has come at a time when the tensions between the two nations have risen in the recent months post the Uri terror attack and surgical strikes by the Indian armed forces across the LoC. The Indian HIgh Commission was not even told about Kulbhushan being put on trial and the 13 requests that were made for consular access to Jadhav were also denied by the Pakistani authorities.
India has retaliated by deciding it will not release the 12 Pakistani prisoners who were supposed to return home tomorrow. "If this sentence against an Indian citizen, awarded without observing basic norms of law and justice, is carried out, the government and people of India will regard it as a case of premeditated murder," the Foreign Ministry said, NDTV reported.
Will go out of the way to save him, wo poore Hindustan ka beta hai:Sushma Swaraj in Rajya Sabha on Kulbhushan Jadhav pic.twitter.com/2h9ICrtqJm

— ANI (@ANI_news) April 11, 2017
Home Minister, Rajnath Singh said in the Lok Sabha today, "Indian government will do everything possible to ensure justice for Kulbhushan Jadhav."