Inside The Twisted Mind Of The Man Behind 'Hindutva Varta' Facebook Page
One look at Satish Mylavarapu's personal Facebook page reveals that the list exhorting violence against those in inter-faith relationships was entirely in character with his bigoted ideology.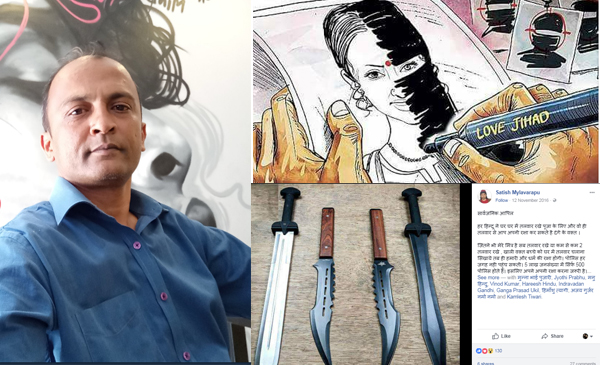 'If in non-vegetarian food, he asks for only Halal meat that means he is not a Hindu. Try offering him some pork meat and watch his reaction.'
"7. अगर वो मांसाहारी भोजन में सिर्फ हलाल गोस्त की ही मांग करे तो इसका मतलब वो हिन्दू नहीं है। कभी सुवर का मांस पेश करे, उसके भाव देखना।"
This is point number seven among ten steps laid out by Satish Mylavarapu in a Facebook post from November 2016 that is meant to act as a practical guide for Hindu girls to identify if they are being trapped in 'Love-Jihad' by Muslim boys. Some of the other measures in this Machiavellian guide asks Hindu girls to test whether the boys can recite the Gayatri Mantra or the Hanuman Chalisa or whether they will eat something during the month of Ramzan. If the boys protest, it means they are Muslims.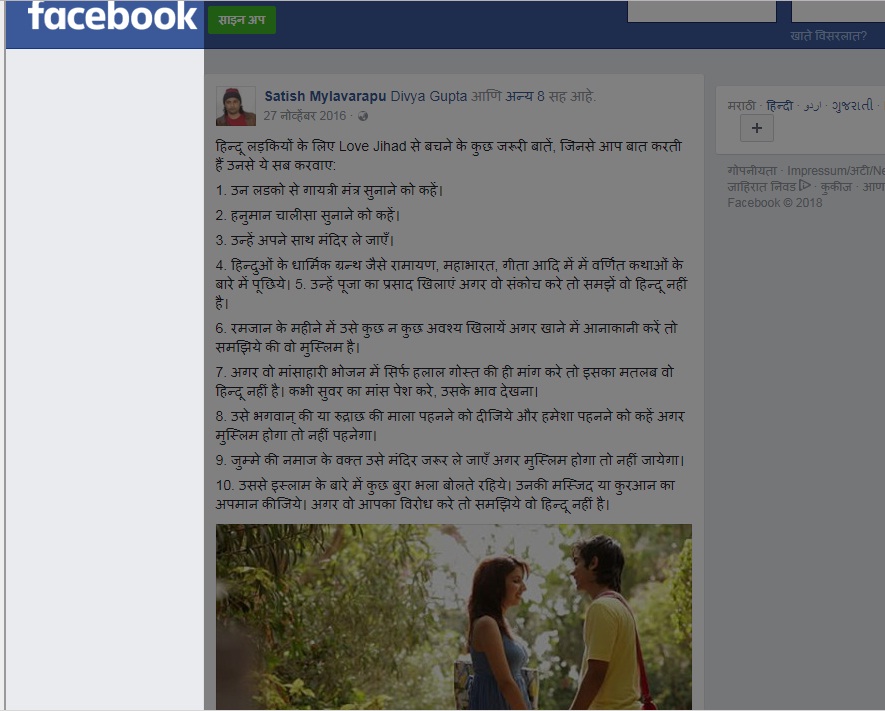 At the time of publishing this story, Mylavarapu's Facebook page appeared to be deactivated.
Mylavarapu stunned social media when he outed himself as the 'admin' of the now banned Facebook page 'Hindutva Varta'. The page was taken down by Facebook after social media outrage over the weekend about a post that listed the Facebook profiles of 102 interfaith 'couples' and asked Hindus to hunt down the Muslim men whose names were listed.
Mylavarapu claimed he was the admin of the page and that he would create a new page again; in a reply to Alt News who wrote the story.
I am proud to be admin of that page हिंदुत्व वार्ता ... Will create new page again

— Satish Mylavarapu (@satsmylavarapu) February 5, 2018
The malicious post had 102 'couples', where the women were Hindu and the men, Muslim. Most of those who were mentioned were either in college or had recently finished college and were mostly from West Bengal.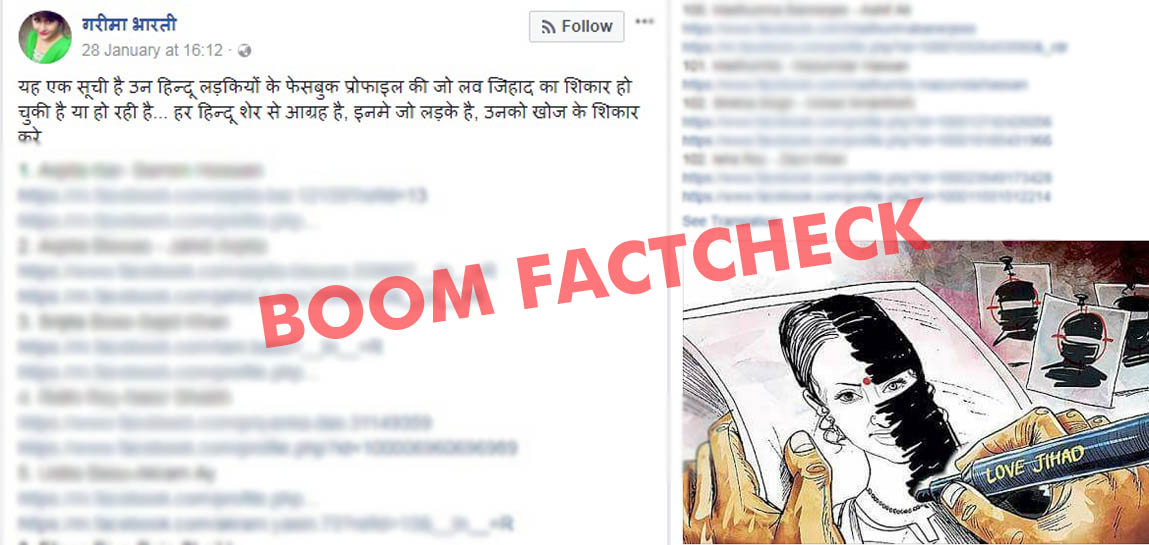 BOOM was in touch with Facebook on Monday, after we discovered that multiple Facebook users had copied the original post. Thus while the page Hindutva Varta was deleted, the post listing profiles of over 200 people was still visible on the platform. Facebook took down these posts after BOOM alerted the company.
One look at Satish ('Anna') Mylavarapu's personal Facebook page reveals that the list exhorting violence against those in inter-faith relationships was entirely in character with other incendiary posts to his 347 Facebook friends and 570 followers.
On further digging, BOOM also found that Facebook had suspended Mylavarapu's personal profile in the past but his account was re-instated in December 2017.
Mylavarapu has been on Facebook since September 2012. According to his bio he is married and lives in Dindigul, Tamil Nadu though he hails from Jamshedpur. It is not clear what Mylavarapu does for a living. BOOM reached out to him through Facebook but did not receive a response. He posts in Hindi and English.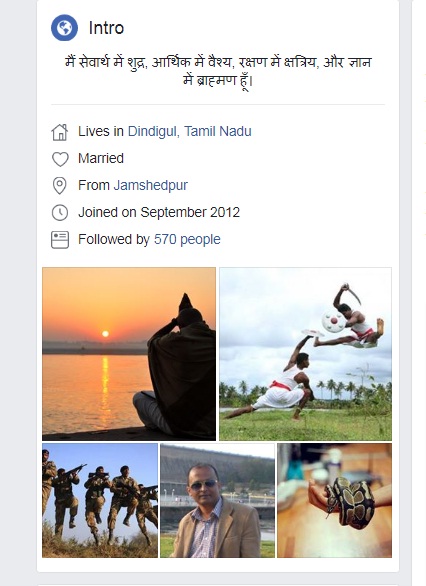 We examined Mylavarapu's publicly visible posts on Facebook.
Mylavarapu's account saw a sharp uptick in public posts promoting an aggressive Hindutva ideology from 2016 onward; 4 years after he set up his account.
He is also one of the two admins of a closed Facebook group 'Extreme Hinduism-The Only Way of Survival'; and a member of groups such as 'Rearming Hinduism', 'Bhagva Raj', apart from being a part of numerous Facebook fan groups related to the BJP, RSS and Bajrang Dal. In all, he is a part of over 120 Facebook groups.
Mylavarapu's nauseating anti-Muslim bigotry is captured in posts like the ones below.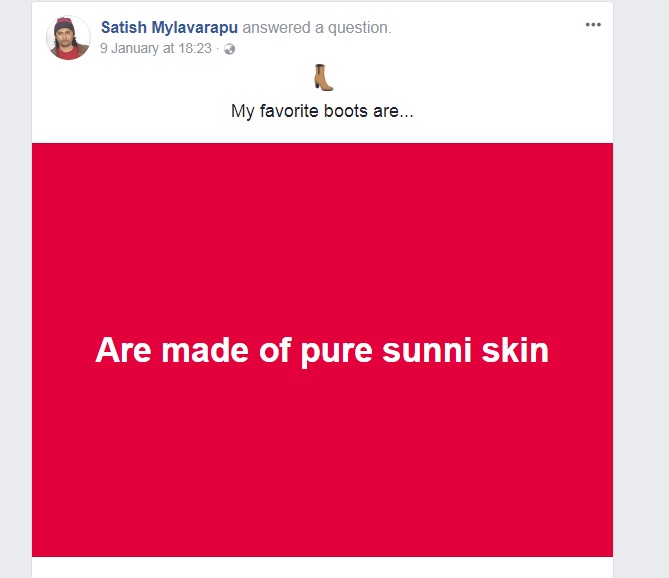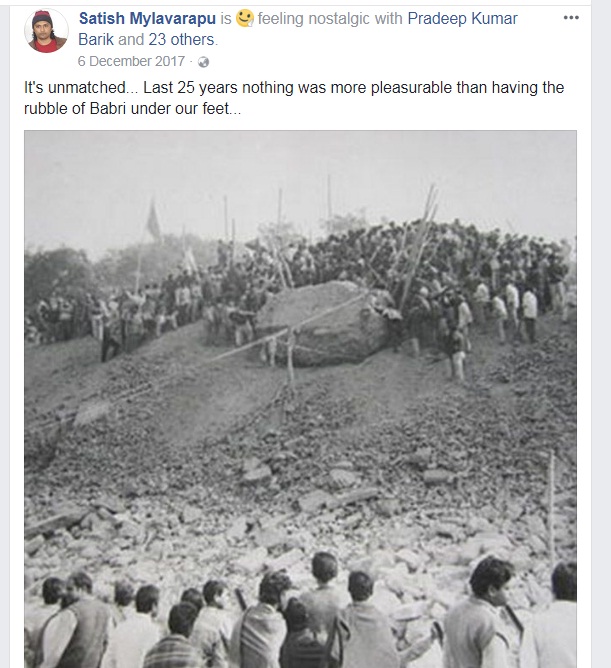 He also shared a video of Shambu Lal Regar, the Rajasthani man who hacked to death and burnt a migrant worker Afrazul and uploaded a video of the macabre crime in December 2017 .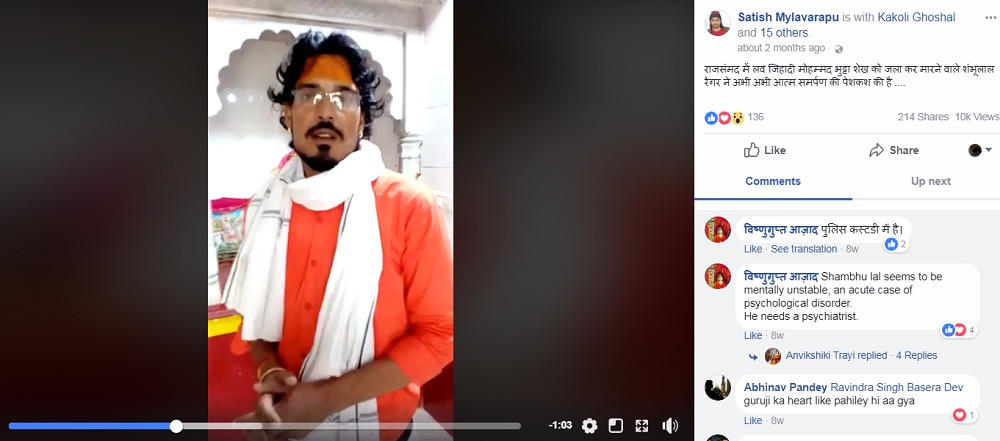 Amid the selfies, and photos of Hindu gods and temples that Mylavarapu regularly posts, there are also posts that indicate a fetish for lethal weapons.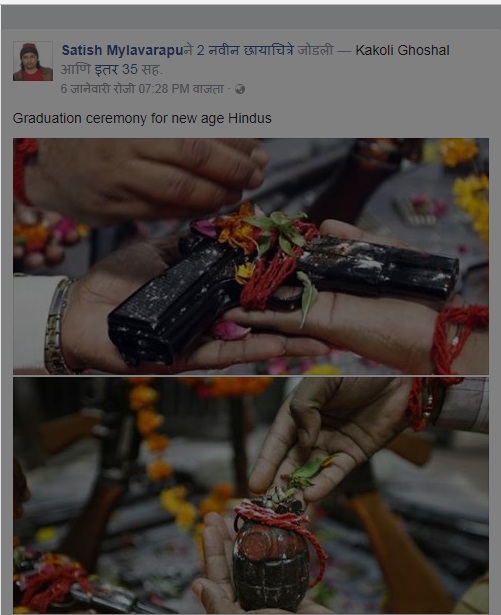 But further investigation shows how the obsession with weapons is extremely problematic. In a November 2016 post, Mylavarapu made a public appeal to Hindus to keep swords in their homes and teach their children how to use them so that they would be able to defend themselves during a riot. He urged them to make themselves 'balwaan' or strong by practicing on poultry and goats, so that they would not be scared on seeing blood spilled.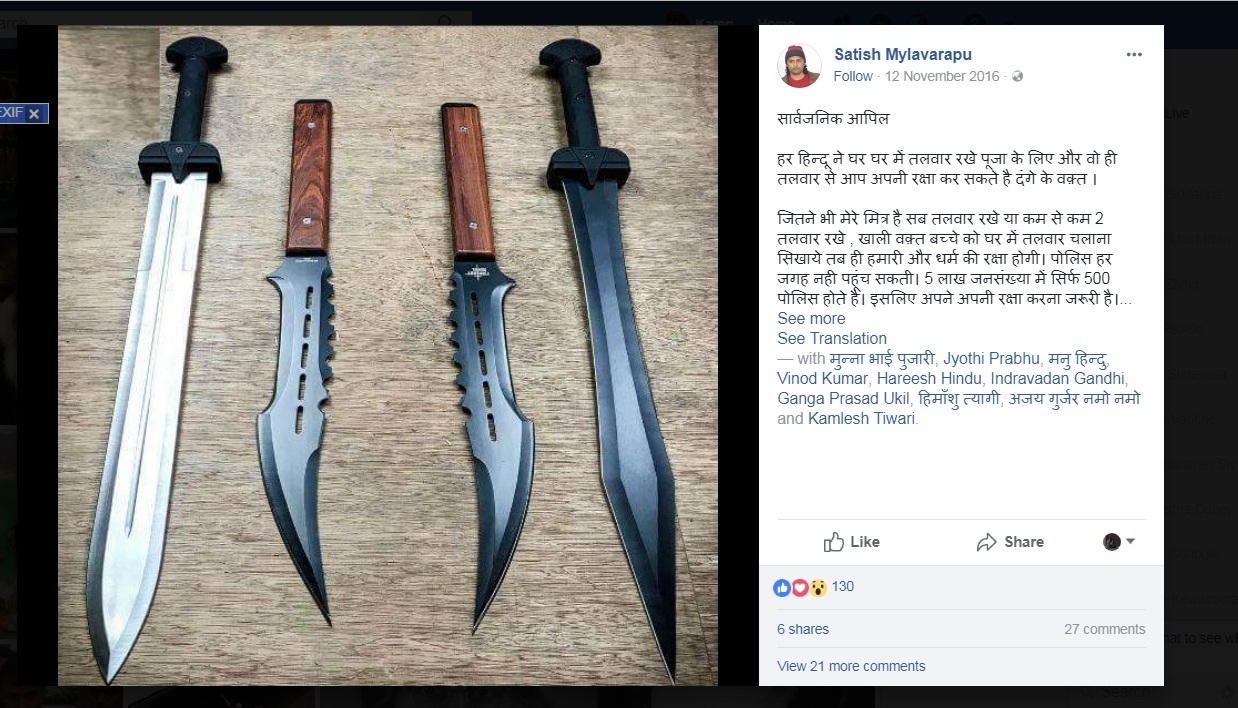 Satish Mylavarapu seemed nonchalant about Facebook taking down his page. Instead he seems to be more active on Twitter these days. Mylavarapu has been on Twitter since 2015 but has been posting more frequently since Jan 31st this year.
Is #Twitter more friendlier to Hindus, than #Facebook???

— Satish Mylavarapu (@satsmylavarapu) January 31, 2018