Indian High Commission In Kenya Tweets Photoshopped Image Of Yoga Session, Deletes Later
Yoga session at the foothills of Mount Kenya would have been grand if only the image was not photoshopped.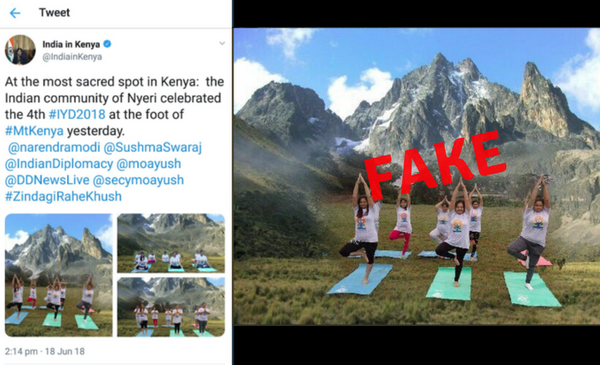 Twitter users called out the Indian High Commission in Kenya for sharing a photoshopped image of people performing yoga at the foothills of Mount Kenya.
The tweet said, 'At the most sacred spot in Kenya: the Indian community of Nyeri celebrated the 4th #IYD2018 at the foot of #MtKenya yesterday.'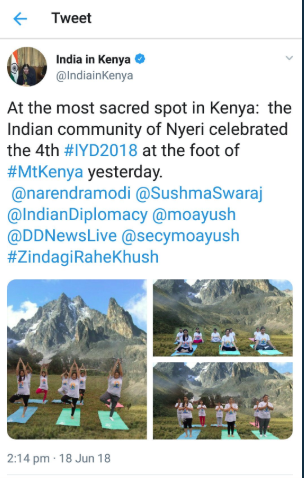 However, the image of Mount Kenya seen in the background can be found on Google images as seen below. Mount Kenya is the second highest mountain in Africa and a UNESCO World heritage site.

A comparison of the image available on Google and the ones tweeted by @IndiainKenya shows that the cloud pattern behind the range is the exactly the same as that in the Google image.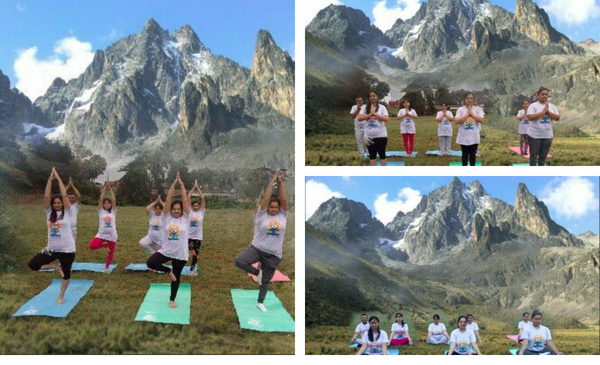 Moreover the first two images have been further manipulated to add trees and houses in the valley.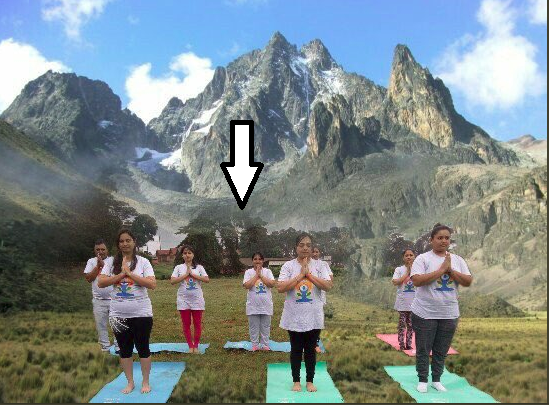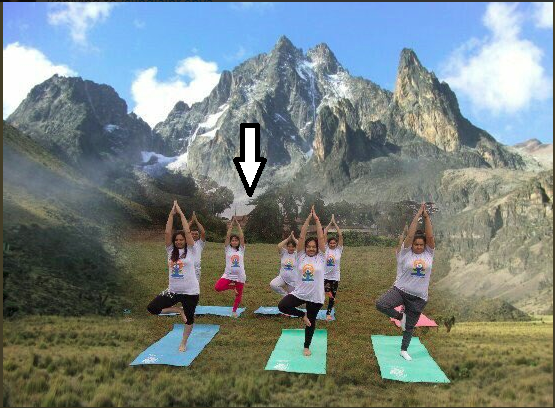 Twitter users were quick to point out the gaffe.
Hi, @IndiainKenya , Next time use Photoshop instead of MS Paint. 😂😂 https://t.co/xdqiAOpyw4

— PhD in Bakchodi (@Atheist_Krishna) June 18, 2018
Jo duniya ko photoshop bechta hai tum usko Photoshop bech rahe ho ..Wo bhi itni nakli 😂😂 https://t.co/kB1YnxyG5D

— Rofl Gandhi (@RoflGandhi_) June 18, 2018
Power of Yoga.

Everything stopped.

Not even clouds moved an inch.😂😂😂 pic.twitter.com/n2bJ6qWqyI

— #At Least One Should Die# (@richard49step) June 18, 2018
After being called out by Twitter users, the High Commission tweeted an apology and said that the image was sent by a community member.
We apologise for sharing an unverified/ edited photo of Yoga at the foot of Mt Kenya, which was sent to us by a community member.

— India in Kenya (@IndiainKenya) June 18, 2018
In connection to the 4th International Yoga Day on June 21, 2018, Indian missions are tweeting photos of yoga sessions organized in respective countries. The United Nations proclaimed June 21 as International Day of Yoga in December 2014 with an aim to promote awareness of the benefits of practicing yoga. The theme for 2018 celebration is 'Yoga for Peace'.
A glimpse of #InternationalDayofYoga2018 event at Eiffel Tower in Paris on 17 June @narendramodi @IndianDiplomacy @PMOIndia @SushmaSwaraj @moayush @IndAmbFrance @MEAIndia #IDY2018 #yoga pic.twitter.com/ruB1EDuPVx

— India in France (@Indian_Embassy) June 17, 2018
'Bend it like a Yogi'

Some more glimpses of #IDY2018 Yoga event held at Longfu Temple in Hebei Province of China.@IndianDiplomacy @SushmaSwaraj @PMOIndia @moayush pic.twitter.com/vWPMBsSIdY

— India in China (@EOIBeijing) June 18, 2018
@IndiainMongolia #IDY2018 @IndianDiplomacy @MEAIndia @moayush #ZindagiRaheKhush @Indiaclubmn

Young kids participating in the celebration of 4th #IDY in the Embassy. The heavy rain was unable to stop their courage. Some glimpses pic.twitter.com/kcyagbhsR7

— India in Mongolia (@IndiainMongolia) June 18, 2018
#IDY2018: Yoga comes to Uganda in a big way. More than 2500 yoga @narendramodi @meaindia1 @PMOIndia enthusiasts gathered at the prestigious Kololo Airstrip Grounds to perform yoga on 16th June. @IndianDiplomacy @moayush @MEAIndia pic.twitter.com/fo2P0Txzg5

— India in Uganda (@IndiainUganda) June 18, 2018
#4IDY2018 celebrations in #SiemReap in front of iconic #AngkorWat witnessed extreme enthusiasm. Event was attended by more than 1100 #Yoga aspirants including students, youths, Government functionaries, national and international tourists etc. pic.twitter.com/qzcibEhHmy

— India in Cambodia (@indembcam) June 18, 2018