"Am Healthy, Not Sick", Clarifies Amit Shah On Bone Cancer Rumours
The viral screenshot also claims to show Amit Shah requesting the Muslim community to pray for his health during Ramadan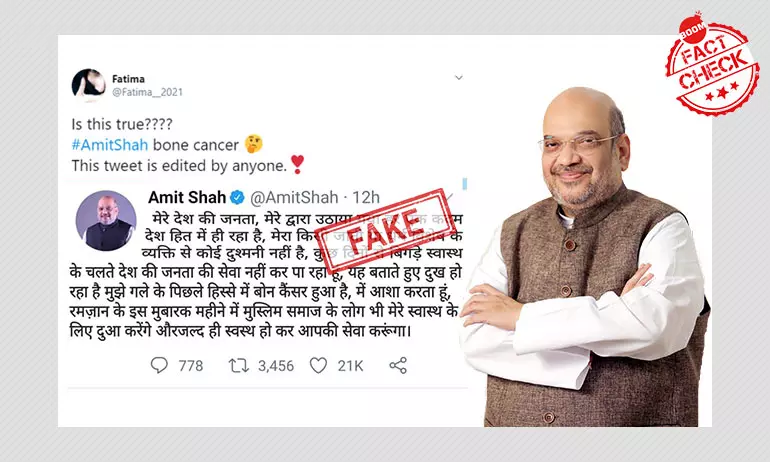 Home Minister Amit Shah took to Twitter to refute all rumours about his health. In a tweet, Shah said that the rumours around his health are baseless and that his duties as the Home Minister have kept home busy till late at night.
A tweet claiming Home Minister Amit Shah has admitted to having been diagnosed with bone cancer is fake. The viral screenshot which aims to show Shah admitting to being unwell, says he has been diagnosed with a tumour at the back of his neck and requests the Muslim community to pray for his health, this Ramzan.

The screenshot of the fake tweet is is Hindi and reads, "मेरे की जनता, मेरे द्वारा उठाया गया हर एक कदम देश हित में ही रहा है, मेरे किसी जाती या धर्म विशेष के व्यक्ति से कोई दुश्मनी नहीं है, कुछ दिनों से बिगड़े स्वास्थ के चलते देश की जनता की सेवा नहीं कर पा रहा हूं, यह बताते हुए दुख हो रहा है मुझे गले के पिछले हिस्से में बोन कैंसर हुआ है, में आशा करता हूं, रमज़ान के इस मुबारक महीने में मुस्लिम समाज के लोग भी मेरे स्वास्थ के लिए दुआ करेंगे औरजल्द ही स्वस्थ हो कर आपकी सेवा करूँगा।।
Translated in English, the tweet says, "My people, every step taken by me has been in the interest of the country, I have no enmity with any person of any caste or religion, I have not been able to serve the people of the country due to bad health for some days, It is sad to say that I have had bone cancer in the back part of the throat, I hope that in this happy month of Ramadan, people of Muslim society will also pray for my health and soon Your service will be Vsth"
The screenshot has been shared multiple times on Twitter and Facebook.
BOOM received queries on its helpline on WhatsApp about the same.
Fact Check

BOOM found several discrepancies in the screenshot including the language used and the number of characters in the text.
The tweet has more characters than Twitter allows in a tweet.
Below is a screenshot comparison
We also found that several Hindi words in the tweet had been misspelt. Some examples include जाति' (caste) as 'जाती', 'स्वास्थ्य (health) as 'स्वास्थ' and 'और जल्द' (and soon) which are two separate words has been written as one 'औरजल्द'.
We also did not find any such tweet on Shah's timeline. His most recent tweet about a meeting with Director Generals of all Central Armed Police Force on May 8, 2020.
Along with PM Narendra Modi, Shah was also present in a meeting of the NDMA to review the situation in Vishakhapatnam after the gas leak in the city.
Had a meeting with DGs of all Central Armed Police Force.

Entire nation is proud of our CAPF personnel for their contribution in this fight against COVID-19.

PM @narendramodi's government is committed towards the safety, security and well being of every CAPF personnel. pic.twitter.com/rgLvh71Yqf

— Amit Shah (@AmitShah) May 8, 2020
Have asked all CAPFs to adopt innovative ways to contain the further spread of Corona virus among its ranks and ensure proper and timely health checks. Also instructed them to establish a dedicated hospital to treat the COVID-19 affected CAPF personnel. pic.twitter.com/uCO6vb4GJM

— Amit Shah (@AmitShah) May 8, 2020
Updated On:
2020-05-09T16:58:06+05:30
Claim Review :
Amit Shah tweeted that he has bone cancer.
Claimed By :
Twitter, WhatsApp