India plays Pakistan for the sixth time in the World Cup on Sunday, February 15. India has won all the previous five encounters. Here's how the previous encounters shaped up.
India vs Pakistan, March 4, 1992 World Cup, Sydney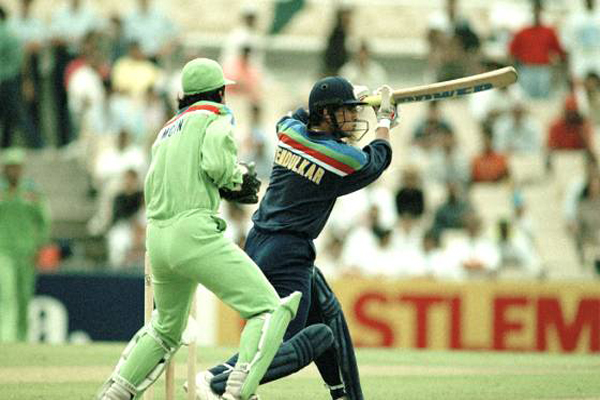 India opted to bat and posted a modest 216 for seven in 49 overs. Ajay Jadeja scored a patient 46, backed by skipper Mohammed Azharuddin's 32 and Vinod Kambli's 24. But the innings did not have any momentum till Sachin Tendulkar (54: 62b, 3x4) got together with senior pro Kapil Dev (35: 26b, 2x4, 1x6). Together, the youngest and the senior most players in the team added 60 runs to give the innings a fillip. In reply, Pakistan lost two early wickets, but opener Aamer Sohail (62: 95b, 6x4) allied with veteran Javed Miandad (40: 110b, 2x4) in a 88-run third wicket stand. It was Tendulkar again, this time with the ball, who broke through, scalping Sohail. Miandad then lost his cool in a famous altercation with Indian wicketkeeper Kiran More. Pakistan batting line-up collapsed in the face of some accurate Indian bowling and fielding.
India 216-7 in 49 overs (Sachin Tendulkar 54 n.o., Ajay Jadeja 46, Kapil Dev 35; Mushtaq Ahmed 3-59) beat Pakistan 173 in 48.1 overs (Aamer Sohail 62, Javed Miandad 40; Kapil Dev 2-30, Manoj Prabhakar 2-22, Srinath 2-37) by 43 runs.
Man of the Match: Sachin Tendulkar
India vs Pakistan, March 9, 1996 World Cup, Bengaluru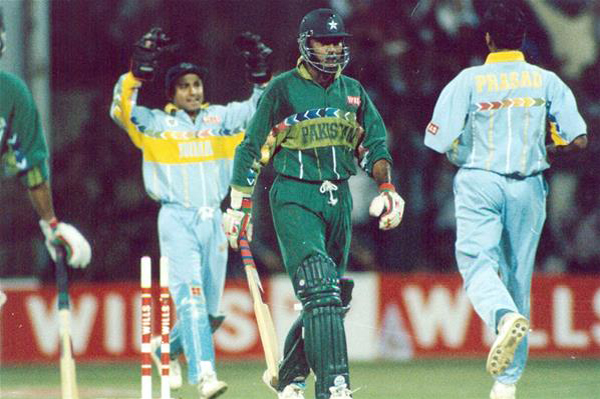 This was the first Indo-Pak clash on Indian soil since the 1989 Nehru Cup. India opted to bat and almost immediately, Tendulkar started setting the tone. He made 31 before he was out with the score on 90. Opener Navjot Sidhu battled on (93: 115b, 11x4), helping set a base for a big total. Late flourish from Ajay Jadeja (45: 25b, 4x4, 2x6) including his now famous assault on Waqar Younis, helped India finish on 287 for eight in their 50 overs. Pakistan started off in a hurry through stand-in captain Aamer Sohail (55: 46b, 9x4, 1x6) and Saeed Anwar (48: 32b, 5x4, 2x6) putting on 84 for the first wicket. Yet another altercation, this time between Sohail and Venkatesh Prasad (3-45) triggered a collapse which left Pakistan struggling. Veteran Miandad got run out, tragically ending his long distinguished career as India won by 39 runs.
India 287-8 in 50 overs (Sidhu 93, Ajay Jadeja 45, Sachin Tendulkar 31) beat Pakistan 248-9 in 49 overs (Aamer Sohail 55, Saeed Anwar 48, Javed Miandad 38, Saleem Malik 38; Prasad 3-45, Anil Kumble 3-48) by 39 runs.
Man of the Match: Navjot Sidhu
India vs Pakistan, June 8, 1999 World Cup, Manchester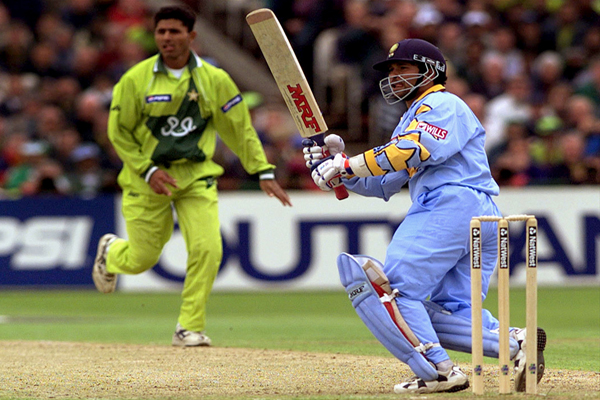 India opted to bat yet again in a clash against their arch rivals. Sachin Tendulkar got the side off to a cautious start with 45 off 65 balls with five boundaries. But this time, the heroes were Rahul Dravid (61: 89b, 4x4) and skipper Mohammed Azharuddin (59: 77b, 3x4, 1x6). The pair of Dravid and Azhar added 51 runs as India posted a moderate 227 for six in their 50 overs. Pakistan lost half their side for just 78 as Prasad and Javagal Srinath ran through the top-order. Moin Khan (34) and Inzamam-ul-Haq (41: 93b, 1x4) tried to restore some sanity with a 46-run stand, but that was not helpful. India struck at regular intervals as Prasad ended with figures of 5-27. When Wasim Akram finally fell as the last man in the innings, India and Azhar had achieved a 3-0 record over their arch rivals in World Cups.
India 227-6 in 50 overs (Tendulkar 45, Dravid 61, Azharuddin 59; Akram 2-27, Azhar Mahmood 2-35) beat Pakistan 180 in 45.3 overs (Inzamam 41, Saeed Anwar 36, Moin Khan 34; Prasad 5-27, Srinath 3-37, Kumble 2-43) by 47 runs.
Man of the Match: Venaktesh Prasad
India vs Pakistan, March 1, 2003 World Cup, Centurion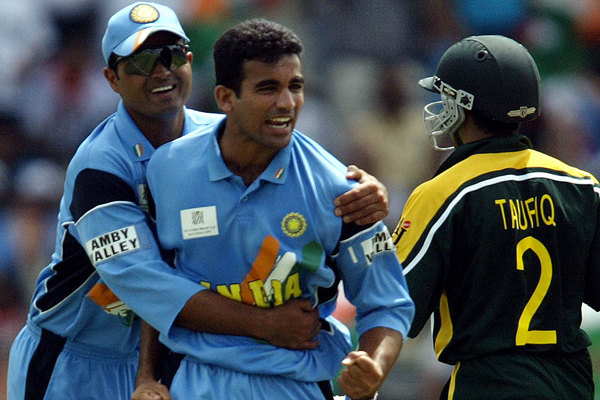 This was the first encounter between the two rivals in three years. For the first time, Pakistan batted first in a World Cup clash against India. Playing his final World Cup, Anwar scored 101 off 124 balls with seven boundaries. There were no other major contributors in a team total of 273 for seven. Cameos from Younis Khan (32), Rashid Latif (29 n.o.) and Yousuf (25) aided Pakistan's cause. India needed something special from their batting against a top-class bowling attack to win the encounter. Tendulkar weighed in yet again, this time with a breathtaking assault with Virender Sehwag. A dropped catch by Abdul Razaaq aided Tendulkar, before cramps got the better of him at 98. Thereafter, an unbroken 99-run stand between Dravid (44) and Yuvraj Singh (50 n.o.: 53b, 6x4) helped India overhaul the target in just 45.4 overs. Pakistan had lost yet again to India, thereby resulting in the exodus of their superstars.
India 273-7 in 50 overs (Anwar 101, Younis Khan 32, Rashid Latif 29 n.o.) lost to India 276-4 in 45.4 overs (Tendulkar 98, Dravid 44 n.o., Yuvraj 50 n.o.) by six wickets.
Man of the Match: Sachin Tendulkar
India vs Pakistan, March 30, 2011 World Cup, Mohali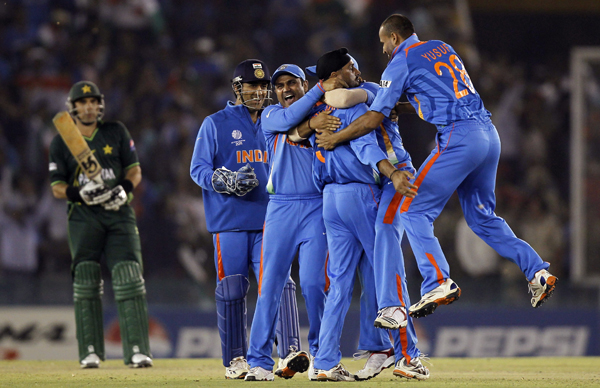 A lot was at stake in this match as it was at the semi-final stage on Indian soil. The teams had undergone a massive change, but one man – Tendulkar - was still a constant. Sehwag (38) started strong for India; then Tendulkar soldiered on, helped by Hawkeye errors and dropped catches to end at 85. But a batting collapse ensued, before Dhoni (25) and Suresh Raina (36 n.o.) managed to stem the rot. India ended at 260 for nine, a challenging task for Pakistan. For Pakistan, Wahab Riaz with 5 for 46 was the best bowler. Pakistan started off well, with Mohammad Hafeez (43) but never managed to keep pace. Indian bowlers struck at regular intervals with Ashish Nehra being the best bowler with figures of 2-33. For Pakistan, Misbah-ul-Haq slowed down the chase. Misbah managed 56 off 76 balls with five boundaries and a six, but Pakistan had fallen behind by then. In the end, they fell short by 29 runs and India entered the final to live a dream.
India 260-9 in 50 overs (Sachin Tendulkar 85, Sehwag 38, Raina 36 n.o.; Riaz 5-46) beat Pakistan 231-9 in 49.5 overs (Misbah 56, Hafeez 43; Nehra 2-33, Munaf 2-40, Harbhajan 2-43) by 29 runs.
Man of the Match: Sachin Tendulkar