"India Must Meet Demand Through Local Manufacturing, Not Imports"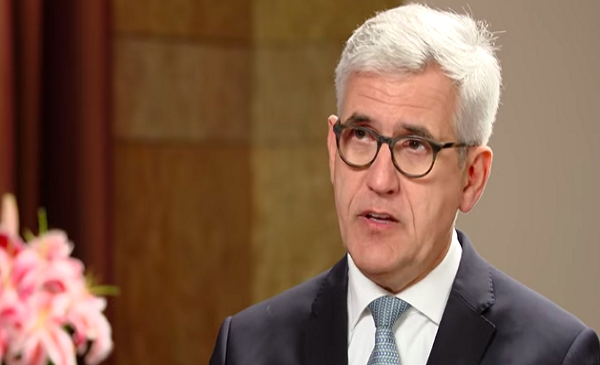 Industrial automation company ABB has taken big leaps in the industrial digitalization space. What does this mean, what are the fundamental shifts we are seeing in manufacturing and production and how is it transforming workplaces and workers ? And where does India figure in all of this ? I speak with ABB CEO Ulrich Spiesshofer
We know ABB as a company that works with Railways, traditional industrial engineering companies. But what you are doing in recent years has almost nothing to do with that space or everything above that space. Walk us through that.
Ulrich Spiesshofer: Over the last decade we have build very strong industrial business in ABB. We have invested in automation, you might remember we invented the first industrial robot coming to industry. So, if you take our offering today, we are globally leading in secure control systems for the process industries.
We are the technology leader in robotics. We have added machine and factory automation capabilities in the last years. And very recently, just two years ago, we launched ABB ability digital solutions, to bring all of what we have done over more than 40 years together.
So today, we are the only player in the world in the industrial space that brings electrification, automation, robotization and digitalization under one roof.
Can you give us an example of a large customer of yours, who is experiencing the benefits of combined skill that you're now presenting.
We are working for a very well known mobile phone company that provides mobile phones to everybody in the world. In Christmas 2017 I got a call we need to set up a manufacturing plant in the USA in very short time frame. Within five months. We had 3D simulated plan, developed flexible robot cells combined with OEM machinery control. And we installed the facility in five months time and had it fully operational in May 2018.
Which is a remarkable achievement, and it was only possible because we can plan better than others, through 3D simulation of both the manufacturing flow and install at a much higher pace. Because we have a solution-based approach where we bring entire solutions for roller aiming, for polishing, for metal works into the plan. So all together, ABB is really at a very competitive edge with this combined offering.
And many people have asked you if this company was Apple ?
I cannot comment !
If I look at the traditional definition of ABB or my understanding of ABB, what you just said seems to be completely different.
Ulrich Spiesshofer: Yeah.
I mean even in India for instance, you are talking to Indian Railways and working with them. Whereas building new generation plants and helping in the re-shoring process is quite different. Tell us about the change that's happened.
So before Christmas, we announced three fundamental actions to focus ABB entirely on digital industries:
We are divesting our last remaining large-scale infrastructure project, business, power girds to Hitachi and we focused entire ABB on digital industries.
We are abandoning the historic metric structure that made ABB known over many many years and we give all the empowerment to our four business leaders. And basically, moved to a much more agile, entrepreneurial business model.
We are shaping the remaining portfolio in a way that it matches directly customer segments. If we don't need any additional interfaces anymore that we are ideally focused.
So, all together we're shaping ABB as a leader for digital industries. We are tapping the potential of our ABB Ability Solutions that we brought to the market in 2017.
Where we basically launched all of our capability under one common brand ABB Ability. We brought them together in one solution set, building on our 40 years of software experience. We manage 70 million connected devices in industry today. We are a leader in control systems, we are very strong in machine learning for robotics. And we brought it all under one roof.
I'm going to come to connected devices in a moment. But tell us about the robotics. I mean, You have been on an acquisition spree. What are the new capabilities that you have acquired and what's the part going forward.
Over the last 8 years we have fundamentally transformed our robot business. It is the robot business that has competed on the lowest cost per robots. And basically on material costs and labour hours. If we changed it fundamentally in the robotics business, where we have preconfigured solutions for our customers. Where a customer does not need much engineering anymore. He can get a preconfigured solution from ABB.
Getting there took the following. We changed our own business model and we did a string of pearls acquisition strategy,where we brought in additional capabilities into our robotics business. Machine learning for example, having experts of machine learning that can. We did it over time, we did about a dozen of acquisitions to complement our capability. And I can say today we are truly leading in terms of technology.
But we also invested in start-ups. For example in artificial intelligence (AI) and we brought in AI capability on the machine learning side through the startup channel and it add to the team. So all together, a new business model, a completely different way of adding value add to our customers and that was developed through organic change, investments in startups and significant amount of acquisitions.
So you mentioned connected devices. Now you're also a big consumer of big data emulating from plants, machinery or shop flows and sort.
Yeah.
If you were to look in the last year or two, what is all this data telling you, which is new and which is giving you insights into perhaps do different things in coming days.
You are absolutely right, we're really playing that space very strongly. In the internet of things (IOT) space we have one of the largest installed base. We manage more than 70 million connected devices out there in the industry already today as ABB. Then you look at the pattern of intelligence that comes out.
The first layer of intelligence comes out of the asset data or the device data. There a motor might say there I've a (ball) bearing that is starting to shake and you need to do something about it so that you don't have a breakdown. Or the valve has a problem opening.
So, this is based on the device level data. And we aggregate them and we get a lot of uptime improvement, safety improvement, out of that work. The second layer however, is one that is in my eyes, under-attended at the moment. Because on the one hand we talk about the Internet of Things, that's very clear. The next one is the internet of experience, the IOE, where we really bring together the experience.
For example, of experienced control room operators. Where we look at how do control systems get operated. What is the implicit to main expertise that we can extract through artificial intelligence in the future to have pattern of success, also on the operator level, going.
So, for us, the combination of the IOT and the IOE in the future will be a key differentiator.
You've talked about re-shoring and example that you gave just now was also a re-shoring example.
Yes.
Tell us about how global trade winds are flowing today and how is that helping you or helping you channel your efforts forward.
Now, look, if you take the history of work, we basically went from the handyman to manufacturing to outsource manufacturing in emerging markets to tap the labour arbitrage. And what is happening now? We are bringing supply and demand again closer together. We recently opened a new facility in Germany that has the same cost per piece as our lowest cost competitive facility in China. But the facility is much closer to the market, you need less working capital, you've less transport, you've less environmental impact.
So I really believe in the future, value added will move closer to the points of demands again. Automation, robotization will help us to make this cost competitive. And the effect is that you will have much more agile manufacturing, much more flexible. You will have shorter lead times, you will have less working capital and less environmental impact. Because logistics will come down and become more nation closer.
So what does it mean for a country like India? I think it is super important that India makes sure that its own demand is the first priority and that the own demand gets satisfied through local value added much more than through imports. Then when the own demand allows you to drive productivity and quality of your offering, you have full opportunity also to export.
But I think in the future, there will be a challenge, because we can provide technologies all around the world to make production very cost efficient. So, the additional edge on quality, on product features will really decide in the future.
Right. And personally, what are the, what's your dashboard looking like? What are the two or three things that you look out for and you keep abreast, keep yourself abreast of, in order to stay ahead in this race.
Yeah in the re-organization of ABB what we keep central and what I personally have a very strong eye on is the future of technologies. And one key technology is AI and machine learning. It is very important that we are in the leading edge in the B2B space as ABB in AI and machine learning. We have established a very powerful team of experts. Sometimes very unconventional people that don't look the typical ABB engineer. Working with us and that is something that will really change the petal of our operations.
We will go towards autonomous operations in the future. whether it is autonomous building, an autonomous factory, autonomous vehicles or ships, and AI will be absolutely crucial to make this next step happen for mankind's operations.
ABB will be leading in that and for me personally, that's the technology that I want to make sure is very close to my heart and also close to the grip to make sure, we really drive this in the best way.
That's a wonderful note to end on. Thank you very much for speaking with us Mr. Spiesshofer.
Wonderful. Thank you very much.
We are glad to bring you this fact check. If you are happy with our mission to keep the internet safe of disinformation, do support us by clicking on the link