In A Bid To Troll PM Narendra Modi, Congress Leader Digvijaya Singh Trolls Himself
This is not the first time Digvijaya Singh has faced flak for using inappropriate language and embarrassed the party
Digvijaya Singh, senior leader and General Secretary of the Congress scored a self-goal for the Congress when he tweeted an abusive meme targeting Prime Minister Narendra Modi and his followers.
Not mine but couldn't help posting it. My apologies to the person concerned. He is the best in the "Art of Fooling!" pic.twitter.com/6BGz3lFtcf

— digvijaya singh (@digvijaya_28) September 8, 2017
Singh faced flak on social media for his abusive tweet, with the BJP pointing out that it was not appropriate to use such words against the country's Prime Minister.
Congress & @digvijaya_28 have broken all norms of decency in public life. Insulting the PM of Bharat is equivalent to insulting the nation.

— Shahnawaz Hussain (@ShahnawazBJP) September 8, 2017
This the level of a General Secretary of a National Party… He was Chief Minister of a state…. Cheap

— Yogesh Mandhani (@yogeshmandhani) September 8, 2017
The Congress leader was forced to react, arguing that he only retweeted it after giving a caveat that the meme was not his but he couldn't help posting it. He also said that retweets are not endorsements.
I am being unnecessarily blamed for my tweet where I have supposed to have used abusive language against PM.

— digvijaya singh (@digvijaya_28) September 8, 2017
Singh later took to Twitter once again tweeting furiously, targeting Modi's supporters and the media as well.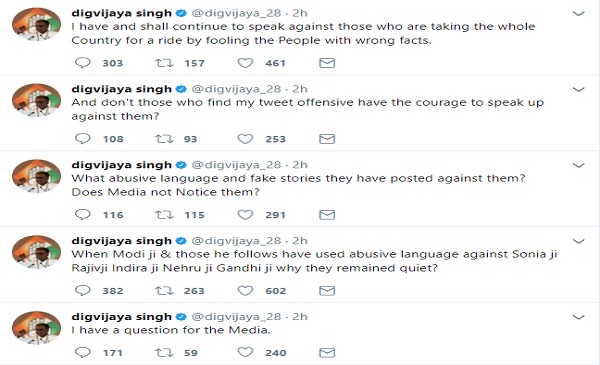 Screenshot of Digvijaya Singh Twitter feed
This is not the first time the Congress leader has faced flak for using inappropriate language and embarrassed the party. At a rally in Mandsaur, Madhya Pradesh in 2013, Singh described party MP Meenakshi Natrajan as 'sau tunch maal' – which in colloquial terms means 'desirable object'. While Singh clarified that he had only meant it in the context of Natrajan being 'pure gold', he was criticised by people across party lines for his sexist and inappropriate remark against a party colleague.
Interestingly, Singh's latest retweet has come as a huge relief for the BJP who have faced attacks in recent weeks from all quarters for failing to rein in its abusive supporters on social media.
This had also forced the party's IT cell head Amit Malviya to put out a statement hitting out against critics for targeting Prime Minister Narendra Modi. The statement came in response to criticism that Modi had continued to follow handles abusing and celebrating the death of Karnataka based journalist and editor Gauri Lankesh. In his statement- that also faced flak for not condemning abusive tweets – Malviya had argued that AAP Chief Minister Arvind Kejriwal and Rahul Gandhi followed those who regularly abused the BJP and Modi.