In 2013, It Was Not Sushma Vs Meira But Sushma Vs Sonia: A FactCheck
60 interruptions within 6 minutes but was it a fight between Sushma Swaraj and Meira Kumar or is there more to it? BOOM does a fact check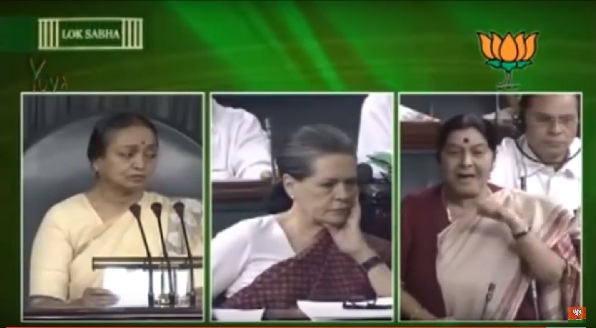 On June 25th, India's External Affairs Minister Sushma Swaraj posted the following tweets becoming the first senior BJP leader to take direct aim at Meira Kumar, the opposition's presidential candidate.
Speaker interrupted Sushma 60 times in 6-min speech https://t.co/am8tiCJ4Iu via @TheDailyPioneer

— Sushma Swaraj (@SushmaSwaraj) June 25, 2017
This is how Lok Sabha Speaker Meira Kumar treated the Leader of Opposition - https://t.co/hxHWHaJ4D9

— Sushma Swaraj (@SushmaSwaraj) June 25, 2017
Swaraj, who enjoys immense goodwill on social media, dug out a 2013 story by The Daily Pioneer and YouTube video from that year to illustrate her point that Kumar then speaker of the Lok Sabha had acted in a partisan manner .
The impact of Swaraj's Tweets was staggering and can be seen in the number of comments, likes and retweets on each of her tweets.
Who was Sushma Swaraj really battling at the time?
Back in 2013 it was not Lok Sabha Speaker Meira Kumar but UPA Chairperson Sonia Gandhi who Sushma Swaraj was at loggerheads with. At a press conference post her walkout along with BJP MPs, Swaraj did not mince words while taking on Sonia Gandhi. She accused Gandhi of instigating Congress ministers to disrupt her speech within 3 minutes even though she claims that the Speaker had agreed to give her 5 minutes to register BJP's protest against numerous corruption scandals engulfing the UPA government.
Meira Kumar was mentioned very briefly by Swaraj with bulk of the press conference reserved to attack Gandhi for conspiring to disrupt her speech. A charge the Congress party denied at the time.
Swaraj also blamed Parliamentary Affairs Minister Kamal Nath for supporting his party chief.
Watch the video from 2:15 minutes onward to about 4 minutes
A 2013 Press Trust of India story narrates a similar account. Swaraj's allegations were refuted by Congress spokesperson Renuka Chowdhury.
[blockquote width='100']
"Leader of Opposition in Lok Sabha Sushma Swaraj accused Congress president Sonia Gandhi of not allowing the opposition to air their views in Parliament and said there is a "situation of total breakdown" in the ties for which the government is "responsible". Forced to cut short her speech in Lok Sabha due to interruptions when the finance bill was being taken up this morning, Swaraj said she could not speak because Gandhi "instigated" ministers to create disturbances. Addressing a press conference, she said speaker Meira Kumar did not give her "protection" by allowing enough time or checking the ruling party members from creating disturbances." - PTI
[/blockquote]
[blockquote width='100']
"Rejecting Swaraj's allegations against Gandhi as "completely untrue", Congress spokesperson Renuka Chowdhury said it was an "excuse to disrupt Parliament". PTI
[/blockquote]
While 60 interruptions in a six minute speech makes for a memorable headline, publicly accessible Lok Sabha documents and news reports from the time give a more detailed picture of the events of April 30th, 2013.
What really took place during Budget Session 2013
Budget Session 2013 held between Feb 21st to May 8th was a stormy one marked by near constant disruptions over a slew of graft charges leveled against the government and its coalition allies of the United Progressive Alliance (UPA) II. Lok Sabha worked for only 49% of the available hours and Rajya Sabha for 52%, according to PRS India, an official blog that tracks the functioning of the Indian parliament.
Below is PRS India's 'Plan Vs. Performance' summary of the Budget Session in 2013.
[blockquote width='100']
"Parliament convened for the Budget Session for 32 days and adjourned sine die two days ahead of schedule. Several hours were lost due to interruptions. Issues related to drought and hailstorm, plight of Tamils in Sri Lanka and safety of women etc. were discussed. Several hours were lost due disruptions on issues related to coal, the draft report on 2G, India-China border, chit fund scam in West Bengal, corruption in the railways. Lok Sabha worked for 49% of the available hours and Rajya Sabha for 52%. 16 legislative Bills were introduced and two were passed during the session other than the financial bills. This note lists the legislative business conducted during the Budget Session."
[/blockquote]
A government flailing in a sea of corruption allegations and an raucous opposition that disrupted most of the Budget Session is crucial to understanding the events of April 30th, 2013.
April 29th, 2013
A meeting to break the political deadlock
A meeting was convened by Lok Sabha Speaker Meira Kumar with floor leaders of various parties to break the political deadlock. At the meeting it was decided that the opposition led by the BJP would make a brief statement and stage a walkout to register its protest but would allow the government to pass crucial money bills the following day.
April 30th, 2013
Last day to pass the finance bill
A 2013 news article by News18 stated that the finance bill could not be delayed beyond April 30th. As per rules, the government had to pass all money bills within 75 days of the Budget speech which was delivered on Feb 28. After being passed in the lower house, money bills had to be sent to the Rajya Sabha and then to the president for his assent. The government discovered quite late that the deadline was April 30th and they had less than a day to pass the finance bill before it lapsed, Swaraj said in the press conference .
This is corroborated by the official transcript of the day's proceeding's recorded by the Lok Sabha.
[blockquote width='100']
" I held a meeting with the Members of the Business Advisory Committee yesterday. In the meeting, it was decided by the Leaders that the Demands for Grants (Railways) for 2013-14, Demands for Grants (General) for 2013-14, and the Finance Bill, 2013 may be passed without a discussion. As per the decision arrived at the meeting, I would now proceed with the financial business." Meira Kumar (2013 transcript)
[/blockquote]
(Click here to view the entire transcript)
Swaraj was not the only MP to be asked to deliver a short speech
Reading through the transcript of the session it appears as though Meira Kumar asked nearly all opposition leaders who spoke at the time to wrap up their speeches quickly. This is because it was decided the day before that members of the opposition would speak for a total of 30 minutes. Below is an excerpt from Lok Sabha's transcript of Kumar's conversation with Communist Party of India (CPI)'s Gurudas Dasgupta.
[blockquote width='100']
"SHRI GURUDAS DASGUPTA: Madam, please listen to me. You have heard her (Sushma Swaraj).
You cannot deny me that right. I just want two minutes.
MADAM SPEAKER: Let me clarify the position.
You were there in the leaders' meeting as well.
SHRI GURUDAS DASGUPTA : It was never agreed that she will make a speech and we will not be allowed.
MADAM SPEAKER: Let me complete the sentence. What happened in the leaders' meeting was that those who are walking out will say a few words, not a long thing, as to why they are walking out and then they will walk out. This was what was decided.
… (Interruptions)"
[/blockquote]
https://youtu.be/kbLka0SX4QQ
On viewing the video we counted about 58 times Kumar tried to wrap up Swaraj's speech, Lok Sabha's transcript records three interruptions by Kumar. The Hindi word व्यवधान is used to mark the interruptions by other MPs in the house.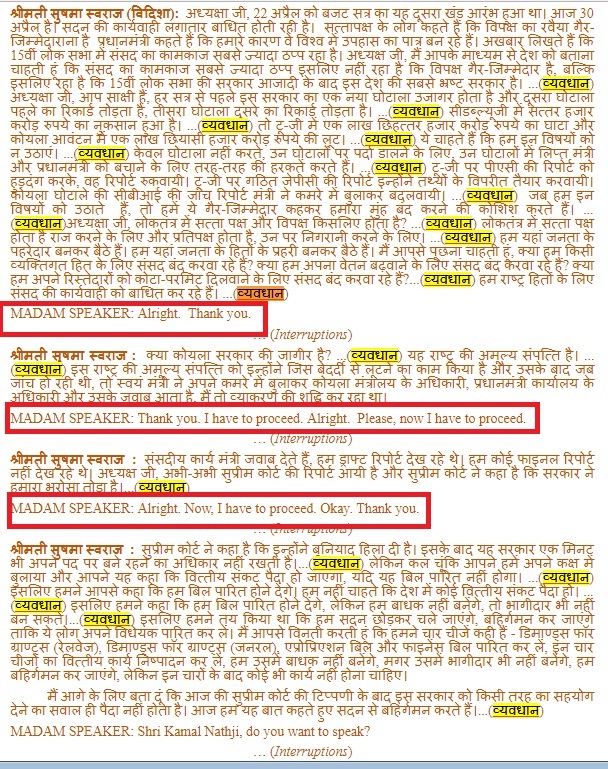 Critics of Kumar argue that she did little to stem the interruptions from Congress MPs while Swaraj delivered her speech. In the absence of any public records that determines the time limit allocated to each speaker, we have to rely on Sushma Swaraj's claim in her capacity as the Leader of the Opposition that she was promised five minutes to make her speech but was interrupted mid-way as she listed out the various corruption charges against the Congress-led UPA government.