Image Of Indian Flags Being Burnt Viral With A False Narrative
The flag-burning incident happened in Pakistan in 2014 when protests broke out in the city of Karachi on the country's Independence Day.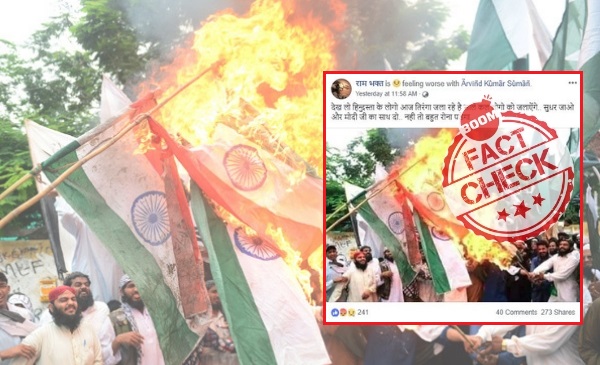 A photo of Indian flags being burnt on a street with Pakistani flags being waved on another side is viral on social media with text in Hindi, which loosely translates to "Look at this, people of India today they are burning the Indian flag, tomorrow they will set people on fire. Mend your ways and support Modi otherwise you will have to cry a lot." (In Hindi - देख लो हिन्दुस्ता के लोगो आज तिरंगा जला रहे है साले कल लोगो को जलाऐंगे.. सुधर जाओ और मोदी जी का साथ दो.. नही तो बहुत रोना पडेगा..)
A Facebook page called Ram Bhakt shared the image with the text mentioned above and got more than 200 shares and reactions on the post. Many netizens have replied to the post with angry comments - most of them abusing Muslims and Pakistanis.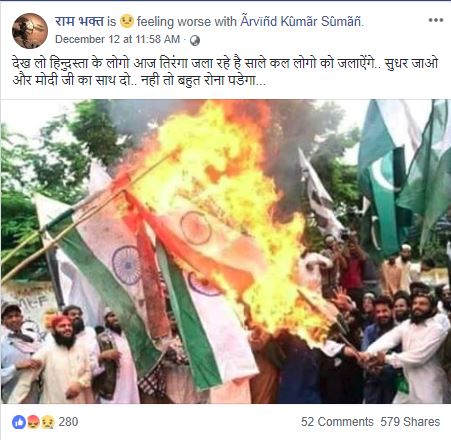 You can access the archived version of the post here.
BOOM analysed the image and ran a reverse image search which showed results from Pakistan. The results also showed that the photo had been carried in the The Express Tribune - an English daily newspaper from Pakistan.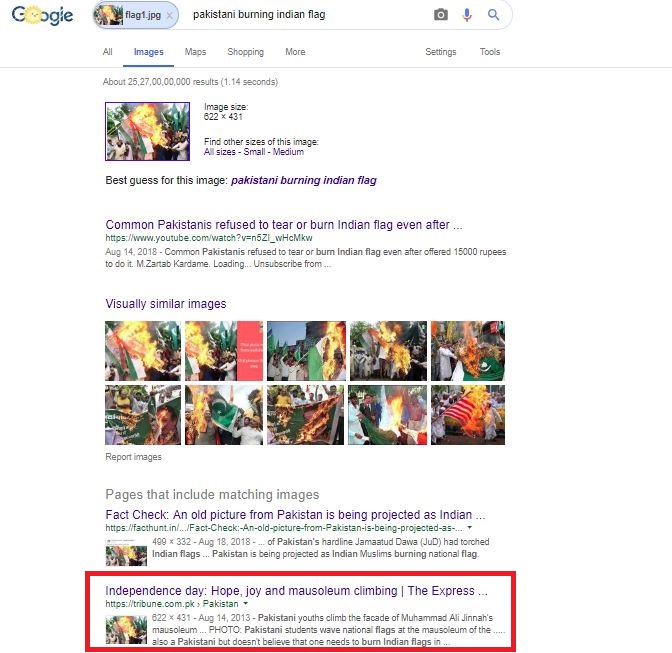 The article by The Express Tribune mentioned how Pakistani Independence day celebrations were carried out across the country. It also reported about certain protests that broke out on the same day in Pakistan. As part of the article, the newspaper carried the photo with a description that reads, "Supporters of Pakistan's hardline Jamaatud Dawa (JuD) torch Indian flags during a protest in Karachi on August 14, 2014. The protest comes at a time when skirmishes between Pakistan and India have flared across the heavily-militarised Line of Control (LoC)."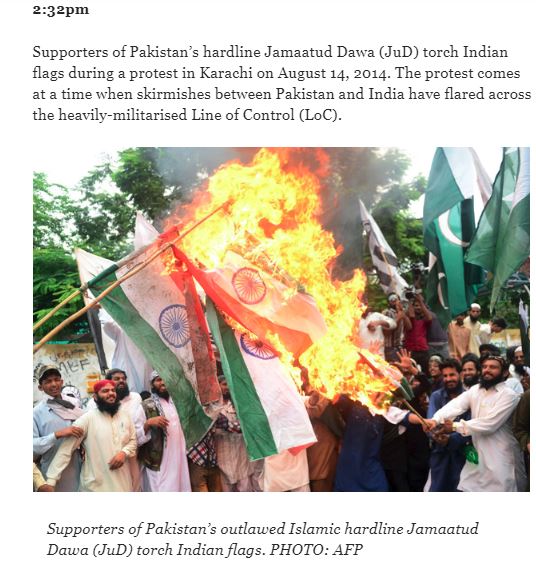 Screenshot of the article by The Express Tribune
This is not the first time this image has gone viral with a fake narrative. Thelallantop.com debunked this screenshot giving the reference to the same article by The Express Tribune.
A screenshot of a Facebook post which carried this image dating back to 2014 which was viral a few months back claimed that the intruders from Bangladesh in Assam burnt the Indian flag. The Facebook Page वन्देमातरम (भारतमाता) still exists but with no recent activity on its timeline.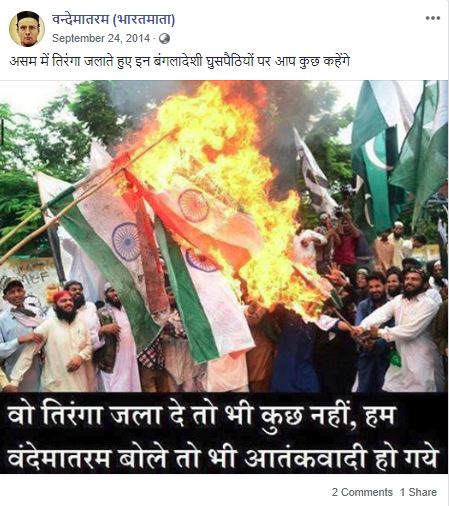 You can access the archived version of the post here.
Claim Review :
Image Purports To Show Indian Muslims Burning The Indian Flag
Claimed By :
Social Media