Image Of Alms Distribution To Thai Monks Shared As Crowd At BJP's Cooch Behar Rally
The image is originally from an alms distribution ceremony for Buddhist monks, held in Thailand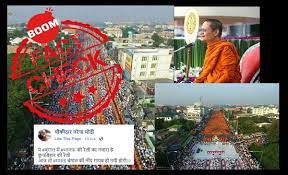 An aerial photo showing rows of Buddhists monks in Thailand receiving alms from a crowd is being falsely shared as the turnout at a Bharatiya Janata Party (BJP) rally in Cooch Behar, West Bengal.
The text with the image claims, "this is a glimpse of the BJP rally in Bengal. It is Cooch Behar's rally. Today Mamata will lose sleep."
Translated from Hindi text -ये #बंगाल में #भाजपा की रैली का नजारा है, कूचबिहार की रैली, आज तो #ममता बंगाल की नींद गायब हो गयी होगी।।
The same picture has been shared on the Facebook page 'Chowkidaar 'Narendra Modi '
The archive of the Facebook post can be viewed here and here.
Fact Check
BOOM ran a reverse image search on the photograph and found that it is originally from an alms distribution ritual that was held at the Samut Sakhon provice in Thailand in October, 2015.

The government and private sectors of the province organised the second alms offering ceremony for the residing monks. Alms were distributed to 10,000 Buddhist monks who had come from nine nearby provinces. The image, along with several other images from the ceremony, was uploaded on dmc.tv, a religious channel on Buddhist teachings.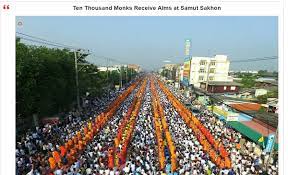 We also found a 2015 Facebook post from a verified account featuring the same image.
Another photo of the same street clearly shows that they are Buddhist monks and not BJP supporters.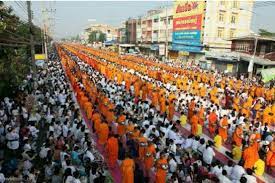 Prime Minister Narendra Modi held a rally in Cooch Behar on April 7, 2019 which saw a large turnout. (see the video below) However, the image shared on Facebook groups is from Bangkok.
Why are TMC and Didi so disturbed when:

India acts strongly against the forces of terror.

India strengthens its position as a space superpower.

Farmers get income support.

Poor people get health-insurance.

Why is Didi supporting those who want 2 Prime Ministers in India? pic.twitter.com/1U7Aj1ELg5

— Chowkidar Narendra Modi (@narendramodi) April 7, 2019
Claim Review :
Photo shows a huge turnout at BJPs Cooch Behar rally in West Bengal
Claimed By :
Facebook posts