Image Of A Pakistani Homeless Man Goes Viral As That From India
Image of a homeless man from Pakistan goes viral in India claiming it to be from India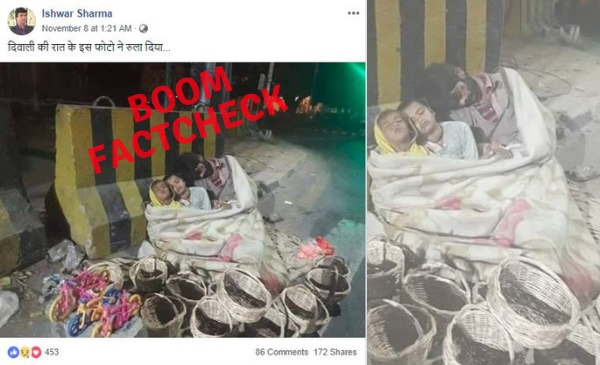 An Image of a homeless family sleeping by the roadside with jute baskets and toys has gone viral on social media in the last couple of days. A few posts with captions such as, 'दिवाली की रात के इस फोटो ने रुला दिया...' claimed that the image was taken on Diwali which was on 7th November.
The same image was also tweeted by Pakistan's Prime Minister Imran Khan, saying that he laid foundation for first of five shelters for the homeless in Lahore.
Today I laid the foundation for 1st of 5 shelters for the homeless in Lahore & one in Pindi to be followed by shelters in other cities. We are committed to building a social net for our poor citizens so everyone has a shelter over his/her head & access to health & education pic.twitter.com/4QCXfEzgJK

— Imran Khan (@ImranKhanPTI) November 10, 2018
A Google reverse image search of the image led us to a report by Dainik Bhaskar which vaguely mentions that the image is from Indore but then goes on to mention that it can be from anywhere - Gwalior, Bhopal, Jabalpur, Delhi as the situation of homeless people is the same everywhere.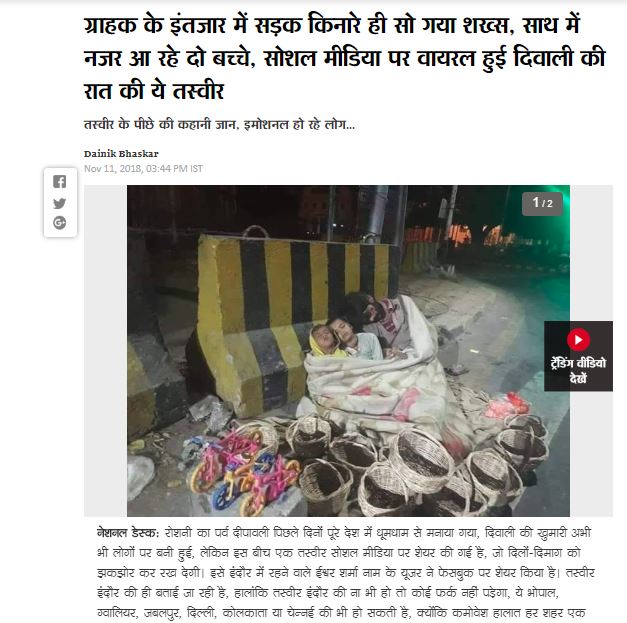 We also found a report by a website Hindu Bulletin saying that the man slept off with his two kids waiting for the customers to come in and buy the baskets and toys blaming the online markets and the malls.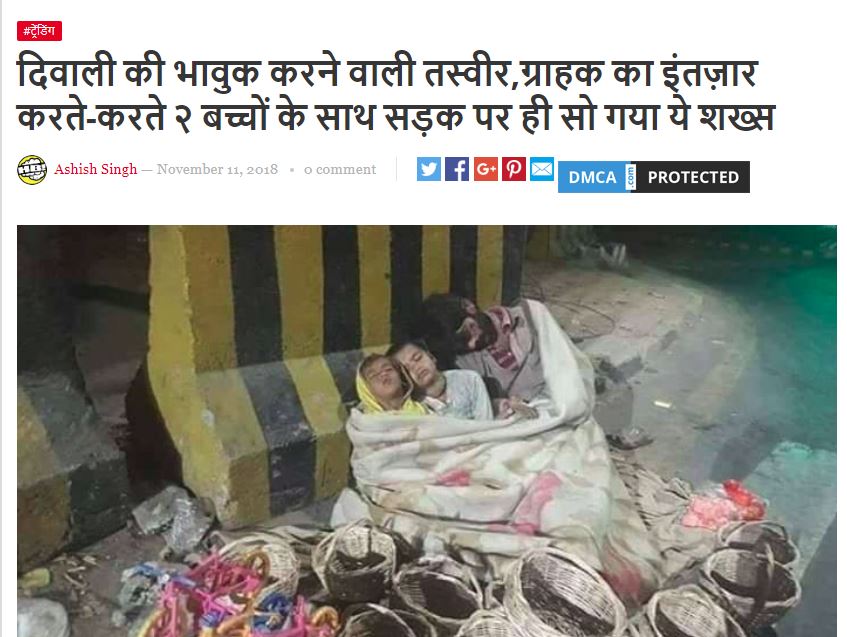 FACT:
We found a Gulf News article which said that the image of the family was taken in Lahore, Pakistan. The article also mentions that the photo of the man with his kids on a cold night was clicked by a Pakistani Journalist Ihtisham ul Haq.
لاہور کے مال روڈ پر مفلسی کی چادر اوڑھ کر سونے والا ایک بے بس خاندان 😔 pic.twitter.com/bmC1rnhY3v

— Ihtisham ul Haq (@iihtishamm) November 6, 2018
More About The Image
The same family was spotted by a person Umer Hussain much before the image of the family went viral on social media. Umer claimed that he asked the man not to bring his children to sleep with him on the streets. When he saw them again on the street, he called the as he wanted to confirm that they were his own children. When he was sure about the man, he took them out for shopping and dinner. He also made sure they were admitted to a school. Not only this, but he also asked for donations from the public.
BOOM also got in touch with the journalist Ihtisham Ul Haq via email and is waiting for a reply for more details about the image.
Claim Review :
Image Of A Homeless Family Sleeping By The Roadside With Jute Baskets And Toys On Diwali
Claimed By :
Facebook User