Hyderabad's Siasat Publishes Fake News About BJP Voted 4th Most Corrupt Party
Hyderabad's Siasat Daily publishes a fake story about the BJP being voted the 4th most corrupt party in the world according to a survey conducted by CNN.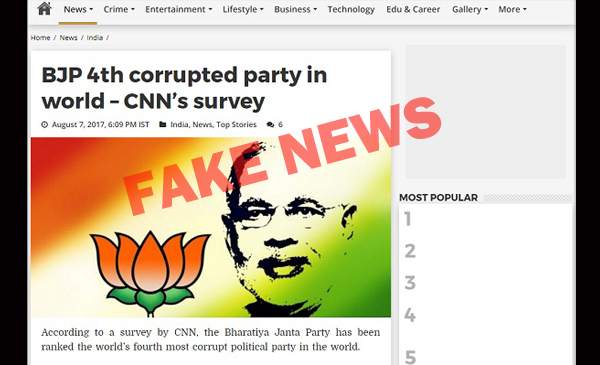 (Screenshot of Siasat's article that was deleted)
Hyderabad based Urdu newspaper The Siasat Daily ran a fake story on its website about the Bharatiya Janata Party (BJP) being voted the fourth most corrupt party in the world by a survey conducted by "CNN", on Monday.
The news outlet deleted its story after being called out by BOOM on Twitter but not before its now deleted Facebook posts got over 1400 Likes and nearly 600 shares.
Screenshot of The Siasat Daily's Facebook page
BOOM emailed Siasat.com via a contact form on its website to understand how the newspaper failed to spot a fake story. We will update our story on receiving a response.
Siasat even said that at this ranking BJP had overtaken the German Nazi party ( The National Socialist German Workers' Party). Below is the text that accompanied the graphic.
[blockquote width='100']
"At this ranking the BJP has not only overtaken much known rebellious German Nazi party but is also rubbing shoulders with world renown notorious dictatorial political parties like the Pakistan Muslim League Nawaz, PML(N), the National Resistance Movement – Uganda, Progressive Action Party of Cuba which came third, Vietnam's Communist party, the Kuomintang of China and the Nationalist Fascist Party of Italy."
[/blockquote]
The fake story seems to be based on a graphic that has been viral on social media for a while now. A variation of the same graphic says BJP was voted the fourth most corrupt party in the world according to a survey conducted by BBC. On placing both graphics next to each other, the rankings are the same, making it evident that BBC's logo has been swapped with that of CNN's.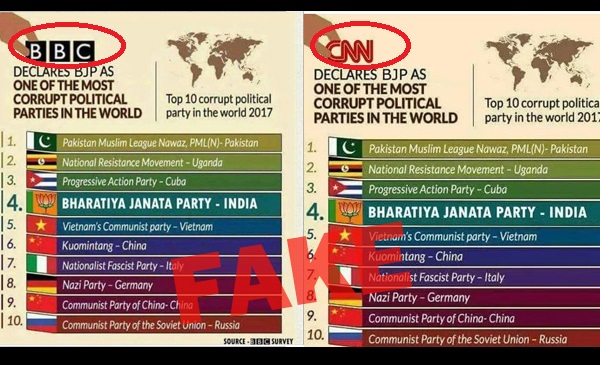 In March this year, a fake story by fake news site BBC News Point about the Congress being ranked 4th among the top 10 most corrupt parties in the world, went viral. The story was subsequently debunked by many sites. 'BBC survey' claiming that Congress 4th most corrupt party in the world is fake.'
BBC News Point is a fake news site that has no relation to the actual British Broadcasting Corporation in the United Kingdom (BBC). After being called out the site moved the story to another fake URL Fox News Point - https://www.foxnewspoint.com/top-10-most-corrupt-political-party-in-the-world-2017/