How Ravi Shankar Prasad Got Digital Agri Transactions Horribly Wrong?
It's the era of digital transactions and dealing in numbers. And when it comes to the government, the numbers are not in lakhs and crores but sometimes lakh crores. Probably, that is the reason why this correction on cabinet minister Ravi Shankar Prasad's Twitter timeline became a source of much glee among twitteratis.
Corrections in eNAM growth figures! So far 31.13lakh tonnes of agriculture produce of Rs.6130Cr. have been transacted on eNAM. #DigitalIndia pic.twitter.com/qRc2E7xD34

— Ravi Shankar Prasad (@rsprasad) January 9, 2017
But this retraction came after hours of reminders from his Twitter followers that he had got his numbers all mixed up. Prasad, minister of Law & Justice and Electronics & Information Technology created quite a buzz when he put this original tweet on January 8, which has now been deleted.
#DoYouKnow that farmers in India are getting benefits of selling their produce online. Digital farmers of #DigitalIndia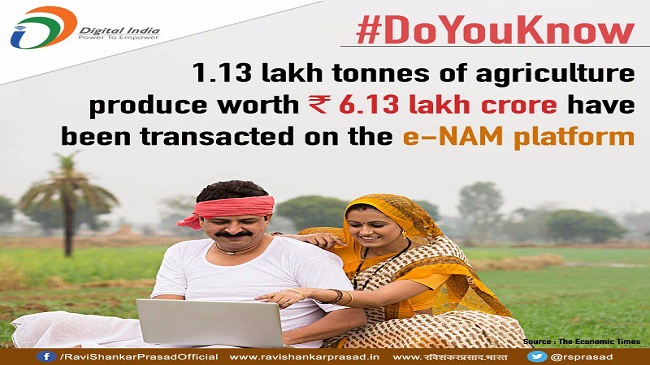 Prasad's tweet attracted 263 replies, 326 retweets and 682 likes before it was deleted . The minister's tweet's projecting the super number of Rs. 6.13 lakh crore transactions over e-NAM platform showed the immense progress of the National Agricultural Market (NAM), a pan-India electronic trading portal since its launch in April 2016 and a fast paced trend of farmers moving digital.
Someone rightly pointed out in a re-tweet that if 1.13 lakh tonnes of agriculture produce worth Rs. 6.13 lakh crore was transacted through e-NAM that means each kilogram of the goods was transacted at an average price of Rs. 54,000 – a number as absurd as it sounds.
@rsprasad Please let me know which crop gives the return of 54,000 rupees per kg. I will leave everything and start growing that. pic.twitter.com/3RslxonHtR

— Jas Oberoi (@iJasOberoi) January 8, 2017
But how did an otherwise sharp Ravi Shankar Prasad who is also an eminent lawyer get it so horribly wrong? While he has not clarified while putting out a correction, here are a few pointers.
On 28th December, 2016, The Economic Times  reported a story headlined, 'Over Rs 6 lakh crore worth farm produce traded on e-mandis' that stated, "Till December 16, 31.13 lakh tonnes of agriculture produce worth Rs. 6,13,890.61 crore have been transacted on the e-NAM platform.' They sourced the information to an agriculture ministry official. However, the agriculture produce stated was again different from what Ravi Shankar Prasad had tweeted. ET stated it was 31.13 lakh tonnes instead of 1.3 lakh tonnes.
Then we did the obvious – visit the Ministry of Department of Agriculture Cooperation and Farmers Welfare website. A report 'Progressive Steps of Present Government During June 2014 to Dec 2016' – prepared by the Ministry itself states that, "As on 16.12.2016, 31,13,494.35 tonnes of agriculture produce worth Rs. 6,13,890.61 lakhs (Rs. 6,138 crore) has been transacted on e-NAM platform. Also, 8,55,839 Farmers, 59,155 Traders and 30,790 Commission Agents have been registered on the e-NAM platform."
Clearly, both ET and Ravi Shankar Prasad added a few zeroes and converted the Rs 6138 crore to Rs 6.13 lakh crore, either due to oversight or while converting the figure from lakhs to crores.
We also rechecked with the Press Information Bureau Releases of Government of India. A release of January 02, 2017 states that, 'As on 27.12.2016, 35,04,371.13  tonnes of agriculture produce worth Rs. 7,131.21 crore has been transacted on e-NAM platform.' As per this latest data, one kg of agricultural produce was on sale at an average price of Rs. 20.
Rs. 6.13 lakh crore (as per Ravi Shankar Prasad's 8th Jan tweet) against Rs. 7,131.21 crore (as of 27th Dec) – an inflated transaction figure of over 800 times.