How A Video From Karnataka Spurred A Mob Attack In Malegaon
BOOM accessed two videos doing the rounds in Malegaon which is said to have led the residents to suspect the victims were child kidnappers and attack them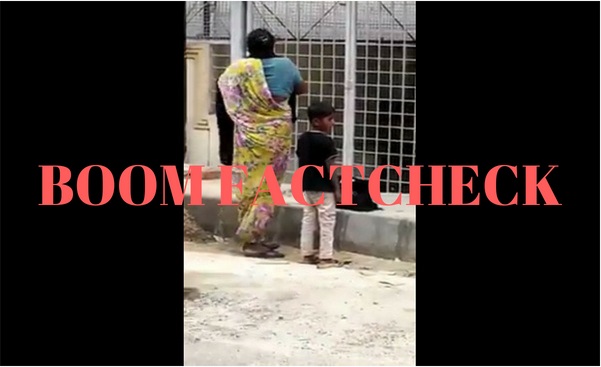 Did unrelated videos from different states showing unidentified women walking with children result in the near lynching of five people in Malegaon district of Maharashtra?
In what could have turned fatal, five people including a two-year-old child were rescued from an angry mob late Sunday night. The mob beat up these daily wage workers suspecting them to be child kidnappers.
According to the Malegaon police, the incident happened on Sunday, when five people - two men, two women and a two-year-old boy were seen talking to a teenager in Malegaon. The five hailed from Parbhani, a district in Maharashtra and were daily wage labourers. The local Malegaon police led by Additional SP Harssh Poddar are being hailed as heroes whose timely intervention prevented a certain mob lynching of this group.
Five ppl (including a 2 yr old child) rescued from a violent mob of thousands wanting to lynch them in Malegaon. Proud of my team #MalegaonPolice that risked their own lives to save them today@Dev_Fadnavis @IPS_Association @LogicalIndians @thebetterindia @the_hindu @timesofindia https://t.co/ho6iWSDt3W

— Harssh A Poddar (@Harssh_IPS) July 1, 2018
BOOM spoke to Poddar who explained that the incident was triggered after the teenager accused the daily wage labourers who approached him of attempting to kidnap him.
"After being approached by the said daily wage labourers, the teenager raised an alarm that he was being kidnapped. Hearing this, the crowd gathered and started to beat up the five people including the women. We got a call about this and immediately sent our forces," Poddar explained. He added that the crowd was so angry and unruly, that they even attacked the police officials sent to control the situation and overturned a police vehicle.
This year has seen over 20 innocent people being lynched to death across the country by angry mobs who believe the victims to be child kidnappers. This anger of the mob has been blamed on videos and images doing the rounds on social media "warning" people to keep their children safe from the kidnappers. The Malegaon incident is also being attributed to similar such videos that started doing the rounds in the town over the last two weeks.
BOOM accessed two videos doing the rounds in Malegaon which is said to have led the residents to suspect the victims were child kidnappers and attack them. The first video shows an elderly woman being heckled and pushed and then beaten up mercilessly by a huge crowd. The people in the video can be heard shouting in Gujarati.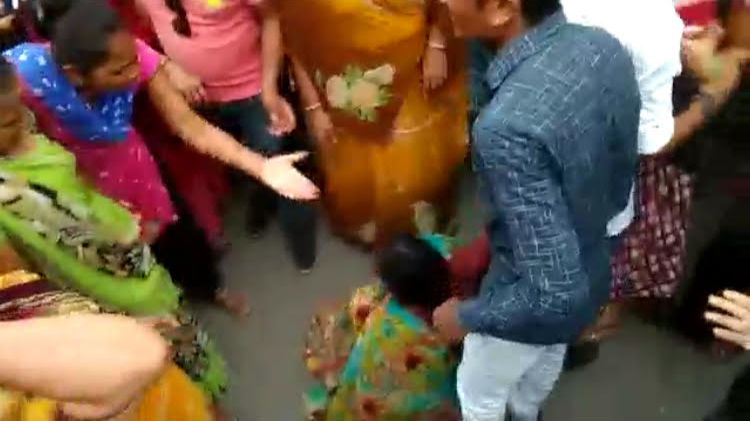 Screenshot of a video where a mob is seen attacking a woman suspected to be a child kidnapper
The second video shows a saree-clad woman accompanied by a young boy changing into a burkha near a busy road.
BOOM was able to ascertain that the second video of the woman wearing a burkha was shot in Bangalore, Karnataka. The area in the video is Madivala in Bangalore and shows a young boy waiting with the woman while she is wearing the burkha and towards the end, two more women - one of them carrying a toddler is seen walking towards the first woman.
A signboard of City Dental Clinic and Dr Anjana Shetty is visible in the video. In addition, number plates beginning with the alphabet KA can also be seen indicating that the video is from Karnataka. BOOM searched for City Dental Clinic and found the clinic in Madiwala, Bangalore. Exterior shots available online confirm that it is the same location.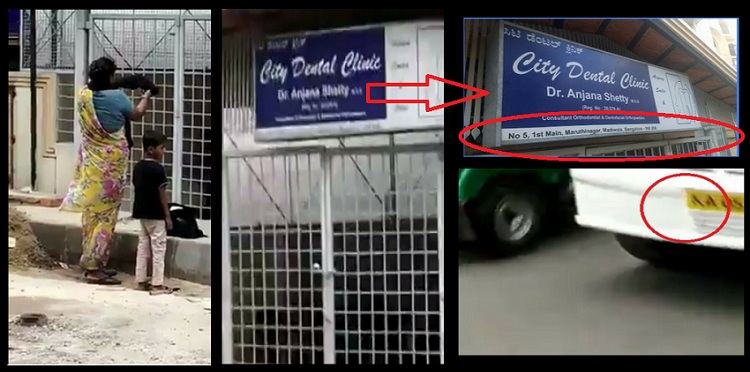 We are only using screenshots of the videos to prevent its further misuse.
BOOM contacted police sources in the Madiwala police who said they cannot ascertain the source of the video. When asked if there had been any child kidnapping reported in the area, they denied any such reports. "There have not been any reports of a child being kidnapped or a suspected child kidnapper who is a woman being in the area," said a senior officer not wishing to be named.
Both the videos were viral in Malegaon with a message in Marathi and Hindi that said, "A child kidnapper was caught today in Sindhi Colony of Nandurbar. Please send this news to everybody you know immediately."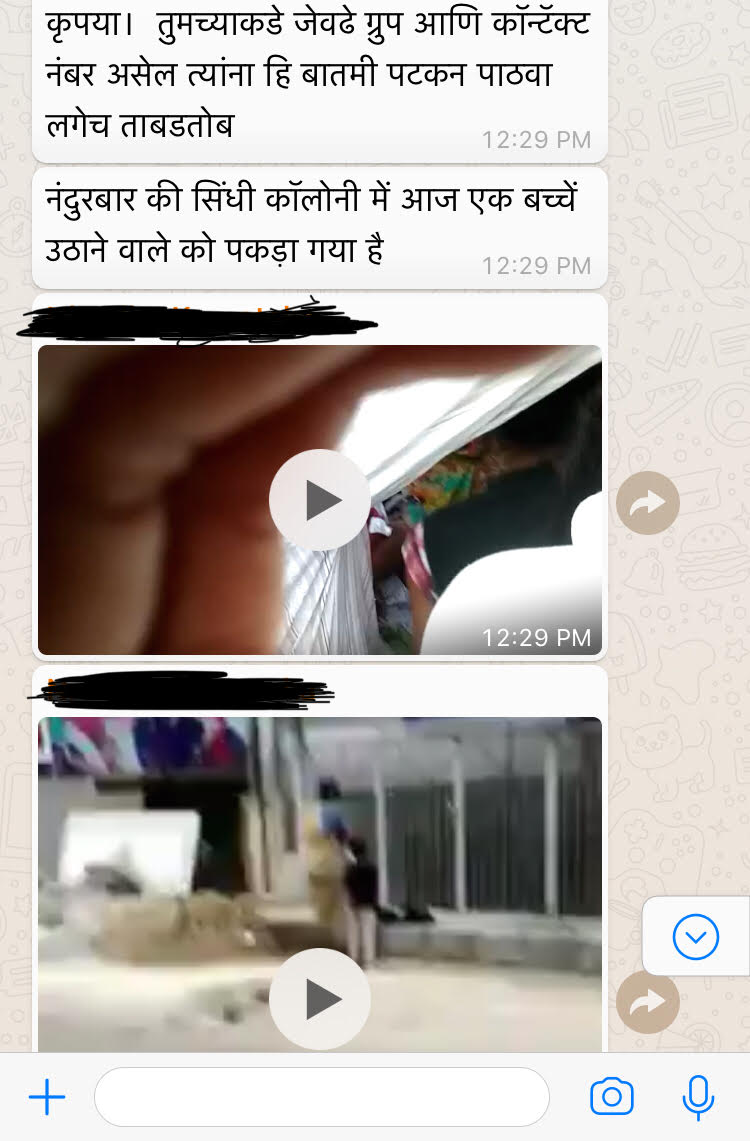 WhatsApp messages and videos claiming to be of child kidnappers
Some other messages in Urdu claimed that a kidnapping incident was prevented outside a mosque and residents should take care of their children.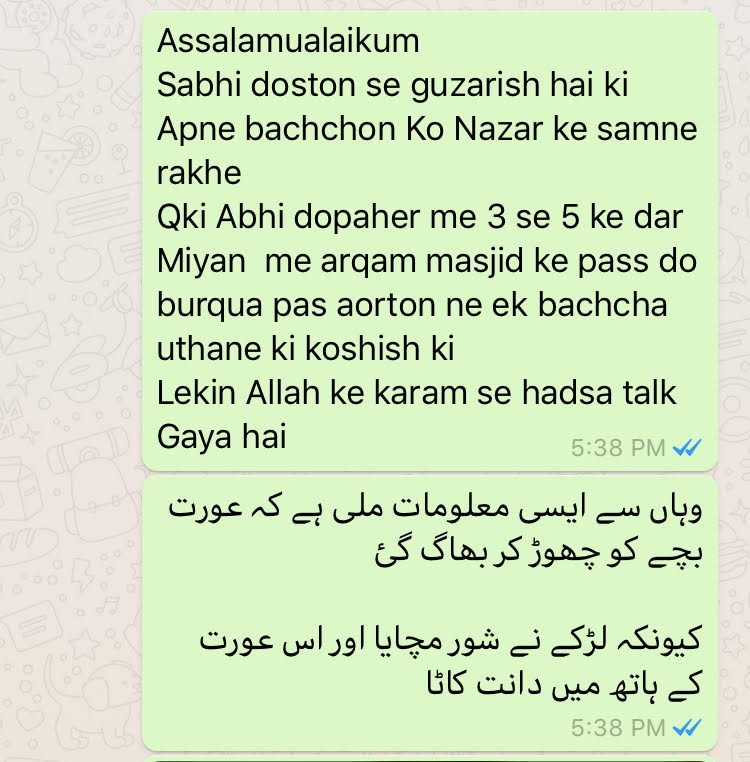 WhatsApp message alerting residents of Malegaon of a foiled child-kidnapping incident
Speaking to BOOM, Poddar said that the police department started keeping strict tabs on such videos after coming across the messages and the recent news of such lynching incidents.
"We have deployed our men to warn people that these messages are fake. In addition to holding public meetings and meeting with heads of various areas, we have also started taking action against anybody found spreading these messages on social media,"he said. He further added that the videos always say that the people were seen in nearby districts so that a sense of panic is created among the people.
The additional SP had already put out several videos where he has warned the residents not to heed to rumours and take the law in their own hands. Incidentally, the latest one was shot two days before the mob attack on Sunday.
If you value our work, we have an ask:
Our journalists work with TruthSeekers like you to publish fact-checks, explainers, ground reports and media literacy content. Much of this work involves using investigative methods and forensic tools. Our work is resource-intensive, and we rely on our readers to fund our work. Support us so we can continue our work of decluttering the information landscape.
BECOME A MEMBER