Horrific Clip From Assam Showing A Woman Caned Passed Off As West Bengal
A viral video claims that Rohingya Muslims in West Bengal are torturing Hindus. The video, originally, is from Assam and the woman was reportedly being punished on the orders of village elders.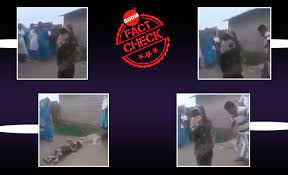 A two-year-old video of a woman being brutally caned by a man publicly is being shared with a false caption claiming that the incident is from West Bengal. BOOM found out that the original video is from Assam.
The caption accompanying the video clip reads 'Hindus living in Rohingya Muslim populated areas in West Bengal are being tortured under the tenets of Shariya'.
(Translated from Hindi: पश्चिम बंगाल में शरिया कानून के तहत लोगों पे हो रहे अत्याचार ज्यादातर बांग्लादेशी रोहिंग्या मुसलमान बहुल क्षेत्रों रहे हिन्दुओं पर अत्याचार पर कोई सुनने वाला नहीं है |)
The viral clip shows a man caning a woman while a group of onlookers can be seen and heard speaking in a local dialect. At one point, the woman falls to the ground but the man continues caning her until another man and woman carry her away. You can also hear people laughing in the background.
Since the video is graphic in nature, we have decided not to share it here. You can watch the viral clip here and access its archived version here.
Fact Check
BOOM found a 2017 article of India Today which carried the same video and which reported that it was from Dhing village of Assam's Nagaon district. You can read more about the incident here.
Another news report that BOOM came across also mentions the incident from Assam. The woman was reportedly 'punished for some minor offence at the orders of the village elders. Though it is not clear what exactly the woman did. You can read the report here.
The identity of the man and woman in the video are not known. An onlookers appear to be Muslim. The incident does not appear to be an inter-religious clash.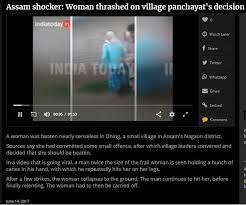 Claim Review :
Hindus being tortured at the hands of Rohingya Muslims in West Bengal
Claimed By :
Facebook pages