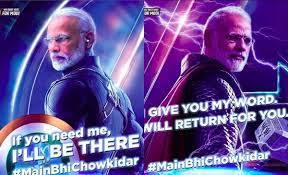 A pro-Bharatiya Janata Party (BJP) Facebook and Instagram page called 'My First Vote For Modi' has spent more than Rs. 46 lakhs on political ads in one week, asking first time voters to pledge their vote for the current prime minister to win free merchandise, revealed Facebook's latest ad report.
The mammoth expenditure by the fairly new page on Facebook and Instagram, dedicated to first time voters, has quickly earned it the top spot in the list of top 20 pages to spend on political ads on the social media platform, up from number three last week.
Also Read: Pro-BJP Pages Lower Expenditure; Newcomers In The List: FB Weekly Ad Report
Although the page was started on January 17, 2019, it only started promoting its posts since the first week of March 2019.
The page has, since then, spent more than Rs. 60 lakh on 5900 ads, making it the third highest spender and also the page running the highest number of political ads among Indian Facebook pages, all under three weeks.
While the page does not disclose the name of its owners, it does provide the required "Paid for by" disclaimer for its sponsored posts to abide by Facebook's transparency rules on political ads.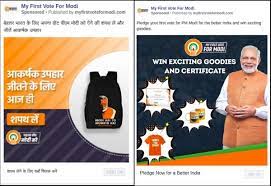 It can be observed that the address provided in the disclaimer matches the address of BJP's New Delhi headquarters, and is also part of the disclaimer details provided by pro-BJP pages 'Bharat Ke Mann Ki Baat' and 'Nation with NaMo'.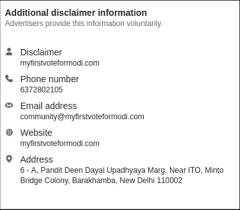 While the current copyright disclaimer at the bottom right hand of the homepage of My First Vote With Modi attributes its copyrights to Nation With Namo, an older version of the page had previously attributed it to Bharatiya Janata Party.
Although the link between BJP and the Nation With Namo campaign, of which My First Vote For Modi is a part of, has been well established, there is a lot more ambiguity regarding the flow of funds from the party to the campaigns.
To look for answers, BOOM tried to get in touch with the advertisers using the contact details provided in the disclaimer, but was unable to get a response. The story will be updated if and when they respond.
Handouts for votes
While most of the sponsored content were harmless trivia and slandering attempts at Congress President Rahul Gandhi, quite a few of the posts promised free merchandise in return for a 'pledge to vote for Modi'.
The handouts ranged from t-shirts, mugs and bags to 'certificates'.

Instagrammer's delight
'My First Vote For Modi' has marked its presence on Instagram, attracting over 50,000 followers. Staying true to the 'insta' spirit, most of its posts are graphic in nature, providing a visual treat for its followers.
Posts portraying Modi as various popular superheroes are aplenty, while some others are dedicated to mocking the opponents, with special focus on Congress' top brass.
Last week's ad report also revealed that although pro-BJP pages still remain the top spenders on Facebook political ads with an expenditure of Rs. 69 lakh, regional parties are slowly catching up.
New comer from Andhra Pradesh, YS Jagan Mohan Reddy and his party YSR Congress Party (YSRCP) is the next big spender with Rs. 23 lakh, thus closing the considerable expenditure gap between BJP and other parties we have seen in the previous weeks.
Congress still remains at the fourth position with an expenditure of Rs. 8 lakh, behind Naveen Patnaik's BJD Odisha which has consistently stayed in the second or third position for over three weeks now with an expenditure of Rs. 10 lakh.