From Indian Media To NYT: How The 'Donkeys Jailed In UP' Story Went Viral
Were the donkeys jailed or detained or merely tied up to send out a message to their owners who had failed to heed past instructions by the UP prison officials?
Did the UP police detain donkeys for eating expensive plants outside the jail? The news of this unique set of prisoners was funny enough for the video to go viral on social media after news agency ANI shared it and all the media houses jumped to publish various versions of it.
Not only did the Indian media get excited, but even the New York Times found it important to report it.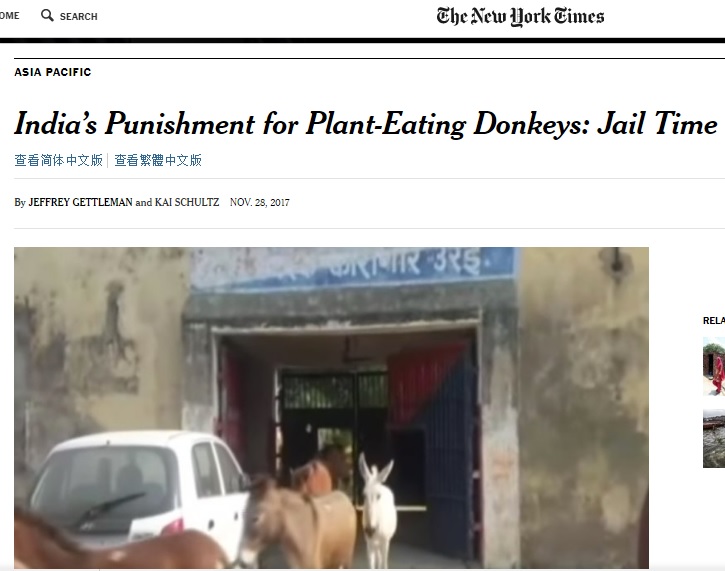 A few lines from the article read.
What happens in a northern Indian town when you rip up someone else's plants and saunter away? You go to jail. Even if you're a donkey. News this week that eight donkeys had been jailed for four days for eating expensive saplings went viral in India, drawing a mix of ridicule and good-hearted laughs. The Indian government has been on a cleanliness kick, led by Prime Minister Narendra Modi, who has vowed to build tens of millions of toiletsand clean up garbage in cities. According to the authorities, the donkeys were making a mess.
Here is the video that ANI shared after which social media went head over heels talking about it.
#WATCH Police release a herd of donkeys from district jail in UP's Jalaun. They had been detained for destroying plants outside jail pic.twitter.com/RkV8Hng0k2

— ANI (@ANI) November 27, 2017
But this story reveals the danger of pursuing viral stories through lazy desk curation. Uttar Pradesh Police department got trolled on Twitter as Twitteratis confused the police with the UP Prisons department under whose jurisdiction the incident took place.
The UP Police who are active on Twitter were in no mood to give up on this issue without a fight. They first put out a tweet correcting India Today's Editor Rahul Kanwal.
@rahulkanwal ji,Incident is related to #jailpolice not to @uppolice .

So #uppolice is not responsible for this incident. https://t.co/IscdVkTV22

— पुलिस छवि सुधार:-एक मुहिम (@policeimagerfms) November 27, 2017
The UP Police tweeted their clarification again by replying to NDTV's tweet linking their story.
Dear @ndtv #uppolice has nothing to do with their arrest or custody.

We request you to check your facts with us next time. https://t.co/6i9wN0nGZN

— UP POLICE (@Uppolice) November 28, 2017
NDTV's Suparna Singh tried to defend their position by pointing out that they did not mention UP Police in the story.
Dear @uppolice, i said "READ our story" - and i repeat, it does not mention you. The video that DOES refer to you will be removed. Have a nice day, now get those baddies! thanks

— Suparna Singh (@Suparna_Singh) November 28, 2017
But once again the UP Police were determined to have the final word on this issue.
Dear @Suparna_Singh @ndtv ~If you are happy running different content on your print & video, good luck !!

Have a nice day too. https://t.co/2WTgePI7pz

— UP POLICE (@Uppolice) November 28, 2017
Meanwhile Rahul Srivastav, Adl SP/ Public relations officer, DGP HQs decided it was time to join the party.
The only gratitude of a donkey is it's kick & fortunately #Uppolice has nothing to with it. https://t.co/NoVNrbZ5Bt

— RAHUL SRIVASTAV (@upcoprahul) November 27, 2017
A Google search shows that even after clarification, the stories are still showing up with headlines that seem to be suggesting that the donkeys were 'jailed'.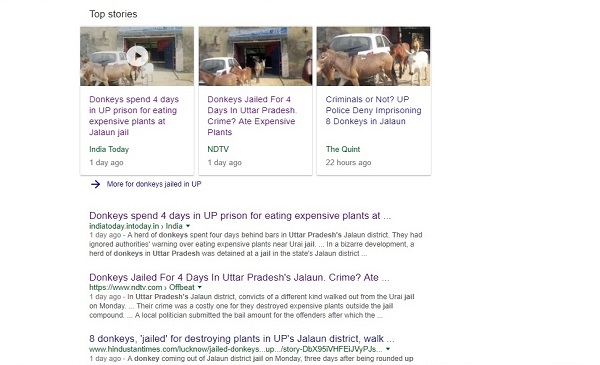 Speaking to BOOM, Rahul Srivastav said, "Why have reputed publications and channels blamed us for detaining donkeys when we have nothing to do with it? How come no one contacted us before writing these stories? They should have spoken to us and we would have clarified. Earlier, we didn't have a voice but now we are very active on social media."
But were the donkeys 'jailed' or 'detained' or merely 'tied up' to send out a message to their owners who had failed to heed repeated instructions by the UP prison officials? A website thellalantop.com spoke to Sitaram Sharma, Jailer of Orai Jail in Jalaun district, who gave a detailed explanation of the events that unfolded since November 26. Given below is a part of his explanation translated from Hindi.
Every Sunday, the jail staff works to clean up the premises of the jail and plants trees. The same program was going on this Sunday, 26th of November when a group of animals came and started destroying the garden. Due to this, we caught the animals and tied them. The aim of this was to make the owners realize that their animals don't destroy the place in the future. In the group, there were goats, buffaloes and cows also. The owners of the animals who came that day, were counselled, instructed and their animals were returned. The owner of the donkeys didn't come and so they were tied in the campus itself. The next day the owner arrived and so the donkeys were handed over to them. The news that they were kept there for four days is false.
The story published by ANI mentioning the release of the donkeys came on 27th November. This confirms the statement of the jailer that the animals were tied up only for a day though one of the owners insisted that his donkeys were missing for four days.
While one can dismiss the account of the Jailer as an attempt to save themselves from more embarassment, prison employees are not allowed to detain or jail anyone except the prisoners who are under their care. A question none of the journalists bothered to ask but blindly accepted as facts based on the report filed by news agency ANI.
If you value our work, we have an ask:
Our journalists work with TruthSeekers like you to publish fact-checks, explainers, ground reports and media literacy content. Much of this work involves using investigative methods and forensic tools. Our work is resource-intensive, and we rely on our readers to fund our work. Support us so we can continue our work of decluttering the information landscape.
BECOME A MEMBER