FB Weekly Ad Report: Poll Time Sees LDF And TMC Loosen Purse Strings
BOOM investigates the top 20 Facebook pages to spend on political ads last week (07.04.2019 – 13.04.2019), based on Facebook's weekly ad archive report.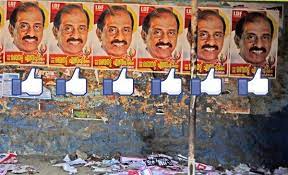 Kerala's Left Democratic Front and Bengal's All India Trinamool Congress decided to boost their marketing efforts on social media by sponsoring posts on their official Facebook pages to a tune of Rs. 4.4 lakh and Rs. 1.5 lakh, respectively, between April 7 and April 13, 2019.
As the 2019 general elections kicked off last week, several major parties who had refrained from spending on Facebook ads started sponsoring posts on their official pages and found their inclusion in the list of top 20 pages to spend on ads on Facebook.
While 95 more constituencies go to polls in Phase 2 on April 18, 2019, a sum of more than Rs. 14 crore has already been spent on promoting political ads on Facebook, marking the rise of the social media platform into a full-fledged marketing platform for political campaigning.
Last week's ad report by Facebook also saw the return of BJP's official page as the top spender, after a brief halt in expenditure on Facebook ads the week before (31.03.2019 - 06.04.2019).
Also Read: FB Weekly Ad Report: BJP-Linked Pages Stop Spending, Congress Goes All Out
Congress has been persistent in its effort to continue its social media campaign as it pumped a sum of Rs. 18 lakh, following an expenditure of Rs. 19 lakh the week before.
Facebook's ad library had revealed that Congress' attempts at Facebook marketing had been frugal at best in the months of February and March, while rival BJP had made a humongous head-start by spending more than a crore in the last week of February and first week of March
Andhra Face-Off
YSR Congress Party, which has been one of the highest spenders on Facebook political ads, fell behind rival Telugu Desam Party, which had boosted its social media marketing expenditure in the past two weeks.
TDP's mammoth spending of more than Rs. 17 lakh on Facebook ads in the past two weeks suggests a last minute effort to catch up to YSRCP's expenditure of more than Rs. 80 lakh since February, as both the parties faced each other at the polls in Phase 1 last week