FB Weekly Ad Report: BJP-Linked Pages Stop Spending, Congress Goes All Out
BOOM compiled Facebook's Ad Archive report from the past six weeks to gain insights into political ad expenditure on the social media platform.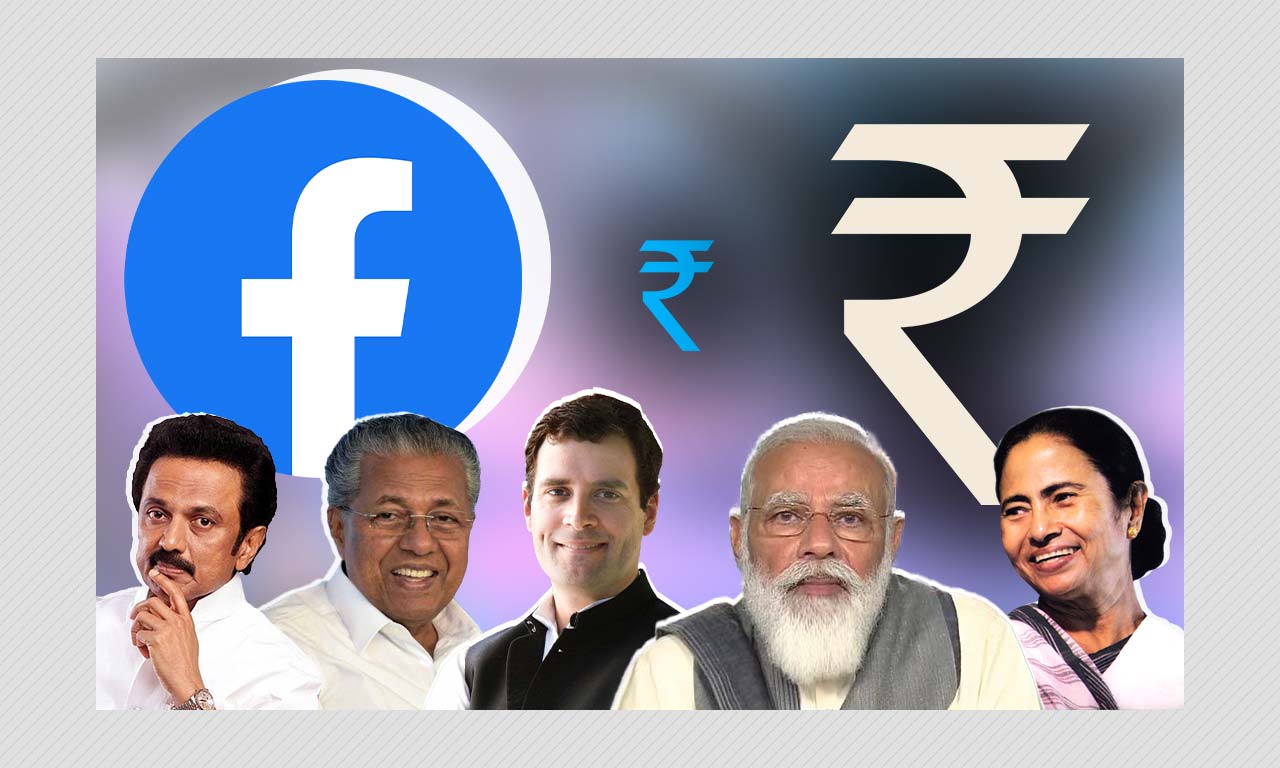 After dominating the list of top spenders on Facebook political ads for weeks, pro-Bharatiya Janata Party pages saw a considerable drop in spending, while Congress party's official page increased its expenditure to more than Rs. 19 lakh.
Facebook's ad report from last week (30.03.2019 - 06.04.2019) reveals that the three top spenders, namely Bharat Ke Mann Ki Baat, Nation With NaMo and My First Vote for Modi, have put a complete stop on sponsoring posts on their pages.
It should be noted that all these three pro-BJP pages were found to be run by an organisation called the Association of Billion Minds (ABM), which is indirectly affiliated to the BJP, as per a report by Huffington Post.
However, when it comes to counting overall expenditure, pages run by ABM steal the show by a huge margin, spending a total of Rs. 4.5 crore in the course of 6 weeks, from mid-February to April 6, 2019.
The highest spending page which is not affiliated to the BJP is the official page of BJD Odisha supremo Naveen Patnaik, with a total expenditure of Rs. 45 lakh from mid-February to April 6, 2019.
Despite its increase in expenditure last week, Congress' official page ends up in the eighth position with an overall expenditure of Rs. 26 lakh, due to its meagre or non-existent expenditure in the previous weeks.
Pro-BJP pages, with an overall expenditure of Rs. 5.7 crore, are so far ahead of others, that its curbing of spending in the last week had no effect in its position at the top of the list of top spenders according to party affiliations.
Weekly expenditure
ABM-run pages Bharat Ke Mann Ki Baat and Nation With NaMo, were the top spenders until the second week of March, but henceforth slowed down its spending as another ABM-run page, My First Vote For Modi, joined in and rose to the top position.
This suggests that ABM used these three top pages to diversify its expenditure and maximize outreach without putting too much focus on one single page.
Congress' official page spent little or no money for the first 5 weeks and only rose to the top spot following ABM's departure from ad spending, which coincided with Congress' sudden increase in expenditure.
Naveen Patnaik's official page stands out as the most consistent spender in the list, with a weekly expenditure ranging from Rs. 6 lakh to Rs. 9 lakh.
Reddy vs Naidu
According to the first five weekly reports, Andhra Pradesh's rising opposition leader YS Jaganmohan Reddy and his party YSR Congress Party's official Facebook pages were consistently at the second position, spending a total of Rs. 75 lakh since February.
In contrast, incumbent leader Chandrababu Naidu and his party Telugu Desam Party (TDP) have made no noticeable attempt to market its pages on Facebook, as the overall expenditure in the first five weeks remain below Rs. 2.7 lakh.
However, last week it increased its expenditure to Rs. 19 lakh in order to catch up to his opponent's consistent efforts at social media marketing, barely a week before the polls.
This week marks the beginning of the 2019 general elections, with the first phase going to polls on April 11, 2019. On an interesting note, the state of Andhra Pradesh comes under Phase 1.
Reddy's consistent efforts on social media marketing, with the backing of Prashant Kishor and his organisation Indian Political Action Committee, will be pitted against incumbent Naidu and Telugu Desam Party, who took to spending on Facebook political ads only a week before going to polls.