FB Weekly Ad Report : BJP Spends Rs. 1 Cr, As Others Trail Behind In Midst Of Elections
BOOM investigated last week's (21.04.2019 – 27.04.2019) ad archive report by Facebook and found some intriguing trends in the spending behaviour of major political pages.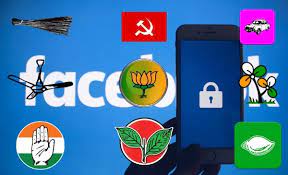 When it comes to social media marketing, the Bharatiya Janata Party seems to leave no holds barred, as it sponsored posts on its official Facebook page to a tune of Rs. 1.2 crore, between April 21 and April 27, 2019.
With the general elections in full swing, all the major players have found themselves sponsoring political ads on social media, but with its mammoth expenditure, the BJP takes the first slot.
An overall amount of Rs. 20 crore has already been spent on sponsoring political ads on Facebook since February 2019, highlighting the crucial role played by Facebook in political marketing .

The Indian National Congress is playing catch-up, as it takes the second spot last week with an expenditure of Rs. 45 lakh, despite it being the party's highest weekly expenditure till date.
Previously, BOOM observed how some of the political parties were using Facebook as a platform to do last-minute campaigning, as their weekly expenditure was closely related to how many constituencies they had stake in during that particular week.
Also Read: BJP-Linked Top Spenders Go Under The Radar After Exposé: FB Weekly Ad Report
The political parties - like the YSR Congress Party, TDP, JD(S), BJD Odisha - which have already seen all their candidates going to polls, have completely halted sponsoring posts on Facebook.
As expected, the last week's (21.04.2019 - 27.04.2019) expenditure was reflective of all the major candidates that went to polls during Phase 4.
For example, official pages of Congress candidates Milind Deora and Urmila Matondkar saw an expenditure of Rs. 2.9 lakh and Rs. 1.7 lakh, respectively, as both the candidates went to polls on April 29, 2019.
Similar to the BJP, Congress is also making attempts at diversifying its expenditure on the platform by sponsoring ads on several pages.
Pages linked to Congress, such as Shut The Fake Up, Bande Mein Hai Dum, Chowkidar Ka Report Card and Congress Hai Na, have seen a rise in the number of ads sponsored and the amount spent on it.
Also Read: Facebook Page 'Shut The Fake Up' Part Of Congress' Digital Campaign
In the above chart, BOOM consolidated the weekly lists of top spenders on Facebook ads, since last week of February, when the first report was published by Facebook for Indian pages running political ads.
The chart throws light on BJP's consistent efforts to stay on top of the game, ahead of other parties, when it comes to marketing on social media.