Fast Check
Video Of Boy Offering Namaz On The Street Is Not From Karnataka
BOOM found that the video is from UAE and not Karnataka.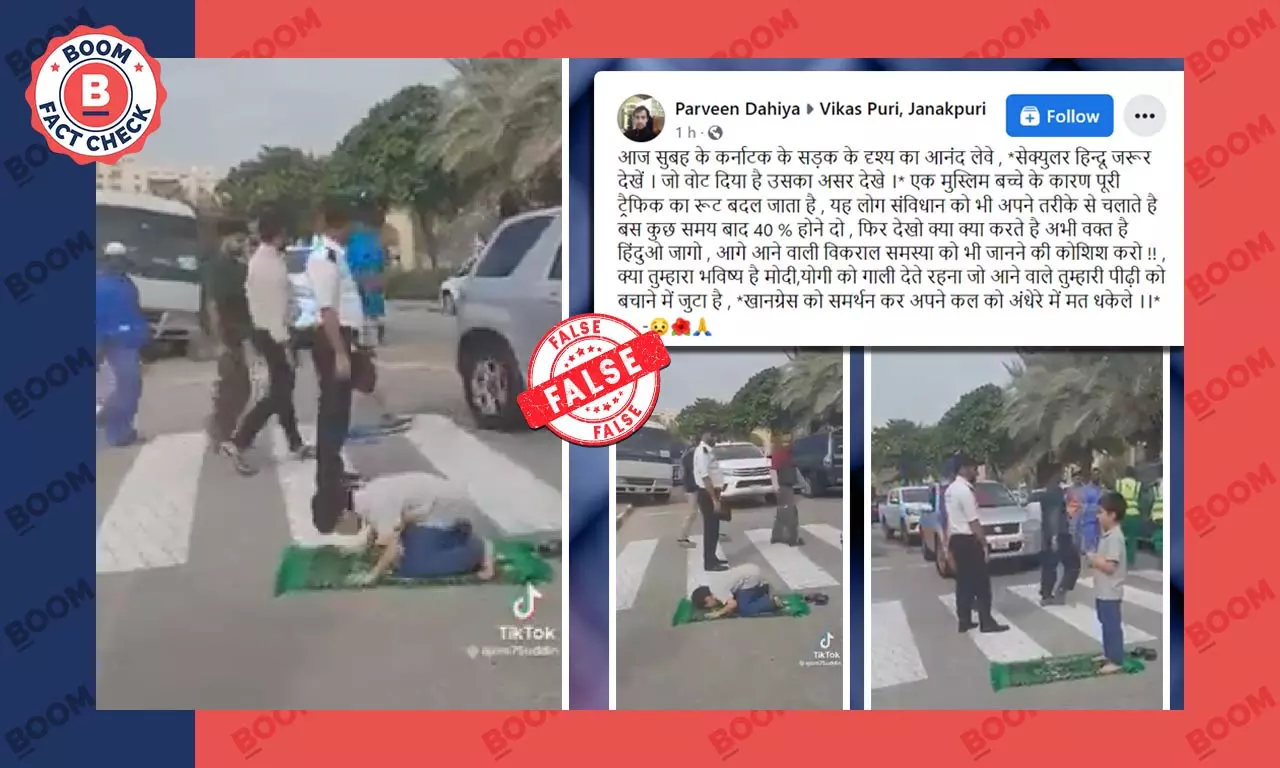 Claim
A video showing a boy offering namaz on a busy street as cars pass by around him is going viral as an incident from Karnataka. It is being shared in the backdrop of Congress winning the recent assembly elections in the state. The video is being shared with the caption, "आज सुबह के कर्नाटक के सड़क के दृश्य का आनंद लेवे , *सेक्युलर हिन्दू जरूर देखें । जो वोट दिया है उसका असर देखे ।* एक मुस्लिम बच्चे के कारण पूरी ट्रैफिक का रूट बदल जाता है , यह लोग संविधान को भी अपने तरीके से चलाते है बस कुछ समय बाद 40 % होने दो , फिर देखो क्या क्या करते है अभी वक्त है हिंदुओ जागो , आगे आने वाली विकराल समस्या को भी जानने की कोशिश करो !! , क्या तुम्हारा भविष्य है , *समर्थन कर अपने कल को अंधेरे में धकेले ।।* .."
Fact
BOOM found that the video is actually from UAE and has no links to Karnataka or the state elections there. We had previously fact-checked this claim when it was being shared as an incident from Pakistan. Using several cues from the video, we were able to ascertain that it was not from Karnataka. First, we noticed a delivery executive and his vehicle in the background. A keyword search led us to Talabat, a food delivery service operating in UAE, among other countries. Second, we noticed a man wearing a shirt with 'Security' written on it in Arabic, which further led us to believe that the video could be from there. Finally, we noticed that the cars passing by had the drivers seated on the left side, which is seen in UAE, and not India. We also found the Facebook profile of the user who first posted the video on TikTok and saw that they had mentioned that they were based in Dubai, UAE.
Claim :
Video shows a boy performing namaz on the streets of Karnataka.
Claimed By :
Twitter, Facebook users
Do you always want to share the authentic news with your friends?
Subscribed Successfully...
Enter Valid Email Id