Fake US Government Survey Predicts JD(S) Party Win In Karnataka
Speaking to BOOM, Heidi Hattenbach, Spokesperson for US Consulate in Mumbai said that the letter is "clearly a poorly fabricated document."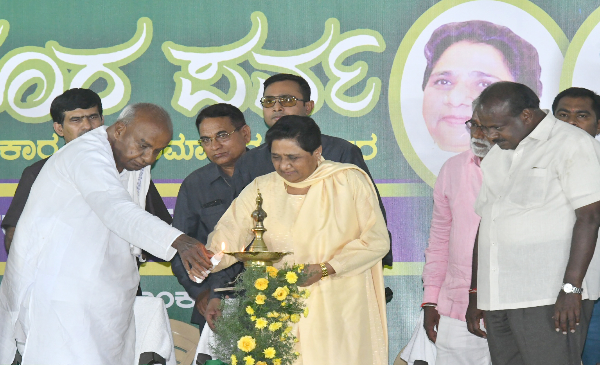 JD(S) Supremo H D Deve Gowda and BSP chief Mayawati during a rally ahead of Karnataka assembly polls in Mysuru, on April 25, 2018
In the latest instance of fake surveys flooding WhatsApp groups in Karnataka, a letter is now circulating claiming to be written by the Consulate General, US Embassy, New Delhi to Mike Pompeo, US Secretary of State. The letter claims that Deve Gowda's JD(S) is expected to win 90 seats, followed by INC at 70 seats and BJP at 63 seats.
The unsigned letter watermarked as "Classified to Secretary of State" mentions that the Consulate had hired a private survey agency to understand the outcome of the elections and the "results are found to be astonishing and deviated with what major survey agencies/media exit polls are predicting."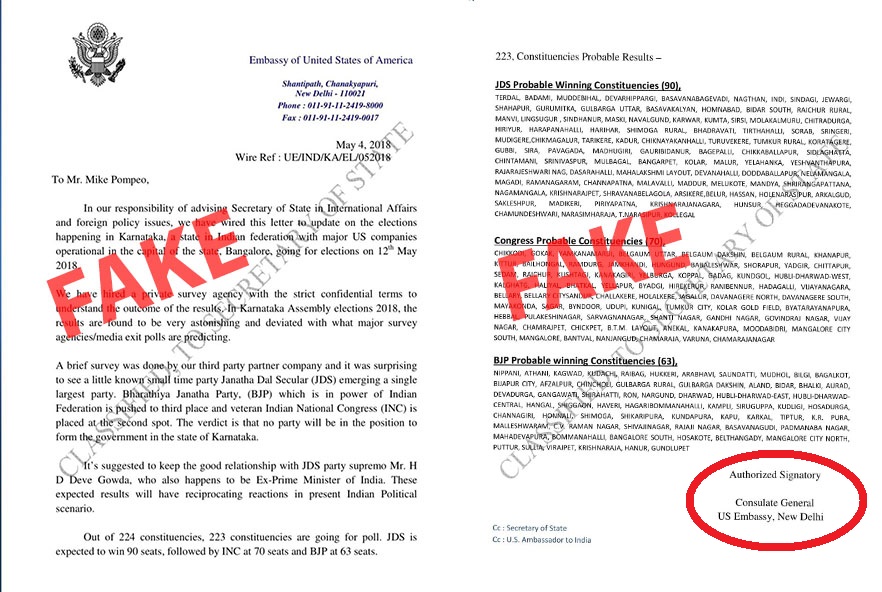 The letter also goes on to advise the Secretary of State "to keep the good relationship with JDS party supremo Mr H D Deve Gowda".
Here is why at BOOM, we are calling this letter fake.
The US Embassy is based out of Delhi and does not have a consulate office in the capital. The US has five consulates in the country (Chennai, Hyderabad, Kolkata, Mumbai and Bengaluru) as can be seen from the screenshot taken from their website.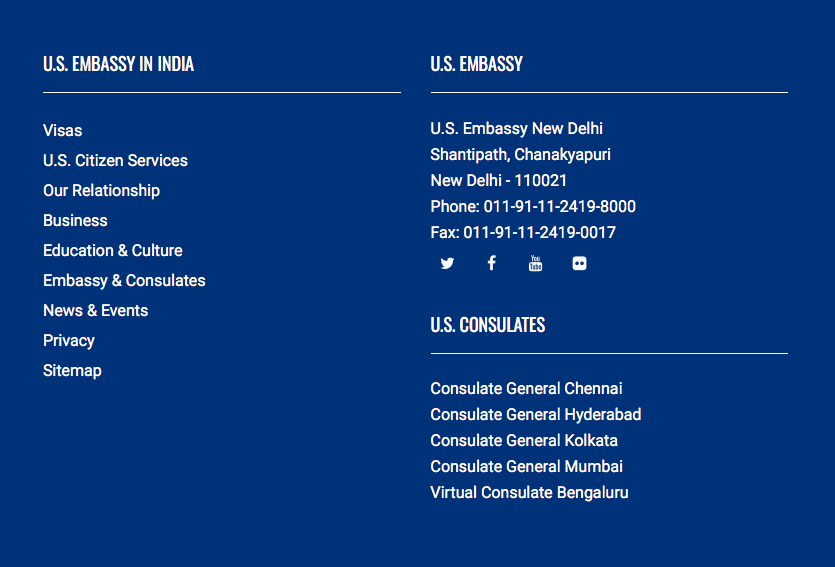 Also , the letter is unsigned and cannot be considered to be valid. The head of a Consulate is not called a Consulate General but a Consul General. In this case, for the letter to be valid, it should have been signed by the US Ambassador to India Kenneth I. Juster
BOOM spoke to a senior diplomatic correspondent of a leading Indian newspaper who was of the view that a Consul General would never write directly to the Secretary of State unless the situation is of extreme urgency. Either ways, a local state level election in India would not be of such importance for the US Secretary of State to be briefed about.
BOOM wrote to Heidi Hattenbach, Spokesperson of the US Consulate in Mumbai. Hattenbach said that the letter is "clearly a poorly fabricated document."
"Diplomats from many countries often follow elections and other important social, political, and economic developments, as these events give context to our broader bilateral relationships. We are unaware of the origins of this document, which we neither wrote nor issued." - Heidi Hattenbach
Karnataka has seen a flood of fake surveys (Read this, this and this) over the last one week. But this is the first fake survey that has given the JD(S) a clear lead over its other two rivals.
The keenly fought election in Karnataka has also seen political parties exploiting their social media reach by creating thousands of WhatsApp groups with tailor-made messages catering to different sections of the society. While BJP is said to have created over 23,000 groups, the Congress claims to reach over 15 lakh people through WhatsApp daily.
The JD(S) have also drawn an elaborate policy to use the popularity of WhatsApp and draw new voters. While the party did not share its numbers on record, sources told BOOM that the party has over 20,000 WhatsApp groups through which they reach a mix of rural voters, youngsters, farmers and small businessmen.
"We have at least 20 groups for different areas in a district and some for individual leaders. We get a huge response on these groups with people sending such small updates and asking that these be included in our videos and graphics," one of the volunteers from the party told BOOM when we spoke to them a few weeks back.