Fake Resignation Letter Of Karnataka CM Shared Amid Floor Test Drama
Chief Minister HD Kumaraswamy called the letter fake and said his signature had been forged.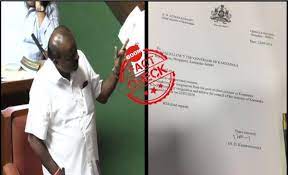 Karnataka Chief Minister HD Kumaraswamy called out a viral letter claiming to be his resignation, as fake, in the latest twist to the political drama as the CM struggles to keep his tottering coalition alive.
The document addressed to the Governor of Karnataka, Vajubhai Vala was supposedly written and signed by Kumaraswamy, and was widely shared on social media.
#HDKResigns #KarnatakaTrustVote #KarnatakaFloorTest HD Kumaraswamy releases his resignation letter to media...
Good riddance for the people of Karnataka. The most undeserving CM resigns at last, losing a humiliating trust vote moved by him in Vidhan Soudha... pic.twitter.com/KumTU1mpPw

— Ramki (@RamkiXLRI) July 22, 2019
It is not clear where the letter originated from or who was behind it.
The letter comes at a time when the state could be on the brink of another political upheaval with 12 MLAs from the JDS-Congress coalition government having earlier resigned and have now gone 'missing'.
The act threw the 14-month old government into jeopardy as it no longer held a majority to form the government. While the Bharatiya Janata Party demands a floor test, the house has been in session for more than a week. Meanwhile JDS-Congress leaders are stalling the floor test while BJP insists on conducting it. The coalition government also missed two deadlines set by Governor Vala to hold the floor test.
The letter which bears the seal of the government of Karnataka is dated July 22, 2019 and bears Kumaraswamy's signature.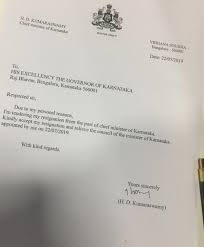 The letter is addressed to 'His Excellency The Governor of Karnataka' and states, 'Due to my personal reasons, I'm tendering my resignation letter from the post of chief minister of Karnataka. Kindly accept my resignation and relieve the council of the minister of Karnataka appointed by me on 22/07/2019.'
The CM could be seen holding the letter during the ongoing assembly session.
A few minutes after the letter started doing the rounds on social media, Kumaraswamy addressed the house and denied ever having issued or written such a resignation letter.
"Look at the kind of politics BJP is perpetrating," Karnataka Chief Minister HD Kumaraswamy, said.
"They have created a fake resignation letter and the electronic media is showing it. It is on social media." Calling the act "cheap publicity" he said, " someone has forged my signature and shared it on social media"