Fake: Photos Of A Minor Killed In A Road Accident Shared As That Of A Rape Victim
A tragic road accident of a school student is given a perverse communal spin on social media.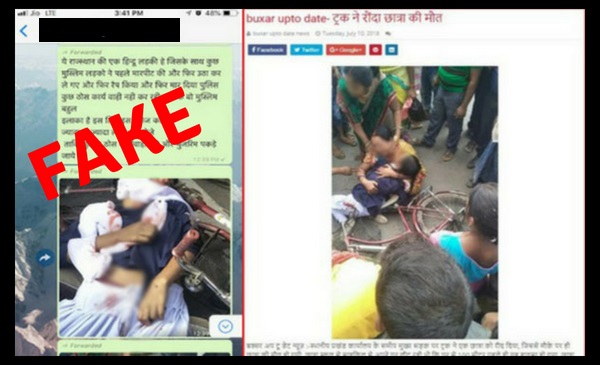 Three gruesome photos of a minor girl fatally wounded in a road accident in Bihar's Buxar region are being shared on WhatsApp and Facebook with a false narrative that claims a Hindu girl was raped and killed by Muslims in Rajasthan.
The pictures show a girl lying motionless on a street wearing a blood-stained blue and white salwar kameez uniform while her cycle can be seen next to her.
The message accompanying the disturbing pictures is in Hindi and translates as, "This is a Hindu girl from Rajasthan. A few Muslims first beat her then raped and killed her. The police are not investigating this seriously as the area is a Muslim dominated area. Share this message as much as possible so that the police investigate this seriously and the culprits are caught."
(ये राज्स्थान की एक हिन्दू लड़की हे जिसके साथ कुछ मुस्लिम लड़को ने पहले मारपीट की और फिर उठा कर ले गए और फिर रैप किया और फिर मार दिया पुलिस कुछ ठोस कार्य वाही नही कर रही क्योकि वो मुस्लिम बहुल
इलाका है इस लिए इस मैसेज को
ज्यादा से ज्यादा लोगो तक भेजे
ताकि पुलिस ठोस कार्येवाही करे और मुजरिम पकड़े जाये
A cursory search of the message on social media shows that the images are being shared on Facebook with a fake context.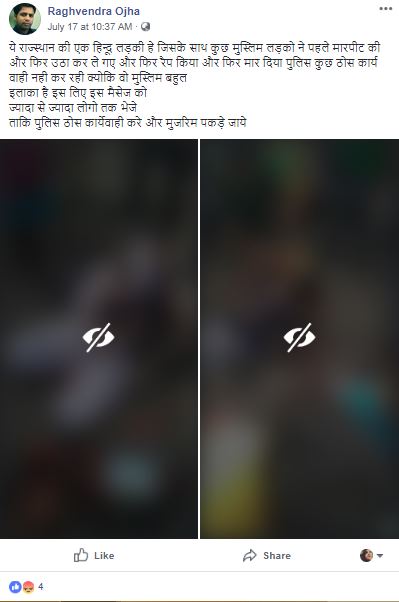 BOOM did a reverse image search and found an article on a Hindi website named Buxar Upto Date dated July 10, 2018 featuring the exact same image. Details of the accident can be found on another Hindi website Prabhat Khabar. The accident took place on July 9, 2018 in Buxar's Dumraon area. The girl was riding home from school when she was mowed down by a truck. She was taken to a nearby hospital but was declared dead on arrival. According to the website, police chased the truck for five kilometers before apprehending the driver, Guddu Yadav. The truck driver was arrested while the vehicle was seized by police.
BOOM also contacted Superintendent of Police in Buxar, Rakesh Kumar, who confirmed that the girl died in a road accident.
"I can confirm that this girl died due to an accident and the truck driver has been arrested and sent to judicial custody. The truck has been seized by the police. It is rather unfortunate that the images are circulating on social media with wrong information," Rakesh Kumar told BOOM.