Was A Dalit Youth Forced To Wear A Garland Of Shoes In Pune?
Image is originally from Bangladesh where a boy was forced to wear a garland of shoes for harassing a school student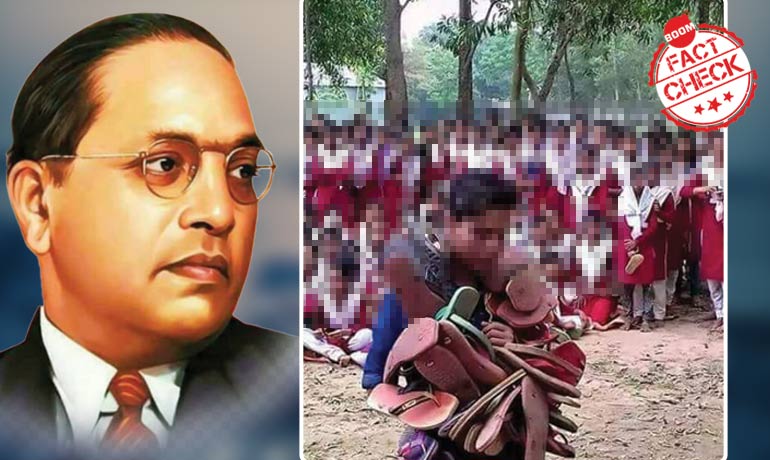 A viral image featuring a youth wearing a garland of shoes claims that the boy was humiliated for chanting a few quotes by Dr. Babasaheb Ambedkar during his school assembly is misleading. Post the humiliating incident, the boy committed suicide, claimed the Facebook post posted with the image.
The claim further states that this incident is from Bhirvi taluka in Pune. The image and the quote are viral on both Facebook and Twitter. The claim reads "यह फोटो कोई आम फोटो नही है बल्कि एक आत्म हत्या का कारण भी है सुबह सुबह स्कूल की प्रार्थना मे #बाबा_साहेब भीम जी की दो लाइन बोलने पर मनुवादी समाज ने इस बच्चे का यह हाल किया ऐसी खबर है घटना कितनी सही है इसका अभी तक कुछ कहना जल्द बाजी होगी यदि ऐसा हुआ है तो बहुत #निन्दनीय है
घटना भिवरी ता , पुरंधर जिला पुणे का है
पोस्ट स्त्रोत अज्ञान"
(This is not an ordinary photograph but is the reason for a suicide. This kid was oppressed by the upper classes in his school's morning assembly for speaking a few lines about BR Ambedkar. The veracity of the picture has not been determined yet but this did occur in Bhivri taluka from Pune. Source is unknown)
This post had around 752 reactions, and 430 shares. Similarly, the claim is also widely circulating on Twitter.
Fact Check
BOOM found that the image is originally from Basabaid village, Ghatail taluka, in Tangail district of Bangladesh where the boy in the image was punished for harassing a school student in 2017. The boy was known to frequently harass the school student.
This incident occurred on April 2017, after the boy, a 12th grade student from Sagardighi College, used to frequently harass this school student. Before this incident, the boy had tried to pull the girl's hand according to reports BOOM found in two Bangla newspapers, Kalerkantho and Daily Marsangbad. When the village elders tried to catch him, he ran away on his scooter.
The parents of the girl student created an uproar and Mostafa was caught red-handed as well as punished for his activities. The garland was made from the shoes of the girls in the school.
The article further states that Mozammel Haque, the head teacher of the school said that they wanted to set an example against sexual harassment.
None of the articles had any mention of the boy committing suicide after this episode.
Updated On:
2019-12-05T11:53:29+05:30
Claim Review :
Dalit youth committed suicide after he was made to wear a shoe garland for talking about Ambedkar in school assembly in Pune
Claimed By :
Social Media