Viral Pic Of A Skeleton Not Of Elderly Woman's Remains Found In Mumbai Flat
BOOM found that the images are from Nigeria, where a pastor had kept the human skeleton of his sister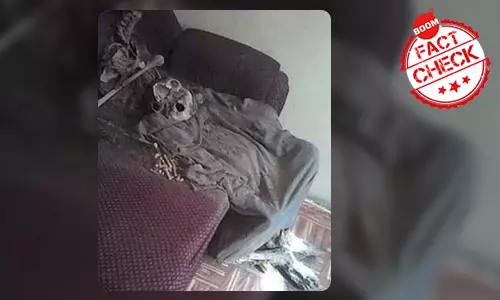 A graphic photo of a human skeleton found inside a pastor's house in Nigeria has resurfaced with claims that it is the mortal remains of Asha Sahani, whose death came to light almost after a year she passed away. The image shows the skeletal remains of a human figure slouched on a couch.
It has been shared on multiple Facebook pages with the narrative of how a generation has been abandoning senior citizens and settling abroad to pursue their careers.
An excerpt from the caption reads, "The photograph is of a millionaire of Mumbai's corpse. She is also a millionaire son's mother. She died 10 months ago. The skeleton was recovered from a flat that was worth Rs 17 crore." (Original text in Bengali: ছবিটা মুম্বাইয়ের এক কোটিপতি মহিলার মৃতদেহ।। কোটিপতি NRI পুত্রের মাতা,, ১০ মাস আগে মারা গিয়েছিলেন।। ১৭ কোটি টাকার ফ্লাট থেকে মহিলার কঙ্কাল উদ্ধার করা হয়েছে।।)

Asha Sahani, an elderly woman living alone in Mumbai's Andheri, had reportedly committed suicide. News about her death reached her son, Rituraj Sahani, when he came to visit her, after months of no communication. In a shocking turn of events, Rituraj discovered the skeleton of his mother. Rituraj, a US-based techie was reportedly battling a bitter divorce and thus could not attend to his ailing mother. Read more here.
Fact Check
BOOM ran a reverse image search and found that the photo of the skeletal remains is originally from Nigeria where a pastor was caught for keeping human skeleton, reportedly of his sister, at home.
The incident happened in the Nigerian state of Ogun where a pastor was caught possessing the human skeleton, that was possibly of a woman. According to reports from a Nigerian website, "The landlady of the house stormed into the pastor's house to evict him on account of not paying rent for a year. She was shocked after discovering human skeleton inside." The pastor had reportedly kept his sister's skeleton, who had died six years before the remains were discovered.
Claim :
Photo shows skeleton of Asha Sahani found at her flat in Mumbai
Claimed By :
Facebook Posts