'TIME...to go' Cover Featuring Donald Trump Is Fake
BOOM found that the viral image is fake and was not created by the magazine. TIME's upcoming issue is about the Class of 2020 graduating into a world grappling with the COVID-19 pandemic.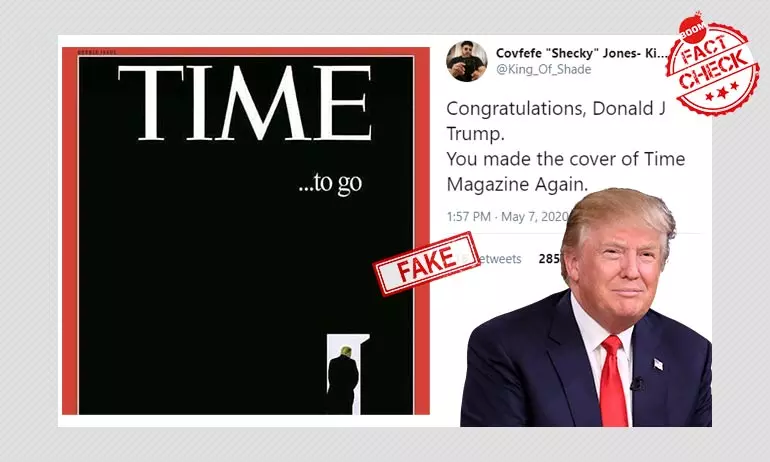 A viral image claiming to show the latest TIME magazine cover with US President Donald Trump and the headline 'TIME...to go'; is fake and has not been created by the magazine.

The image features a silhouette of the US president exiting a door with the caption 'TIME...to go' indicating he should step down from office. The fabricated image has been shared widely on social media
Author Shobhaa De also tweeted the image.
FACT CHECK
There are many markers that this is a mock-up cover. It's missing the issue date that is generally present on the top right corner of other TIME Magazine covers. It also doesn't have Time.com on the bottom right side, which is the case with all covers for TIME magazine, like the most recent one.
There's no trace of the cover in TIME magazine's online archive 'The Vault,' of all its issues either.

TIME magazine puts its new editions up on social media, but there's no trace of the new cover featuring Trump on TIME's official social media channels. Instead, here's the tweet with the latest issue.

This is not the first time a fake image taking potshots at Donald Trump while purporting to be a TIME magazine cover has gone viral.

ALSO READ: After 'Liar In Chief' Another Fake TIME Cover Calls Trump 'Clown In Chief'
Updated On:
2021-07-15T11:48:53+05:30
Claim Review :
TIME magazine cover of US President Donald Trump with the text TIME...to go
Claimed By :
Social Media Posts