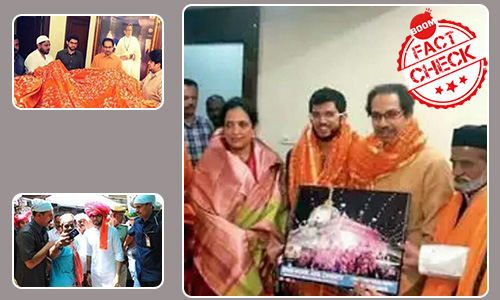 Old photographs of Maharashtra Chief Minister Udhav Thackeray and Aditya Thackeray visiting the Ajmer Sharif Dargah in Rajasthan are being falsely shared as recent after the Shiv Sena formed government in Maharashtra.
The photos are viral in the backdrop of Udhav Thackeray taking oath as the states's 19th chief minister on November 28, 2019, in alliance with the Nationalist Congress Party, and the Indian National Congress (INC).
Click here to view, and here for an archive.
The viral photos are being shared with the caption, "Aditya Thackeray approached the Lord. He sought a vow to be a CM which is fulfilled now. My lord would fulfill his wishes. The lord has brought and given prosperity even to a party that has stood strong on the issue of Hindutva."
(In Hindi - ख़्वाजा के दरबार में पोहचे आदित्य ठाकरे । शिवसेना का मुख्य मंत्री बनने की मांगी थी मन्नत जो हुई पूरी। मेरा ख़्वाजा चाहें उसे नवाज़े ।हिंदुत्व के मुद्दों पे अडग रहने वाली पार्टी को भी अजमेर दरबार मे बुला के सल्तनत का अमीर बनाया।)
Ajmer Sharif Dargah is a sufi shrine (dargah) of the revered sufi saint, Moinuddin Chishti in Ajmer, Rajasthan.
Viral on Facebook
FACT-CHECK
We performed a reverse image search using Google search and found that the images were old and not recent as being claimed in the viral posts.
Image 1
The search results showed that the image was taken when Aditya Thackeray had visited the Ajmer Sharif Dargah in June, 2019. In the India TV report on him visiting the shrine, one can spot the same visuals as in the viral photo uploaded on June 9, 2019, by India TV.
Image 2
We found that the image was taken when the Sena supremo Uddhav Thackeray, along with his wife Rashmi and son Aditya had presented a 42 feet saffron chaddar with the dargah dome embroidered on it to a khadim at their residence at Matoshree in Mumbai on March 28, 2017.
One can spot the same image in the article published by the Times of India on March 28, 2017.
The chaddar was to be offered at the annual Urs at the dargah of Sufi Saint Hazarat Khwaja Moinuddin Chishti on April 4, 2017.
Image 3
On performing a reverse image search a we found that the image was used in an article dated March 16, 2018, on a website Hello Mumbai.
The headline of the article read, 'Shiv Sena Chief Uddhav Thackeray Offers 'Chadar' At Ajmer Shariff Dargah', and it further mentions that the Chadar was offered on behalf of Shiv Sena Chief Uddhav Thackeray at the Darghah of Sufi Saint Khawaja Moinuddin Chisti.
Shiv Sena chadar to be offered at Ajmer shariff for the auspicious URS a will be leaving for Ajmer Dargah on the 18th of March... may god almighty always be with our beloved leader Shri. @uddhavthackeray Ji and Shri. @AUThackeray Ji and our Shiv Sena family... pic.twitter.com/iAGw2YkbZg

— Rahul.N.Kanal (@Iamrahulkanal) March 16, 2018
We also found a tweet that contained the same image in a tweet by Rahul N Kanal on March 16, 2018. Kanal is a member of the Yuva Sena, the youth wing of the Shiv Sena.