Fact Check
No, Video Of Patients Dancing At COVID-19 Centre Is Not From Mumbai
BOOM found that the video is from Agartala, Tripura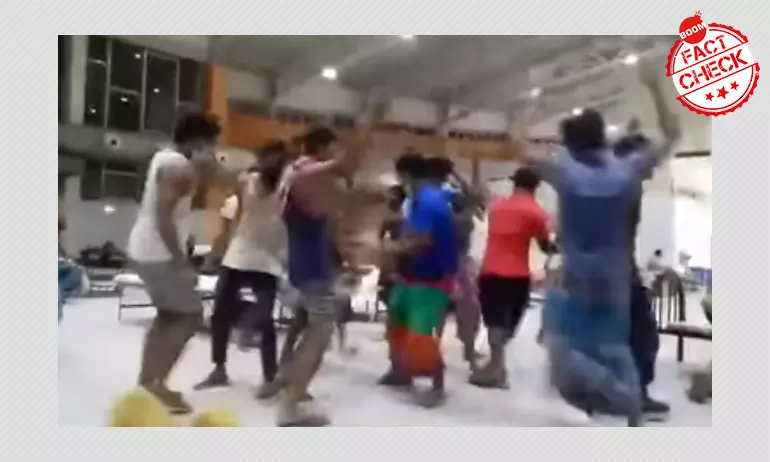 Two videos of COVID-19 positive patients dancing to Bollywood songs in a quarantine centre in Agartala is being shared with the false claim that it happened at Worli in Mumbai.
In the videos, men can be seen dancing to popular Bollywood songs in a large indoor space while rows of beds and pedestal fans can be seen in the background.
One of the videos was was shared by Bharatiya Janata Party MLA Nitesh Rane on Twitter where he insinuates that patients at NSCI Dome in Worli are being allowed to party by the authorities.

The other video is being shared on Facebook with a Marathi caption which when translated reads, "Can't the media that saw the crowd at Marine Drive see what's happening here? The show of Thackeray government is going on. Location: :- NSCI BADMINTON COURT WORLI MUMBAI Video credits :_ hon. Niteshji Rane..."

(Original text in Marathi: : ज्याना एक दिवस मारिन ड्राईव्ह ची गर्दी दिसली त्या हरामी मीडियाला हा बेशिस्तपणा दिसत नाही का? तमाशा सुरू आहे ठाकरे सरकारचा स्थळ:-NSCI Badminton Court वरळी मुंबई व्हिडिओ साभार:_ मा. आ. नितेशजी राणे )
The video has also been shared with the false claim on Facebook here and here.
Also Read: No, Mumbai's KEM Hospital Did Not Prescribe This List Of COVID-19 Drugs
BOOM also received multiple videos on its WhatsApp helpline.
FACT CHECK
BOOM found that the video is from Hapania quarantine centre in Agartala, Tripura and not NSCI Dome in Worli, Mumbai.
We first ascertained that the video is not from Mumbai based on a tweet by the Brihanmumbai Municipal Corporation who responded to Rane's tweet by sharing images captured from security cameras at NSCI showing that the video shared by Rane is not from the centre.
Sir, this is not a video from NSCI nor is any badminton court being used for COVID facility there. Please check the camera grabs with time & date for clarity. We wish good health & joy to all those fighting COVID-19. https://t.co/psdSnkAxGr pic.twitter.com/WvpeYNCxTn

— माझी Mumbai, आपली BMC (@mybmc) June 11, 2020
In a subsequent tweet, the BMC also shared the link to a news report stating that the incident happened in Tripura.
BOOM reached out to Dr Subhasis Debbarma, director, health services, government of Tripura, who confirmed that patients dancing at the quarantine centre is from the Hapania quarantine centre and that those dancing are COVID-19 positive. He also added that the patients have not shown any symptoms.

Also Read: No, Thane Thyrocare Lab Is Not Sealed Over False Positive COVID-19 Tests
A Tripura-based news portal, Tripurainfoway, and Zee News Hindi also reported on the incident. The video was also uploaded by Tripurainfoway on YouTube.
An examination of the videos being shared with the NSCI centre claims and the videos from the Agartala centre shows they are from the same place.
In the videos, two men can be identified by their clothes. A man wearing a blue vest with a read seam, camouflage shorts and a red cloth tied on his neck can be seen in both the videos. Another man wearing a light blue t-shirt and checked shorts can also be seen.
In a tweet on June 4, Tripura CM Biplab Deb posted images of the quarantine centre at Hapania Exhibition Hall.
For providing treatment to #COVID19 patients, TIDC & West Tripura Dist Admn have set up COVID Care Centre in mission mode at Hapania Exhibition Hall. It can accommodate 400 beds & will be managed by TMC under supervision of Health Dept. 5 patients have already been shifted there. pic.twitter.com/ujfl9iBZfO

— Biplab Kumar Deb (@BjpBiplab) June 4, 2020
BOOM identified two visual markers in the videos and in the images shared by Deb. A vent with holes and an orange wall can be clearly seen in the videos.
The two men as well as the physical markers can also be seen in this video which BOOM received on its WhatsApp helpline.
A video of quarantined patients sharing their thoughts of dancing was also later viral. An unidentified patient in this video, can be heard saying "We are in the center for some time. We have been trying to make it interesting by engaging in some music and dance. People who are outside (the centre) are commenting about us dancing. But they should know that we are under tremendous mental pressure and we need to unwind as well."
Mumbai has been one of the worst-affected cities in India by COVID-19. As of June 12, 55,357 people have tested positive for COVID-19 and 2,042 have died in Mumbai so far.
(Additional reporting: Suhash Bhattacharjee)
Claim :
Video shows patients dancing and not maintaining physical distancing at COVID-19 care centre in Worli, Mumbai.
Claimed By :
Social media posts
Do you always want to share the authentic news with your friends?
Subscribed Successfully...
Enter Valid Email Id