Images From Adult Comedy Falsely Linked To Yogi Adityanath
BOOM found that the screengrabs are from a web drama that is available on YouTube since 2017.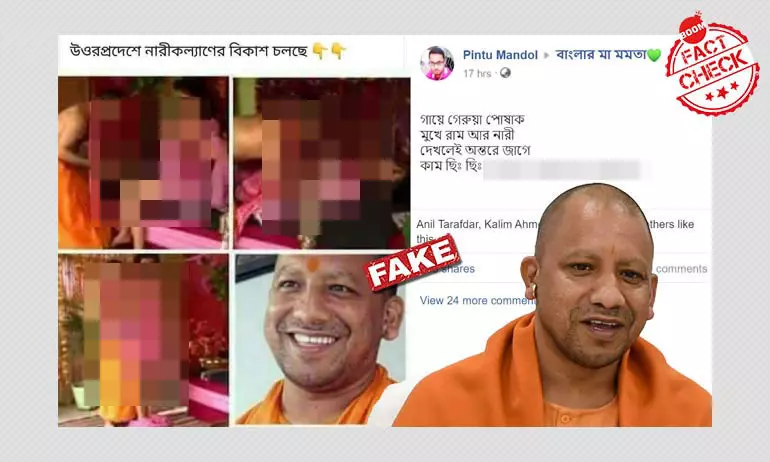 Screengrabs from an adult comedy film on YouTube have surfaced with claims that they show Uttar Pradesh's chief minister Yogi Adityanath molesting a woman.
Three screengrabs from the skit, which revolves around a fraudster hermit and how he sexually harasses his female followers in the name of treating them, are viral, along with an image of Yogi Adityanath. One such post takes a dig at the UP CM's character based on the screengrabs. The post reads, "He wears saffron clothes and chants Ram. But when he sees a woman he is titillated." (Original text in Bangla: গায়ে গেরুয়া পোষাক , মুখে রাম আর নারী, দেখলেই অন্তরে জাগে, কাম ছিঃ ছিঃ। )
The Facebook post can be seen here, the post is archived here. BOOM has chosen not to include the post as the contents are explicit in nature. Below is a screenshot of the viral post.
The screengrabs are viral on Facebook with the same narrative.
Also read: Cropped Screenshot Of The Wire Article On Durga Puja Is Misleading
BOOM cropped one of the screengrabs and ran a reverse image. We were directed to an sleazy web drama titled
Baba Ne Khol Diya Nada on YouTube. The drama revolves around a corrupt hermit, who lures women to sexually exploit them in the name of curing them of diseases. He is eventually called out by a woman for his malpractices.
The video has been uploaded by several subscribers and is present on YouTube from as early as 2017.
The duration of the film is 12:52 minutes.

BOOM matched the screengrabs viral on Facebook along with the shots from the YouTube video and found that they were taken on at the 7:08 minute, 7:48 minute and 8.57 minute marks respectively.
Updated On:
2020-10-29T16:25:00+05:30
Claim Review :
Photo shows Uttar Pradesh CM Yogi Adityanath misbehaving with a woman
Claimed By :
Facebook Posts