Image Of Infant At A Cancer Treatment Center Revived With COVID-19 Spin
The photograph was captured before stem cell transplant at Fred Hutchinson Cancer Center, Seattle, USA in 1985 by Burt Glinn.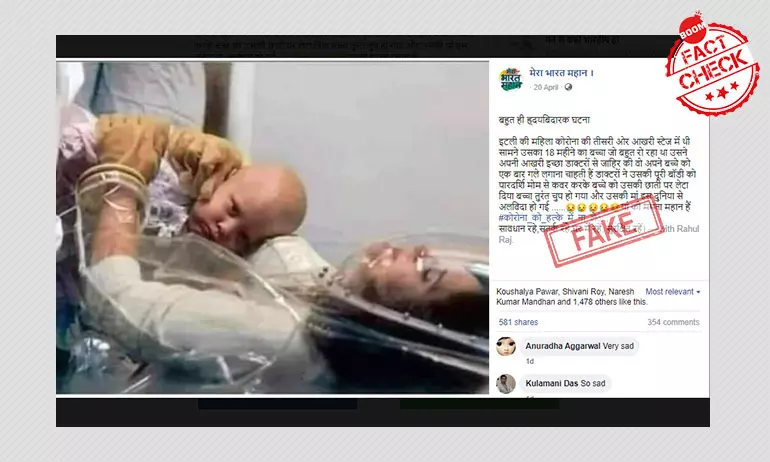 An image of a woman holding a child at a cancer treatment center during a marrow transplant in USA has resurfaced with claims that it was clicked before a mother succumbed to COVID-19 in Italy.
BOOM found that the image is not related to Italy but was clicked in USA's Fred Hutchinson Cancer Center in 1985.
The photograph has been doing the rounds on social media with a heartwarming message that states how a mother infected with COVID-19 wished to see her child for the last time before she died. The message, when translated to Hindi, reads, "Very disheartening incident. Italy's female corona patient was in the third stage which is the last prior to death. In front of her 18-month-old child who was crying a lot. She expressed her last wish in front of the doctor that she wanted to hug her child once. The doctors covered her entire body with wax and rested her child on her chest. The baby was quite soon after. And the mother left the world.''
(Original text in Hindi: "बहुत ही ह्र्दयविदारक घटना" इटली की महिला कोरोना की तीसरी और आखरी स्टेज में थी सामने उसका 18 महीने का बच्चा जो बहुत रो रहा था। उसने अपनी आखरी इच्छा डाक्टरों से जाहिर की वो अपने बच्चे को एक बार गले लगाना चाहती हैं डाक्टरों ने उसकी पूरी बॉडी को पारदर्शी मोम से कवर करके बच्चे को उसकी छाती पर लेटा दिया बच्चा तुरंत चुप हो गया और उसकी मां इस दुनिया से अलविदा हो गई ...।। मां की ममता महान हैं।'')

On Twitter, the image was shared with claims that the mother was detected Coronavirus positive.
Fact Check
BOOM ran a reverse search and found the image in the stock of Magnum Photos, an archive of photographs from across the world. The image was clicked at a cancer treatment centre in Seattle, USA by veteran photojournalist Burt Glinn just before stem cells transplant in 1985.
The caption of the image reads, "USA, SEATTLE, WASINGTON, 1985. Fred Hutchinson CancerCenter- Infant inside Laminar Air Flow Room protection from infection. The child has been irradiated prior to marrow transplant."
Total body irradiation is an important part of the stem cell (bone marrow) transplant process.

Renowned photo-journalist Burt Glinn, who died in 2008 chronicled Cold War through his lense. The same features in his photobook which includes1959 photographs of Fidel Castro.
The image has earlier debunked on 28 March 2020 by Egypt's Elwatannews.
Claim :
Photo shows mother infected with COVID-19 with her child before she dies
Claimed By :
Facebook Posts & Twitter
If you value our work, we have an ask:
Our journalists work with TruthSeekers like you to publish fact-checks, explainers, ground reports and media literacy content. Much of this work involves using investigative methods and forensic tools. Our work is resource-intensive, and we rely on our readers to fund our work. Support us so we can continue our work of decluttering the information landscape.
BECOME A MEMBER