Fake News Police: Twitter Video Of Jet Airways Aircraft On Fire Is Fake
Jet Airways denies the incident. Airport sources tell BOOM video of mock drill conducted at Mumbai airport is several weeks old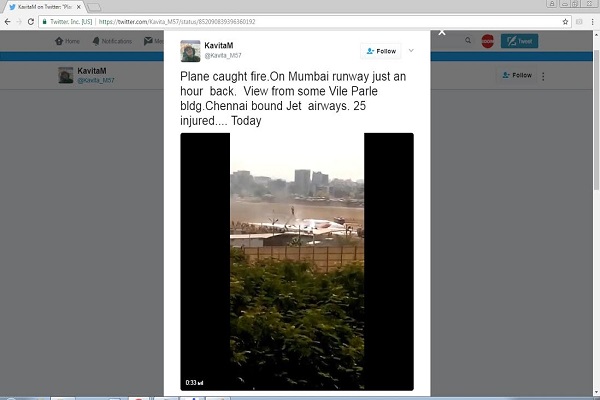 Screenshot of a Twitter user page
This video tweeted by @Kavita_M57 claimed that a Jet Airways aircraft had caught fire on the runway of Mumbai airport. The tweet also claimed 25 passengers were injured.
We contacted Jet Airways and alerted them about the video circulating on Twitter. They denied any such incident had taken place and said they will issue a statement.
@Kavita_M57 Hi Kavita, we wish to clarify that no such incident has been reported at Mumbai today.

— Jet Airways (@jetairways) April 12, 2017
A source at the Mumbai airport said that this video could have been shot several weeks back when the airport conducted a mock drill. The source pointed out that the aircraft in question is not a real one but a model used in mock drills.
Interestingly, even before Jet Airways got into action, some twitterrati had already pointed out it is an old video.
@Kavita_M57 1st Verify, then post... old one of a mock drill

— jeetendra (@jmkorde) April 12, 2017
@Kavita_M57 @RidlrMUM Old story. Was a mock drill a month back

— Gautam (@normally_crazy) April 12, 2017
While such videos can go viral weeks after it was originally shot, what stood out about this tweet was the precise number of people injured in the mishap. This is usually a figure airlines would give out hours after an incident has occurred.
BOOM will fact check and bust fake news. If you see anything that deserves our attention, please tag us on Twitter @boomlive_in