Fake Message About Social Media Surveillance Goes Viral As Ayodhya Verdict Looms
BOOM spoke to Superintendent of Police (Security) in Ayodhya who rubbished the claims of the viral message.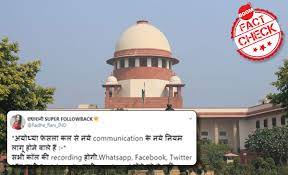 A viral message claiming 'new communication' guidelines will be enforced threatening strict surveillance of WhatsApp and social media ahead of the closely-watched verdict in the Ram Janmabhoomi-Babri Masjid case, is false.
The message, which claims the government is recording phone calls and that 'devices' have been connected to the ministry's 'systems', was also debunked by Ayodhya Police on Twitter.
BOOM received the message on its WhatsApp helpline (7700906111) asking about its veracity.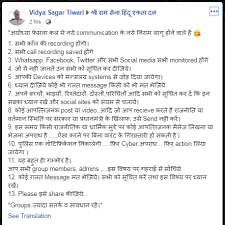 The message is also viral on Facebook and Twitter.
The hoax message in Hindi translates to the following:
From tomorrow, new communication rules will be enforced ahead of the Ayodhya verdict:
All calls will be recorded
All call recordings will be saved
WhatsApp, Facebook, and Twitter will be monitored
Inform anyone who does not know this
Your devices will be connected to ministry's systems
Pay attention; do not send false messages to anyone
Inform your children, brothers, relatives, friends, and acquaintances to use social media sites with caution
Any objectionable post that you receive on the present political scenario, against the government or the prime minister, do not forward it
Currently, writing any objectionable post on politics and religion is an offense… on doing such a thing, you can be arrested without a warrant
Police will release a notification...(following which it will become a) cyber-crime… then action will be taken
This is serious, all the group members and admins should think about this
Do not send any false messages. Inform everyone and take care of this
Please share this
Groups should be more aware and alert
FACT-CHECK
The District Magistrate of Ayodhya issued directives against posting inflammatory messages online that could disturb communal harmony. The directive will stay in force till December 28, 2019.
Ayodhya District Magistrate, Anuj Kumar Jha prohibits social media messages & posters on Ayodhya land case, that could disturb communal harmony, in view of upcoming festivals & verdict in Ayodhya land case. Prohibition will stay in force till 28th December, 2019.

— ANI UP (@ANINewsUP) November 4, 2019
The directive which extends to public gatherings, events and debates on the issue was reported by India Today. Below is an extract which carries the district magistrate's directive.
"The order issued by DM Ayodhya Anuj Jha October 31 said, "No individual, group or organisation will be allowed to disrupt communal harmony. No person except public servants deployed for security will be allowed to carry weapons, explosive materials in public places. People will also not be allowed to carry licensed weapons in any programme. The administration will not allow people to assemble in any area of the temple town with an intent to create any mischief."
"No individual or group will be allowed to hold any programme in public places or private properties which could hurt the sentiments of people. No hoardings, posters and banners will be allowed anywhere in the district without permission from the administration," the order said.
"The administration will also not be allowing any individual, group or political parties to organise programmes, processions, public rallies without permission. Burning effigies and making inflammatory speeches will also not be allowed," according to the circular issued by the district administration." - India Today
Click here to see the entire document acquired by BOOM.
BOOM also reached out to Tribhuvan Tripathi, Superintendent of Police Security, Ayodhya, who rubbished the WhatsApp message and said there was no such notification as the WhatsApp message claimed, from the state or the centre.
Tripathi said the police would take action against someone if they violated relevant sections the IT Act but that there was no surveillance being carried out on phone calls, messages or devices.
"Recording calls are neither under my power nor we are doing this. Moreover, no ministry is involved" - Tribhuvan Tripathi, SP Security, Ayodhya
The verdict in Ram Janmabhoomi dispute primarily involves the Nirmohi Akhara, Ram Lalla Virajman represented by the Hindu Mahasabha and the Sunni Waqf Board and is expected to be announced in a few days. While the dispute between Hindu and Muslim communities over this land goes back decades, the dispute took a turn for the worse when several Hindu extremists demolished Babri Masjid on December 6, 1992. Authorities and law enforcement agencies fear the verdict could be a flashpoint between the two communities. The verdict can be expected anytime up to November 17. This is the date on which CJI Ranjan Gogoi will retire. A verdict is expected before his term ends.
Also Read: All You Need To Know About The Ram Janmabhoomi-Babri Masjid Ayodhya Dispute
Claim Review :
WhatsApp message claims the government is going to record, save your calls ahead Ayodhya case verdict
Claimed By :
Facebook posts