Fake Billboards Pics Welcoming Rahul Gandhi To UAE Viral
Ahead of Gandhi's two-day visit to Dubai and Abu Dhabi social media has seen a surge of fake images.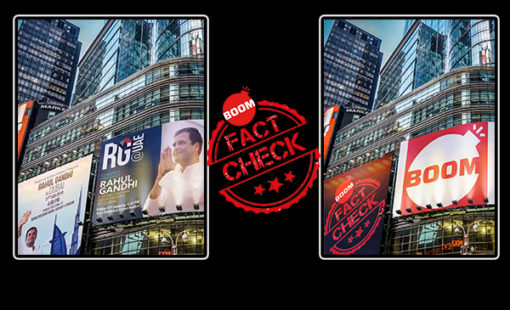 Congress President Rahul Gandhi's two-day trip to Dubai and Abu Dhabi has sent the fake news brigade into overdrive displaying their photo editing skills or lack of thereof.
Gandhi is scheduled to visit the UAE on January 11-12 as part of his outreach programme to the Indian diaspora there. Read more about it here.
BOOM was able to bust at least three fake photos that have been created using a free online photo editing website.
The below image of Rahul Gandhi on an illuminated billboard against the backdrop of buildings has been widely shared on Twitter as well as Facebook.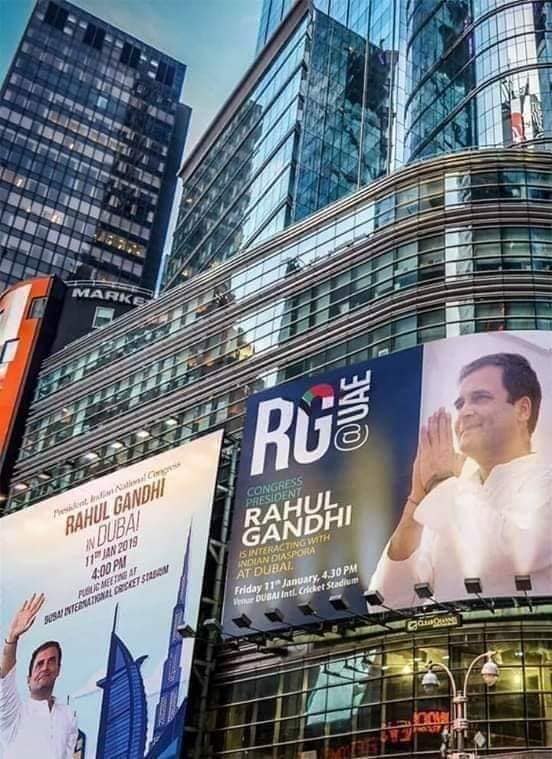 Click here to view an archived version of the tweet.
A similar image was also tweeted from the official Twitter handle of Rukshmani Kumari, president of the All India Professionals Congress, the party's professional wing in Rajasthan. Click here to view an archived version of the tweet.
And was also tweeted from the Indian Overseas Congress'official twitter handle.
Similar pictures were also shared from several pages on Facebook too.
FACT CHECK
BOOM did a reverse image search and found various images with the exact same background.
A deeper investigation led us to a website photofunia which has several templates for editing photos, billboards being one of them.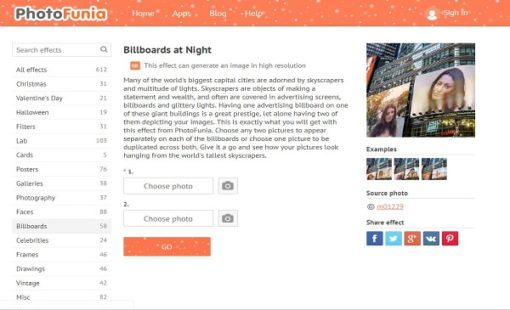 We tried using the website to create some images and came up with the below images to show how it was done.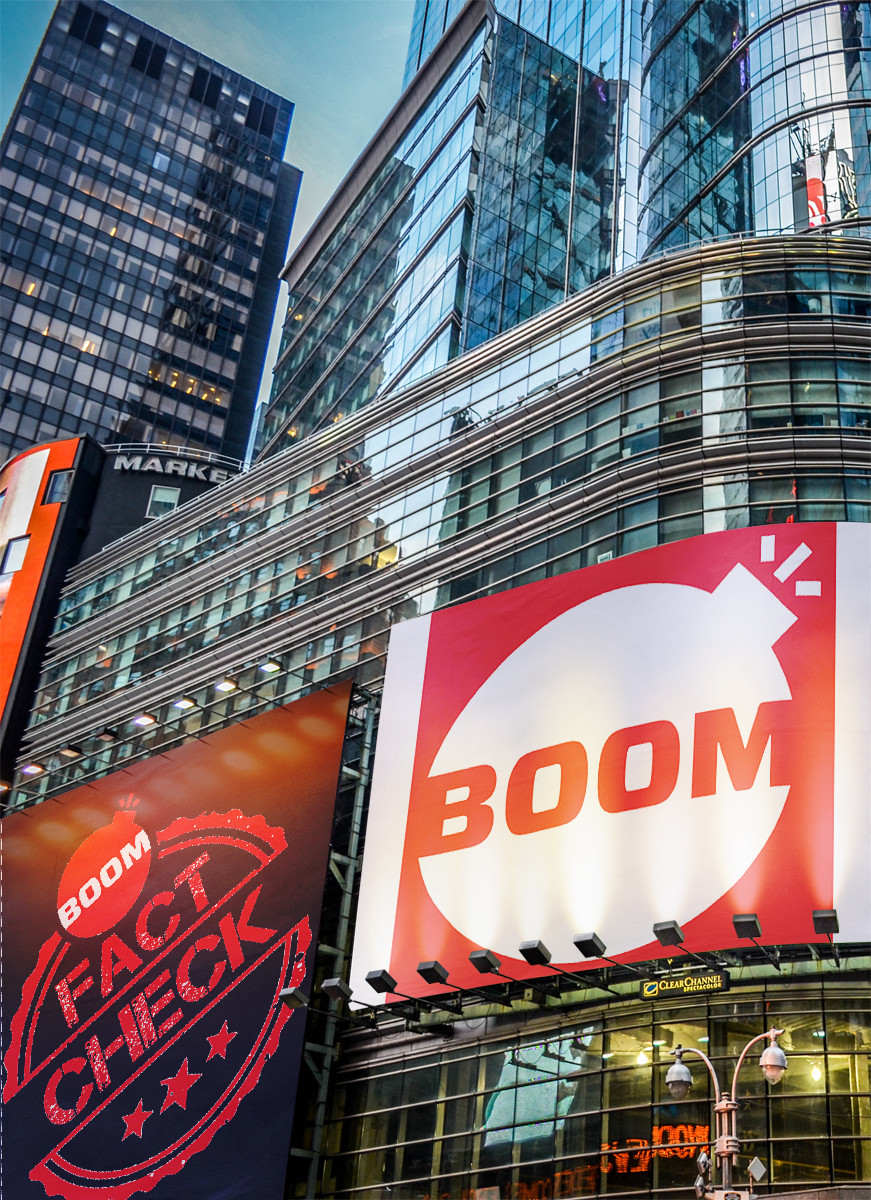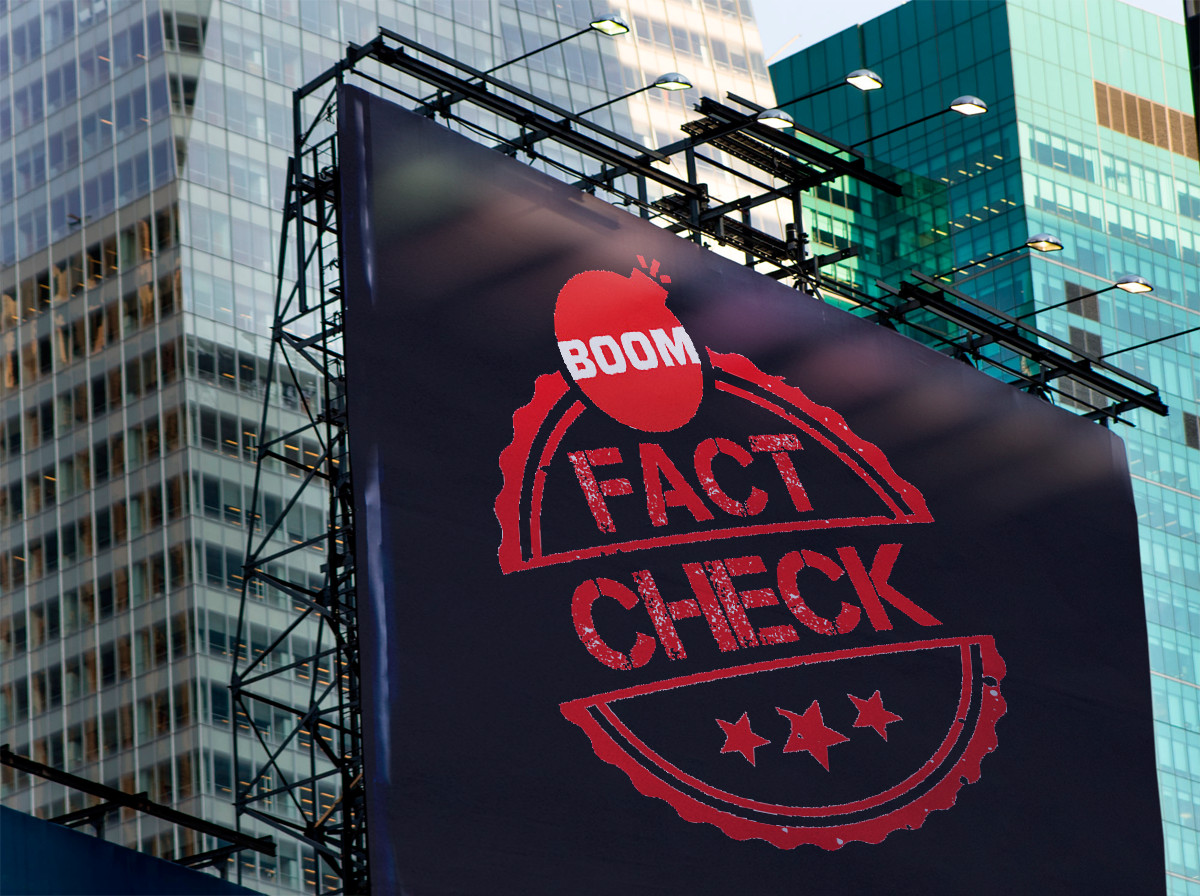 Another image that has been widely shared on the social media is that of a bus with a poster of Gandhi.
However, when BOOM did a reverse image search, we found the image of the same bus, sans the hoarding.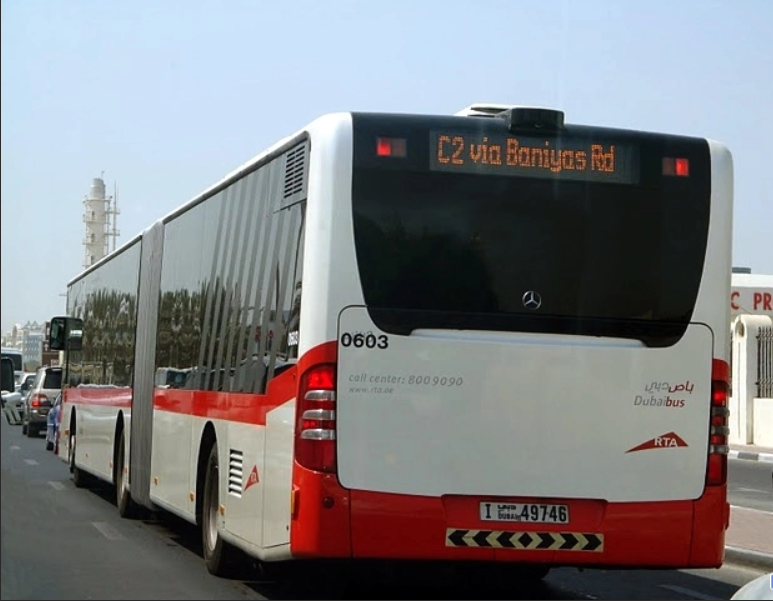 Not All Are Fake
Among all the images BOOM went through, there was a common photograph that we came across on several Twitter and Facebook pages, that of a Sports Utility Vehicle (SUV) with Gandhi's poster.
Dubai is ready to welcome 🙏 @RahulGandhi next PM of India.
#RGInDubai pic.twitter.com/eQoC5kr6dd

— SUMIT SHARMA (@WhoNeverGivesUp) January 7, 2019
While a reverse image search on this photo yielded nothing, we did come across a video on Facebook which had SUVs with Gandhi's posters.
BOOM was also the first website to bust a viral video that claimed Gandhi's image was displayed on Dubai's Burj Khalifa, earlier in the week. Other websites ran the story following BOOM's fact-check. Read the story here.
ALSO READ : Was Rahul Gandhi's Picture Displayed On Dubai's Burj Khalifa?: A FactCheck
(BOOM is now available across social media platforms. For quality fact check stories, subscribe to our Telegram and WhatsApp channels. You can also follow us on Twitter and Facebook.)
Claim Review :
Billboards Pics Welcoming Rahul Gandhi To UAE
Claimed By :
Social Media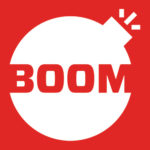 Sumit Usha
Sumit is a fact checker and the News Editor of Boom's Hindi wing. In the six years of his journalistic career, he has worked with the New Indian Express, Times of India and Deccan Chronicle. The dynamic nature of digital media finally made him take the leap from print to online, and don the hat of a digital detective.