Explainers
Domestic Flying In India: Know The Rules Before You Travel
The Airport Authority of India has issued a list of guidelines after announcing domestic travel will resume on May 25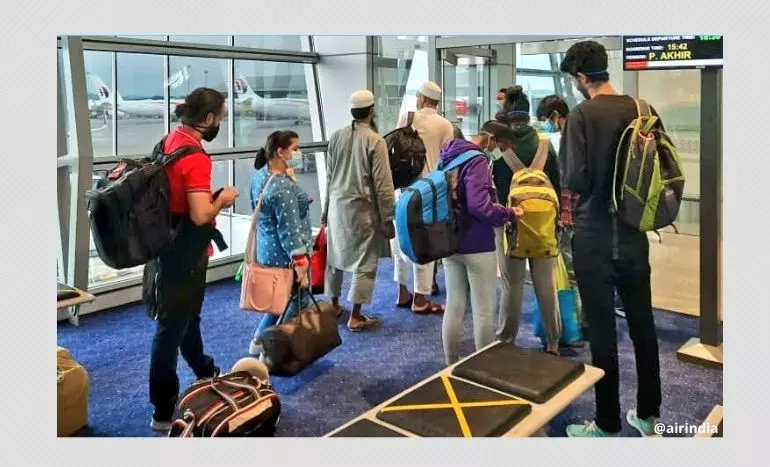 Domestic Flights in India will resume on May 25th, almost two months after air travel across the country had been shut because of the COVID-19 lockdown. A day after the government made the announcement of the resuming domestic flights, the Airport Authority of India (AAI) issued a list of Standard Operating Procedures (SOPs). But travelling by domestic flights in India won't be the same as before the COVID-19 pandemic. Rules of social distancing and precautionary measures have been put in place by the AAI. Here's what you need to know before taking a domestic flight in India:
Before you get to the airport:

-The Aarogya Setu mobile application is mandatory for everyone except children below the age of 14. Only passengers who are green on the app will be allowed to enter.
-It's compulsory for all passengers to wear protective gear like a mask and gloves.
-Passengers must do a web check-in and print boarding passes before leaving for the airport. For those who do not have access to printers at home, they will be provided the facility to print boarding passes at kiosks. BOOM spoke to an airport official who confirmed the facility but said that they would prefer passengers to carry their boarding passes to avoid a rush at the airport.
-No physical check-ins will be done at the airport.
-Passengers need to be present at least two hours before the departure of their flights, and passengers with flights departing in the next 4 hours will be able to enter the terminal building.
-Passengers cannot travel if they are staying in a containment zone.
Transport
- AAI has asked the state government and local authorities to ensure public transport and taxis are available to travel to the airport. Parking and kerb areas will be monitored in coordination with the CISF and traffic police to prevent congestion and maintain social distancing.
-Only personal vehicles and authorised taxi services will be allowed to enter.

Bags
-Use of trolleys is discouraged in both the departure and arrival area. Passengers who require a trolley for genuine reasons will be provided on request.
-Only one check-in bag will be allowed and one cabin baggage allowed.
- Passengers have to download baggage tags and put it on the bag at a prominent place. If the passenger is unable to print the baggage tag, then they should mention their PNR number and name affix it on the bag.
Rules at the airport
-All passengers will have to walk through a thermal screening zone before entering the airport terminal building. Airport operators must make appropriate arrangements for sanitisation of a passenger's luggage before their entry into the building.
-Mats and carpets soaked with bleach (sodium hypochlorite solution) are going to be placed at all the entrances to disinfect shoes of the arriving passengers.
-For passengers with special needs like a wheelchair, the handling staff will be dressed in full protective gear with a pre-sanitised wheelchair.
-Hand sanitisers will be made available at various points at the airport.

Food and retail
-All food and retail outlets at the terminal will be allowed to reopen with proper norms of social distancing.
-Airlines will not provide any in-flight meals.
Do you always want to share the authentic news with your friends?
Subscribed Successfully...
Enter Valid Email Id