Fact Check
Video Of Agnipath Protestors Vandalising Rail Track Shared As Conspiracy
BOOM found that the video shows protestors against the Agnipath scheme uprooting a railway track in Rajasthan in June 2022.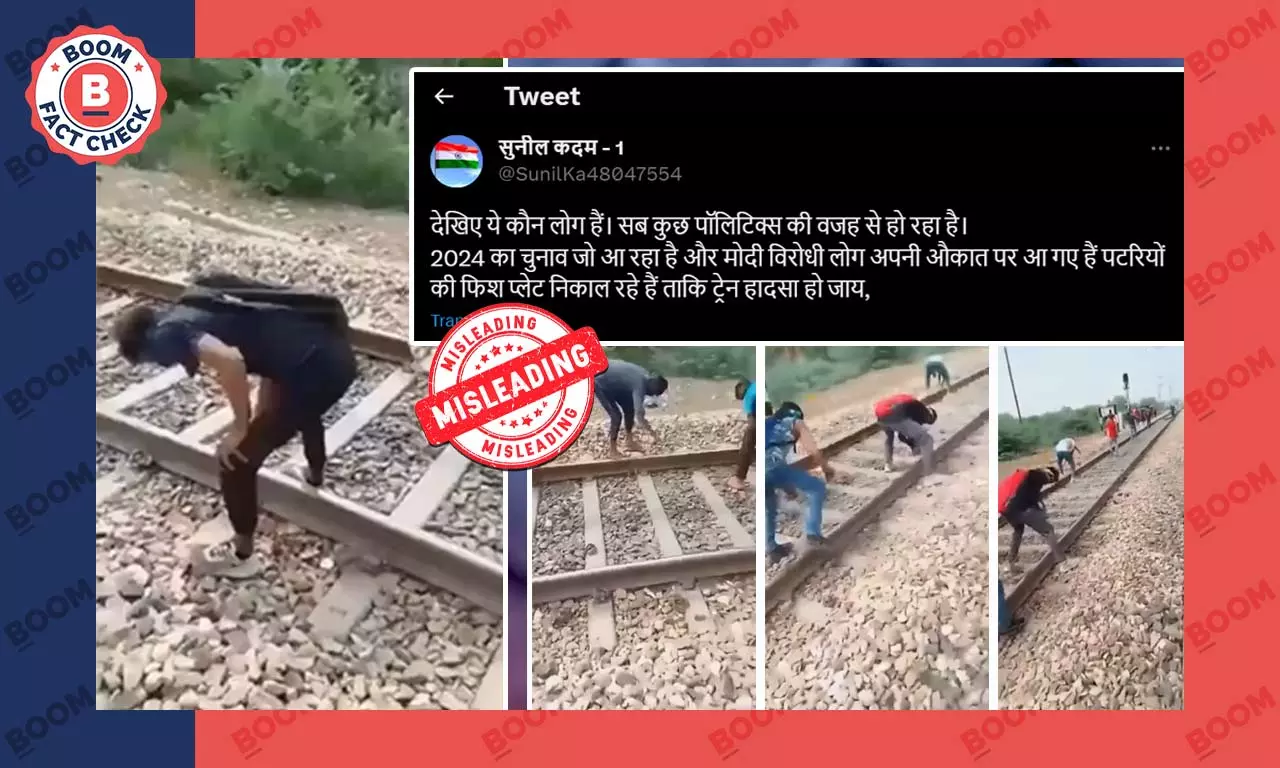 An old video showing a group of young men trying to damage a railway track during violent protests against the Agnipath scheme last year is being shared with a false claim that anti-Modi elements are trying to sabotage the railways and cause an accident before the 2024 general elections.
BOOM found that the video is old and from Rajasthan. It shows an incident that took place in June 2022 when a group of people were protesting against the Agnipath scheme in Bharatpur.

The video is being shared with a Hindi caption that translates to, "Look who these people are. Everything is happening because of politics. The 2024 election is coming and the anti-Modi people have come to their level, they are taking out the fish plates of the tracks so that there may be a train accident."
(Original Text in Hindi: देखिए ये कौन लोग हैं। सब कुछ पॉलिटिक्स की वजह से हो रहा है। 2024 का चुनाव जो आ रहा है और मोदी विरोधी लोग अपनी औकात पर आ गए हैं पटरियों की फिश प्लेट निकाल रहे हैं ताकि ट्रेन हादसा हो जाय)
Click here to view the tweet.

We also received the same video on our WhatsApp tipline number (7700906588) with a verification request.
Fact Check
BOOM watched the video closely and heard someone saying the name 'Bharatpur' in the clip. We then searched for news reports related to railway track vandalism in Bharatpur using relevant keywords and found a 2022 tweet by Hindi daily Dainik Bhaskar carrying the same visuals.
The video report, uploaded on June 21, 2022, stated that the visuals show people who were protesting against the Agnipath scheme in Rajasthan's Bharatpur by damaging the railway track on the Jaipur-Agra route.
Click here to view the tweet.
News agency Press Trust of India (PTI) on June 17, 2022, reported that hundreds of youths blocked the Agra-Bandikui railway track in Bharatpur and some of them pelted stones at police officers to protest against the central government's Agnipath scheme.
The Statesman on June 18, 2022, reported similar incidents of violence across Rajasthan. The article reads, "the stray incidents of protest by youths were reported from parts of Jaipur, Sikar, Sriganganagar, and Jodhpur district, an official of PHQ, told SNS when contacted. However there was no arson incident, and the situation was under control."
The Modi government's Agnipath scheme, which aimed to recruit people on a four-year contract in the armed forces,- led to violent protests last year.
We also found similar visuals of protests across Rajasthan on several 2022 news bulletins. One such report by Zee Rajasthan can be seen below.

Claim :
Video shows anti-Modi elements trying to sabotage and cause a rail accident
Claimed By :
Social Media Users
Do you always want to share the authentic news with your friends?
Subscribed Successfully...
Enter Valid Email Id